Hosted Hunts
SOLD OUT – OBREGON MEXICO DUCK & BRANT COMBO HUNTING 2015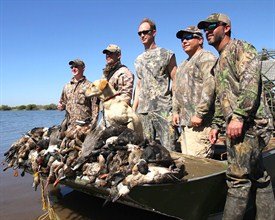 Join GetDucks.com for an incredible Mexico duck and brant hunt to include trophy duck species and Pacific Black Brant n Obregon, Mexico. JANUARY 28 – FEBRUARY 2, 2015 FEBRUARY 3-6 (SOLD OUT), FEBRUARY 8-11 (SOLD OUT), FEBRUARY 13-16 (SOLD OUT), FEBRUARY 18-21 (SOLD OUT). SAVE BIG TIME with this all-inclusive Obregon duck hunting program that offers the absolute very best-available rates – hunt elsewhere and you paid too much for too little. Bring a personal check to cover your ammo, that's practically it unless you choose to shoot white-winged doves and pay for a few extra services. Guests will be lodged 1-3 per room (pending availability). Chef-prepared meals, open bar and premium guests services included. GetDucks.com will provide paperwork and assistance necessary to import your trophy birds and, as always, you will receive the best available pre-trip assistance. Contact Ramsey at 601-214-9737, Pat Pitt at 662-893-4844, Ryan Bassham at (214) 926-5536, or call toll free 1-866-438-3897 for more information. You sure don't want to miss this one! See more at: Obregon Duck Hunt and look at testimonials to see what clients had to say!
NOTE – WILL OPEN A 4TH WEEK OF HOSTED HUNTS IF THERE IS ENOUGH INTEREST. WE STILL HAVE MANY EXCELLENT DATES JANUARY THROUGH MARCH 4, 2015. PLEASE CALL TO DISCUSS.
NEW NETHERLANDS GOOSE HUNT, MARCH 16-20 (MARCH 2-6 AND 9-13 SOLD OUT)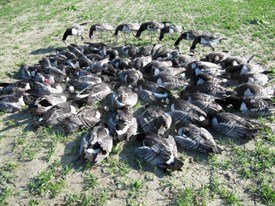 *New* Netherlands Goose Hunt – Be among the first few US hunters since the early-1960s to again experience Netherlands goose hunting. Guests will arrive in Amsterdam and transfer to a beautiful B&B about 1.5 hours away. Schedule accommodates 5-day hunting and single-occupancy rooms. Guests may spend additional nights in Amsterdam at their discretion. Species hunted: barnacle, white-fronted, greylag, Egyptian, Canada geese; Eurasian wigeons, mute swans and wood pigeons. Morning waterfowl hunts, mid-afternoon decoying wood pigeons, and afternoon pass shooting for waterfowl. No bag limits. Don't miss this once in a lifetime opportunity, contact Ramsey Russell or Pat Pitt today to schedule you Netherlands goose hunt.
Package details: Netherlands Goose Hunt
RUSSIA SPRING DUCK AND GROUSE HUNT 2015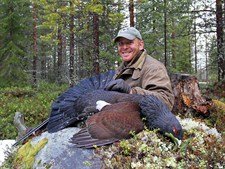 Join Ramsey Russell and 5 lucky hunters approximately May 7-17, 2015 (pending only 2 more spots available). True hunting adventure in remote northern Russia for various waterfowl and grouse species to include Eurasian wigeons, tufted ducks, eiders, capercaillie, black grouse and more. World's greatest density of capercaillie, a true once-in-a-lifetime adventure. Trip includes 7 days hunting and local transfers. Contact Ramsey at 601-214-9737 for more info.
Hunt description: Russia bird hunting