Field Report
This Alaska King Eider hunt package is a North American duck collector's dream come true.  Of the sea duck species commonly taken by guest hunters, 2 species are particularly prized above all others:
King Eider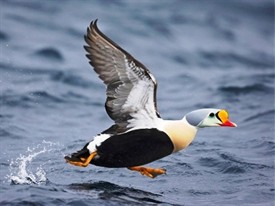 The King Eider (Somateria spectabilis) Eider is one of North America's most spectacular waterfowl species; is a large sea duck, that breeds along northern hemisphere Arctic coasts of northeast Europe, North America and Asia. The birds spend most of the year in coastal marine ecosystems at high latitudes, and migrate to Arctic tundra to breed in June and July.  King Eider winters in arctic and subarctic marine areas, most notably in the Bering Sea, the west coast of Greenland, eastern Canada and northern Norway. It also occurs annually off the northeastern United States, Scotland and Kamchatka. Breeding areas include the Arctic coastal tundra of the north coast of Alaska.
The drake King Eider, coveted as a trophy by hunters, has a white neck and chest. The upper breast is yellowish buff wash, but the body is mostly black. White sides of rump. Large white patches on forewings distinguish adult from immature specimens. Forehead, crown, and nape pearl blue. Cheeks iridescent pale green. Bill bright red with white tip; large yellow or orangish swollen knob at base of upper bill. Feathers stick up as two small triangular black sails on back. Legs are bright yellow, with dusky webs and black nails.
Highly gregarious for most of the year, King Eiders winter as far north as the seas remain ice-free. The majority of the western population winters at sea along the Alaska Peninsula and Aleutian Islands. The migrations of the King Eider are spectacular, with huge flocks, often consisting entirely of males or of females, traveling in long lines along the coast, heading to or from their breeding or wintering grounds. King Eiders form phenomenal flocks during spring migration, sometimes exceeding 10,000 individuals.
King Eiders dive for benthic invertebrates like crustaceans, polychaete worms, and molluscs, with mussels being a preferential food.  They also feed on eelgrass, wigeon grass and algae. There is a record of one king eider feeding on the bottom in 30 fathoms (180 feet) of water in the Bering Sea.
Harlequin Duck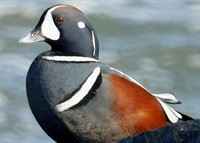 The Harlequin (Histrionicus histrionicus), is a small, strikingly beautiful sea duck. Adult male Harlequin ducks are slate blue with chestnut sides and white markings including a white crescent at the base of the bill. Adult females are less colorful, with brownish-grey plumage and a white patch on the head around the eye. Both adults have a white ear patch. Their breeding habitat is cold fast moving streams in north-western and north-eastern North America, Greenland, Iceland and western Russia. They are usually found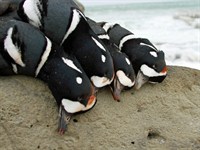 near pounding surf and white water.  Harlequin ducks are short distance migrants and most winter near rocky shorelines.
Harlequin ducks, or Harlequins or simply Harlis, feed by swimming under water or diving. They also dabble. They eat molluscs, crustaceans and insects. Harlequins have smooth, densely packed feathers that trap a lot of air within them. This is vital for insulating such small bodies against the chilly waters they ply. It also makes them exceptionally buoyant, making them bounce like corks after dives. One Alaska sea duck hunting guest in particular describes the experience of holding a beautiful drake Harlequin "like holding new money".
What to Bring – Packing for Alaska King Hunting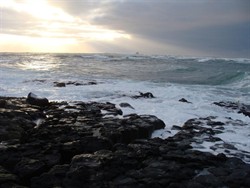 WATERPROOF is key!  Waterproof, waterproof, waterproof. Alaska King Eider Hunts may involve boat rides, weather permitting, sitting in rocks along shorelines for extended periods.  Heavy neoprene waders are ideal for providing keeping you warm and dry.  We suggest packing as you would for any duck hunt, remembering that St. Paul Island is Deadliest Catch crews often port – packing that extra heavy layer is worth it.
For warm hands while Alaska King Eider hunting, we suggest using insulated commercial fishing gloves, such as the ATLAS 460 12″ INSULATED ORANGE PVC gloves by SeaMar.  These gloves are inexpensive, but perfect for the cold, wet windy conditions of this sea duck hunt.  We've found that by tucking them in a pocket, shooting hands easily slip out in time for that shot at a decoying Harlequin or Long-tailed Duck.
Sea duck species are especially tough birds, and experienced sea duck hunters know that these birds hit the water and dive, usually never to be seen again, when crippled. Guns and ammo for Alaska sea duck hunting:
Leave the improved cyclinder chokes home.  For Alaska sea duck hunting, 12 gauge shotguns choked modified to full is strongly advised.
Shot size BB – #2 steel or hevishot polymers #2 or #4.  Hevishot 4s in either 3″ or 3.5″ are perfect, and 2s work better in extreme wind gusts.
Pattern your shotgun if unfamiliar with this choke and shot combination.  An ounce of prevention cures a pound of Alaska King Eider hunting!
Other packing considerations for your Alaska King Eider hunts:
A dryer is available.  You may pack fewer clothing changes to save space.
Traveling alone usually requires 3 checked bags: a duffle, a gun case, and an ice chest.  Transport your duffle inside your ice chest to avoid fees for the 3rd bag on the way up.
If traveling in groups of 2 or more hunters, avoid excess baggage fees by transporting firearms in 1 gun case.
Try to pack your clothing in a carry on if at all possible to ensure they make it when you do.
Care and Transportation of your Alaska King Eider hunting trophies:
Bag and tag your birds properly: Click Here: Field Care of Trophy Waterfowl & Birds © (PDF).  Each bird should be tagged to include hunter's name, address, and date killed.
There is plenty of freezer space available at the Alaskan eider hunting lodge.
Bring small kitchen garbage bags for scoters; 1- and 2- gallon Ziploc bags for other species.
LABEL CONTENTS ON OUTSIDE OF COOLER WHEN COMING HOME to include: hunter signature, stating his address, the total number and species of birds, and the date such birds were killed.
Alaska King Eider Hunting Limits (Non-residents)
Sea Ducks 7 per day 20 per season
Not to exceed more than 4 of any one species of Eider, Harlequin, Long-tail Duck
Ptarmigan 20 per day
Sea Ducks include: Harlequin, Long-tailed Duck, White Wing Scoter, Common Scoter, Surf Scoter, King Eider, Pacific Common Eider, and Mergansers
Spectacled Eiders and Steller's Eider may be observed, but are CLOSED
Useful Links – Alaska King Eider Hunting:
Alaska Migratory Bird Hunting Regulations
Journal Entry: Alaska King Eider Hunting Is All About Getting There
The Shooting Sportsman's Alaska King Eider Hunting: Quest for a King
Contact us for more information about Alaskan eider hunts!