Timing
Argentina duck hunting at Jacana is available late-April through about early-August.
Rates
Please contact us toll free 1-866-438-3897 for GetDucks.com's exclusive rates – we offer the very best rates for this premium Argentina duck hunting program.
From $1,150 per day Argentina duck hunting at Jacana Lodge
From $4,600 standard 4-day Argentina duck hunting package at Jacana (4 morning duck hunts, 4 afternoon duck hunts), but duration may customized as hunters decide.
Included
Argentina duck hunting at Jacana includes:
Customs assistance on arrivals and departure.
Daily hunting transfers
Luxury lodging
Excellent chef prepared meals
Superb regional wines and local spirits
Professional guide services and bird boys
Unequalled, highly-personalized service
License and local taxes
Not Included
Argentina Duck Hunting at Jacana does not include:
Shotshells ($16 per box of 25) Prices subject to change.
Gun permit ($140 per person) or gun rental ($70 per day)
All voluntary gratuities
Airport transfers (RT) $400
Phone calls
Airfare
Baggage overweight charges
Travel insurance
Buenos Aires Hotel and city tours
Any item of strict personal nature
*Argentina recipricocity fee – must be paid online prior to travel
Itinerary
Sample Itinerary for 4-day Argentina Duck Hunting at Jacana
Day 1.  Depart the U.S. on an overnight flight to Buenos Aires
Day 2.  Arrive Buenos Aires and transfer to the luxury lodge.  Lunch at the lodge will be waiting, and and afternoon Argentina duck hunt over decoys will soon follow.
Day 3-5.  Full days of Argentina duck hunting.  Morning and afternoon duck hunting each day.  All meals will be enjoyed at the lodge.
Day 6.  After a final morning Argentina duck hunting and lunch, transfer will be provided to Buenos Aires for your overnight flight to the U.S.
Day 7.  Arrive in the U.S. at your gateway airport and make connections home, usually arriving about mid-day. 
Argentina duck hunting itineraries may be fully customized to allow for touring Buenos Aires before or after your hunt.  We will help make neccesary arrangements for tours, dining or shopping. Argentina dove hunts are also popular accoutrements to this vacation.
For US hunters planning Argentina duck hunting trips during the upcoming year, changes regarding Argentina's recipricocity fee are very important.  YOU MUST PAY THE ENTRY FEE ONLINE AND PRIOR TO TRAVEL TO BE GRANTED ENTRY INTO ARGENTINA. Read more»
Field Report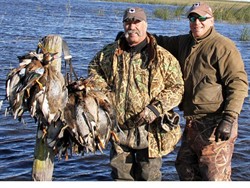 "From frequent updates that it was a banner season from early-May through early-July was easily surmised.  I joined several guests for some Argentina duck hunting during the first week of July.  There was water everywhere, and some of the areas held a significant concentration of ducks, mostly various teal and white-faced whistling ducks.  It was good to be back to Jacana.  We finished with a respectably hard-earned 2,047 ducks." ~Ramsey Russell
More Info
Argentina Duck Hunting Limits at Jacana
The bag limit, or transportation limit for this Argentina duck hunting experience is quite generous, but we hope that you will let your conscience be your guide as well, and compare this shooting opportunity to virtually any other decoying experiences worldwide. Our outfitter imposes a limit of 200 cartridges per day (125 per morning and 75 per afternoon), to balance action and conservation, as well as to ensure the consistently productive shooting for which this Argentina duck hunting package is renowned.
Average Daily Temperature Range – Argentina Duck Hunting at Jacana
Jan 93°-59°F / 34-15C May 66°-38°F / 19- 4C Sept 68°-40°F / 20- 5C
Feb 90°-58°F / 32-15C June 59°-32°F / 15- 0C Oct 75°-46°F / 24- 8C
Mar 83°-54°F / 28-12C July 59°-37°F / 15- 3C Nov 83°-51°F / 28-11C
Apr 75°-46°F / 24- 8C Aug 64°-34°F / 18- 1C Dec 89°-57°F / 32-14C
What to Bring – Argentina Duck Hunting at Jacana
Packing for an Argentina duck hunt is not a complicated matter as the weather is comparably mild for waterfowling, and the walk or ride to the blind is relatively simple.  You may choose to bring your own favorite firearm or rent from a selection of clean, reliable semi-automatic or over-under Beretta and Benelli shotguns.  Lightweight, breathable waders are the perfect choice for the dry or semi-wet marsh blinds used while Argentina duck hunting at Jacana.
General Packing List for Argentina Duck Hunt (PDF)
Gratuities – Argentina Duck Hunting  at Jacana
Gratuities for lodge and field staff are not included in Argentina duck hunt package cost since tipping, in general, is discretionary.  Because clients have repeatedly asked that we provide general guidelines the following is suggested:
$35 per bird boy, per guest/day
$30 to $40 for the household staff, per guest/day
$50 to $100 for your shooting guide, per person for the total stay.
As an example, for a 3-day Argentina duck hunt at Jacana you will spend approximately $300 in tips, which is $100 per day.  Guests should NOT tip pick-up boys directly in the field. For transfers in Buenos Aires, your lodge host will tip the drivers and airport porters but not hotel or restaurant personnel. If you wish to tip your guide, do so at your discretion.
Related Links – Argentina Duck Hunting at Jacana
View Photo Gallery: High-volume Argentina Duck Hunting Jacana
Travel Protection and Travel Insurance Protect your hunting travel investment
Certification of Registration for Personal Effects Taken Abroad (Form 4457)
New: Argentina Recipricocity Fee Information
 
Brochure – Argentina Duck Hunting at Jacana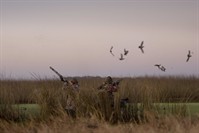 Jacana Argentina Duck Hunting Brochure (PDF)
Contact us about for more information about Argentina duck hunting or to inquire about group discounts.