Timing
Manitoba Canada duck hunt from late-September through early-November.  During the first 2 weeks, goose hunting is mornings-only. All day goose hunting begins about October 9th.
Rates
$2,100 plus 5% GST standard 3-day Manitoba Canada duck hunting.  Additional days may be added for $700 per.
Minimum 4 hunters. Groups with less than 4 that want guaranteed exclusive use must purchase minimum 4 spots.
$450 plus 5% GST No-Meals Plan per day (same great hunt but includes lodging and guided hunts only).  Perfect for do-it-yourselfers.
Included
Manitoba Canada duck hunt includes 2 hunts daily (fully-guided mornings), bird cleaning, licenses, 2 boxes ammo daily, lodging and meals, guides, scouting, top-quality decoys, and blinds.
(No Meals Plan does not inlcude meals, licenses, ammo or bird processing)
Not Included
Not included in Manitoba Canada duck hunt packages are voluntary gratuities, airport transfers, car rental, or Winnipeg dining and lodging.
Itinerary
Fly into Winnipeg the day preceding your hunt and drive about 2.75 hours to lodge.  Lodge check-in is 4 pm.  Dinner is served about 6 pm.  Overnight at camp after your last day hunt and depart by 8 am the next morning.
What To Bring
The following is suggested for Manitoba Canada duck hunts:
Waders or hip boots, warm camo clothing, face masks. Because weather conditions are diverse, prepare to dress in layers.
Foul weather gear and field bag
US Federal Duck Stamp
Shotgun (12 gauge minimum recommended) choked imp cylinder or mod, and gun cleaning supplies
Non-toxic shot (2's or  BB recommended)
Ice chests
Obedient retrievers welcome (for your group)
Starting January 1, 2012, ALL hunters will have to produce a Hunter Education Certificate number to purchase a Manitoba hunting license.
Field Report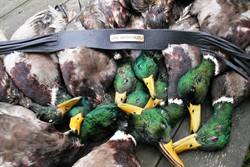 I've heard this Manitoba Canada duck hunt described as a blue collar hunt, but aside from the very reasonable cost it's far from that.  You get alot for what you pay. Lots of geese and ducks, with several different opportunities of hunting them.  Good equipment, good guiding and scouting, and good land to hunt makes it a favorite destination for a no-frills Canada waterfowl hunt where the bottom line is hunting success.  Ducks were mostly mallards and pintails, but we did kill several gadwalls, wigeon, a couple of ringnecks.  Looking forward to going back. ~Pat Pitt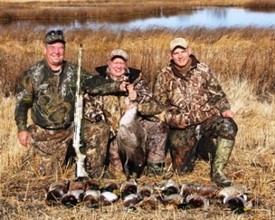 I was hoping for a good goose hunt.  We had a great goose shoot instead.  The first day was awesome.  With only 3 hunters, we shot 60 snow geese, 9 Canadas and 18 ducks. In 30 plus years of duck hunting I have never seen anything like it. All I could think was that this was only day one! The last day ended with mallard limits including one band and a bonus honker. ~Jeff Stallings
More Info
Related Links – Manitoba Canada Duck Hunting
View Photo Gallery: Manitoba Canada duck hunting photos
Manitoba Canada Hunting Regulations
Canadian Non-Resident Firearm Declaration
Canadian GST Refunds for Visitors
Game Bird License Info – Manitoba Canada Duck Hunt
A Federal Migratory Game Bird Permit, a Manitoba Game Bird Licence and a Wildlife Habitat Certificate are required to hunt waterfowl in Manitoba, Canada. These are included in your Manitoba Canada duck hunting package and will be provided at the lodge.
Bird Limits – Manitoba Canada Duck Hunt
Ducks: 8 per day (16 possession limit)
Dark geese: 5 per day (15 possession limit)
Light geese: 20 per day (80 possession limit)
Retriever Policy – Manitoba Canada Duck Hunt
Properly trained retrievers are always welcome, but they must be well managed so as not to negatively impact the hunting.
About the Area – Manitoba Canada Duck Hunting
The name Manitoba comes from the Cree words "Manitou bou," which mean "the narrows of the Great Spirit."   Manitoba is a huge province with comparably few residents but the people that do live there are renowned for their friendly, hospitable natures and diversity.  Located in the heart of Canada, Manitoba is easternmost prairie province in Canada, it covers about a quarter-million acres and 1.1 million residents.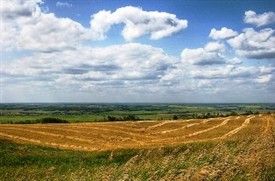 Renowned for dramatic landscapes, cultural tradition with warm and friendly people, Manitoba is recognized as the land of 100,000 lakes, a legacy of enormous Lake Agassiz, which covered much of the province after the glacial retreat.  Nearly 20 percent of its agriculture is dedicated to wheat production; thousands of acres of harvested or swathed grains sustain resident and migratory waterfowl.
Manitoba is one of the sunniest provinces in Canada. Two-thirds of Canada's 500-plus species of birds come here, drawn here by the waters.  Manitoba is a premier wildlife-watching destination with among the highest densities of moose, elk and black bear.   The abundance and diversity of waterfowl that migrates through Manitoba during the fall months captivates the hearts of wingshooters during Manitoba Canada duck hunting vacations. Tired shoulders, big smiles in Manitoba.
Bird Processing – Manitoba Canada Duck Hunt
Bird Cleaning is NOT included in the cost of the "no meals plan" Manitoba Canada Duck Hunt package. Bird processing fees are $4 per duck or goose.
Birds may be breasted or picked. We strongly suggest bringing ice chests large enough to ensure proper care of birds.  Ice chests may be purchased in Winnipeg following your arrival.
USFWS statutes regarding transportation of migratory game birds are carefully followed:
All sport-taken migratory birds imported into the US via Canada must have 1 fully feathered wing attached to the carcass.  No other types or forms of migratory birds will be allowed into the US, no sausage or processed meat.
All imports into the US of sport-taken migratory birds may only be imported by the person who hunted them. A hunter cannot give the birds to another person to take into the US on their behalf.
Birds, geese, or cranes intended for taxidermy can only be imported into the US when accompanied by a US migratory bird import/export permit.
All illegal birds and/or meat is subject to seizure and fines.
Contact us for more information about Manitoba Canada duck hunting.
Customer Testimonials
Excellent Canada duck hunt
Lodging and food were great. We had some excellent hunts. GetDucks.com was efficient and made it easy. James Griggs
Referenced hunt: Manitoba Canada Duck Hunt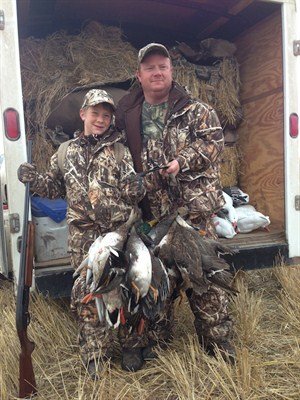 One of the best
Thanks for all the hard work organizing our Manitoba Canada duck hunting trip. The experience was everything we hoped for and more. Ducks and geese were plentiful and the outfitter was friendly, detail oriented and willing to go the extra mile. I have traveled and hunted in more than 22 states and GetDucks.com's Manitoba Canada goose hunting outfitter is one of the best. I can't wait to go back next year.
Ryan Tucker
Referenced hunt: Manitoba Canada duck and goose hunting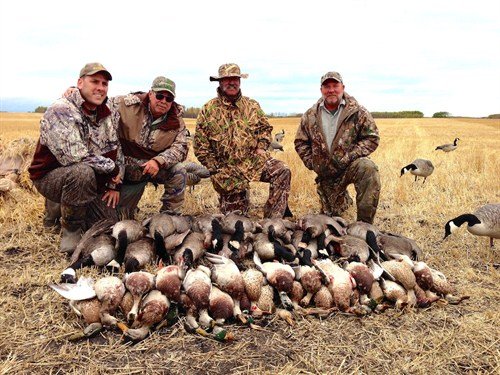 Will book all future waterfowl hunts with GetDucks.com
Regarding our recent Manitoba Canada duck hunt, not only is Kris an excellent guide, but an excellent person to be around. He does his best to make every hunt a successful one. The lodge, food, and hunts are all first class! Everything was laid out perfectly and professionally. From day one, both Anita & Ramsey stayed in touch with me regularly to make sure I had everything needed for a successful and enjoyable hunt. I will book all my future waterfowl hunts with Getducks.com.
Brad Britt
Referenced hunt: Manitoba Canada duck hunt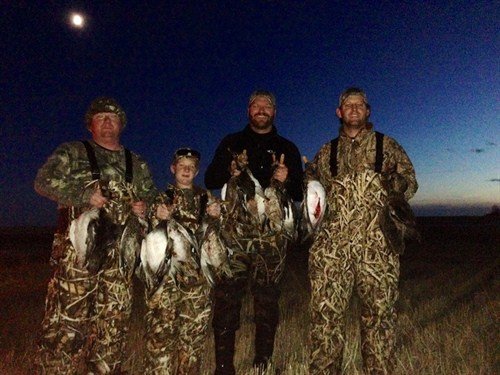 We had an excellent duck hunt in Canada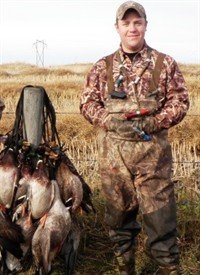 "We had an excellent duck hunt in Manitoba, Canada.  The hunting and lodge atmosphere were perfect, I felt right at home.  Would tell everyone to go ahead and experience it at least once in their lifetime. I can't wait to go again."
- Dave Allen
Referenced Hunt: Manitoba Canada Duck Hunt
My son and I had a great time hunting ducks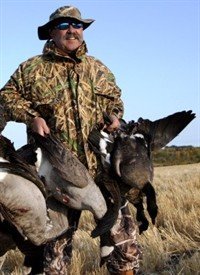 "My son and I had a great time hunting ducks and geese in Manitoba.  It was the first of what will be many Canada goose hunts for us.
Reserve me a spot on the Canada spring snow goose hunt.  I'll be returning to hunt ducks in Canada with more friends next fall, too, deposits are in the mail."
-Sam Vanhook
Referenced Hunt:  Manitoba Canada Duck Hunting