Manitoba Spring Snow Goose Hunting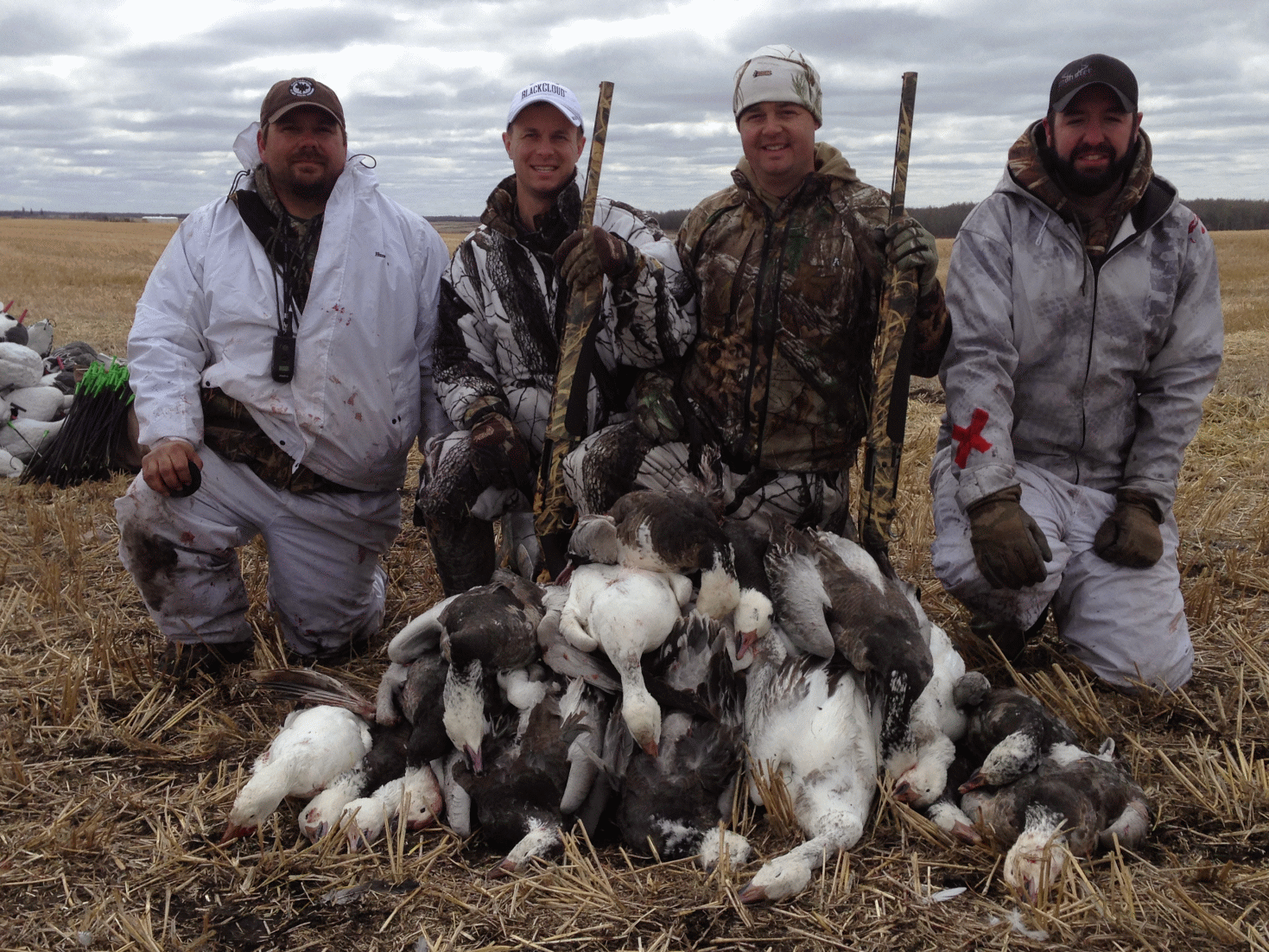 SPRING SNOW GOOSE HUNTING IN MANITOBA LIMITED TO 2 PRIME WEEKENDS IN MAY ONLY.  RESERVE DATES WELL IN ADVANCE.
Join us in Manitoba Canada for some of the finest decoying snow goose hunting you're ever likely to experience.  Tired of chasing those high-pressured snow geese in the Lower-48 and shooting nose-bleed high birds with triple-B's?  Then it's time to hunt them over small mobile spreads of high-quality full bodies, or light and compact silo-socks where steel 2's, or even 4's, perfectly get the job done.
As featured on Beretta's Waterfowler's Edge (click link to view), this Canada spring snow goose hunt is the perfect destination in mid-May. Go back to the other side of the flyway to catch hold over flocks of migrators fattening themselves on waste grain – real suckers for decoys.  Typically morning and afternoon hunts, guests may fish for trophy trout in between or in lieu of afternoon hunts.
Follow your guide to the carefully-scouted, snow goose hunting location where you will be involved in the morning's ritual of setting up goose decoys and putting the finishing touches on the layout blinds. It's not a complicated process, spreads are usually 300-400 decoys and easily deployed within 15 minutes.  You will be spring goose hunting over Avian-X and White Rock decoys.  High-tech live digital recordings of live snow geese are used.
Bring boots and gear that are appropriate for the mud, because it may get muddy during our spring thaw.  If needed, we'll break in the field for a snack that your guide will provide. Spring Snow Goose hunts typically will run until limits are achieved or about 5:00 p.m., whichever comes first. The snow goose decoys will then be picked up and we will drive back to the hotel for dinner and relaxation. These hunts produce beautiful snow and blue trophies for your game room and occur during a time that waterfowl hunting cannot be had elsewhere in North America
Timing
Manitoba Canada spring snow goose hunting: usually first 2 weekends in May only.
Rates
$1,653 (includes 5% GST and 8% PST) standard 3-day spring snow goose hunting Manitoba Canada
$2,204 (includes 5% GST and 8% PST) standard 4-day spring snow goose hunting Manitoba Canada
Included
Manitoba Canada spring snow goose hunting includes 3-days hunting (fully guided), lodging and meals (snacks in field and restaurant or camphouse dinner), scouting, high-quality decoys, blinds, and equipment.
Not Included
Not included in Manitoba Canada snow goose hunting packages are bird cleaning, license and stamps, voluntary gratuities, airport transfers, car rental, or Winnipeg dining and lodging.
Manitoba Canada snow goose hunting license and stamps cost as follows:
Manitoba Canada Game Bird License $155.00 Canadian
Canada Migratory Bird Stamp $17.85 Canadian
Itinerary
Fly into Winnipeg the day preceding reserved Manitoba spring snow goose hunting dates. Rent car and drive about 2.75 hours to lodge.  Lodge check-in is 4 pm.  Depart around noon following your last day's hunt.
What To Bring
The following is suggested for spring snow goose hunting in Manitoba Canada:
Waders or hip boots, warm camo clothing, face masks. Because weather conditions are diverse, prepare to dress in layers.
Foul weather gear and field bag
US Federal Duck Stamp
Shotgun (12 gauge minimum recommended) choked imp cylinder or mod, and gun cleaning supplies
Non-toxic shot (2's or  BB recommended)
Ice chests
Obedient retrievers welcome (for your group)
Starting January 1, 2012, ALL hunters will have to produce a Hunter Education Certificate number to purchase a Manitoba hunting license.
More Info
Game Bird License Info – Spring Snow Goose Hunting in Manitoba Canada
A Federal Migratory Game Bird Permit, a Manitoba Game Bird Licence and a Wildlife Habitat Certificate are required for hunting snow geese in Manitoba, Canada. These are not included in your Manitoba Canada snow goose hunting package, but can be purchased locally after your arrival.  Approximate costs is $130.
Bird Limits – Spring Snow Goose Hunting in Manitoba Canada
Light geese: 50 per day
Light geese possession limit 150
Retriever Policy – Spring Snow Goose Hunting in Manitoba Canada
Properly trained retrievers are always welcome, but they must be well managed so as not to negatively impact the hunting.
Contact us for more information about spring snow goose hunting in Manitoba Canada.
Galleries
Customer Testimonials