Argentina Duck Hunting La Plagaria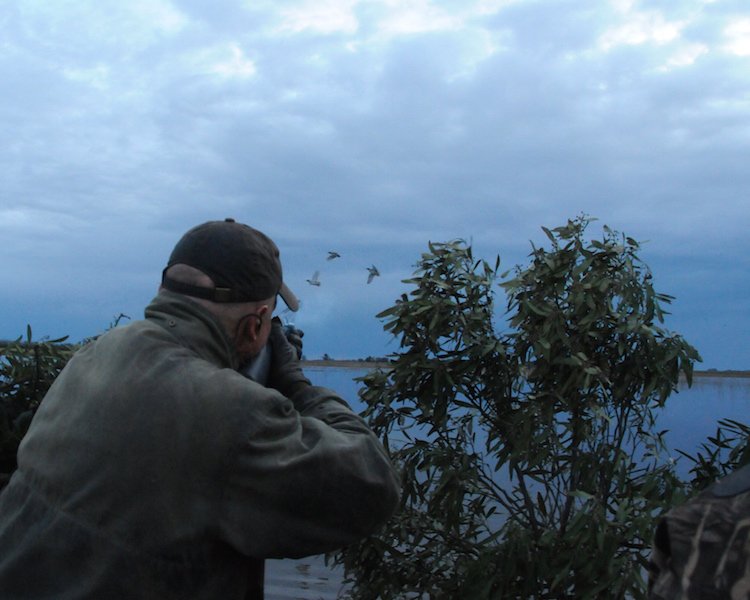 Argentina duck hunting at La Plagaria, from an elegantly-appointed estancia situated near the small town, Chascomus, is guests that demand a little bit more.  Perfect for private parties of 4-6 hunters, this duck hunt in Argentina is located only 1.25 hours from Ezeiza International Airport (EZE).
This area is located in the Salado del Sur (Southern Salado) River delta, which is characterized by low-lying farmland, ponds, sloughs, lagoons and excellent Argentina duck hunting.  Duck hunts are usually conducted in small wetlands or canals located between large water bodies and cropped feeding areas. The furthest drive to any blind is about 20 minutes drive from the estancia. Most hunts are only 10 minutes away.
Pairs of guests duck hunt natural cover or well-brushed blinds.  English-speaking guides place decoys and call ducks.   Rain or shine, drought or wet, afternoons or mornings, the beginning of duck season or the end, guests may be assured of generous shooting at La Plagaria.
Hunters may optionally hunt perdiz during afternoons.  Perdiz hunting is done behind pointing breeds. Expect an average of 20 points per dog.  Pigeon and dove hunting combos are sometimes available, dependent on scouting and seasonal climatic factors, and take place in feeding areas or wooded roosts.
The La Plagaria Argentina duck hunting program feeds the body as well as the soul:  A highly-qualified, full-time staff produces a mouth watering assortment of Argentine and International cuisine.  Dinner entrées include thick, beef filets, vegetable-stuffed chicken breasts with a mushroom sauce, or pork tenderloin in a champagne sauce with baked apples and caramelized onions.  Home-made desserts, such as cheesecake with raspberry sauce, are the perfect ending. Traditional gaucho-style asados involve distinctive cuts of beef or pork.  Trimmed with fresh salads and empanadas, these authentic barbecues are a client favorite.  Superior Malbec wines are served with meals.
Guest are lodged in private rooms with ensuite modern bath facilities, and fireplaces stoked with long-lasting quebracho and eucalyptus.  Bedrooms have queen sized, high quality beds and tall, glass doors overlooking manicured gardens that surround the house.  Wifi and satellite TV, an open bar of top-shelf liquors, a detail-oriented staff and a long-time US operator/owner complete the superior experience of La Plagaria Argentina duck hunting.
Please note – The La Plagaria Argentina duck hunt is intended for 4-6 guests only, and limited dates for this hunt book exceptionally early each year.
Timing
Excellent Argentina duck hunts are available at La Plagaria May through July.
Rates
$925 per day Argentina duck hunt at La Plagaria.  Non-hunters 50% hunt rate.
$3,700 standard 4-day Argentina duck hunting package at La Plagaria (4 morning duck hunts, 4 afternoon duck or perdiz hunts).
Itinerary may customized as hunters decide, to include Argentina dove hunting at another location.
Included
Argentina duck hunting at La Plagaria includes:
Daily hunting transfers
Elegant lodging with private rooms
Chef-prepared meals
Superb regional wines and local spirits
Professional guide services and bird boys
Highly-personalized services
Not Included
Argentina duck hunting packages at La Plagaria do not include:
Shotshells ($16 per box of 25) Prices subject to change.
Gun permit ($120 per person) or gun rental ($70 per day)
Hunting licenses $100 per stay
Gratuities
Airport transfers round-trip (POR)
Phone calls
Airfare, baggage overweight charges, tavel insurance
Buenos Aires Hotel and city tours
Any item of strict personal nature
Argentina recipricocity fee – must be paid online prior to travel
Itinerary
Sample Itinerary for 4-day Argentina Duck Hunts at La Plagaria
Day 1.  Depart the U.S. on an overnight flight to Buenos Aires
Day 2.  Arrive Buenos Aires and transfer <1.5 hours to La Plagaria.  Lunch at the lodge will be waiting, and an afternoon hunt for hunter's choice of ducks or perdiz, will soon follow.  A dove shoot might also be possible.
Day 3-5.  Full days of Argentina duck hunting.  Morning duck hunts and afternoon perdiz or duck hunts as guests choose.  All meals are enjoyed at the lodge.
Day 6.  Following a final morning of Argentina duck hunting and lunch, 1.25-hour transfer will be provided to Buenos Aires for your overnight flight to the U.S.
Day 7.  Arrive in the U.S. at your gateway airport and make connections home, usually arriving about mid-day. 
Your Argentina duck hunt itinerary may be fully customized to allow for touring Buenos Aires before or after your hunt.  We will help make neccesary arrangements for tours, dining or shopping. Other South American hunting excursions, such as an Argentina dove hunt, are also popular.
More Info
Average Daily Temperature Range – Argentina Duck Hunting at La Plagaria
May 66°-38°F / 19- 4C
June 59°-32°F / 15- 0C
July 59°-37°F / 15- 3C
Aug 64°-34°F / 18- 1C
What to Bring – Argentina Duck Hunting at La Plagaria
Packing for an Argentina duck hunt is not complicated.  Weather is comparably mild for waterfowling, and the walk or ride to the blind is relatively simple.  Bring your own favorite firearm or rent from a selection of clean, reliable semi-automatic or over-under Beretta and Benelli shotguns.  Lightweight, breathable waders are the perfect choice for the dry or semi-wet marsh blinds used while Argentina duck hunting at La Plagaria.
General Packing List for Argentina Duck Hunt (PDF)
Gratuities – Argentina Duck Hunting at La Plagaria
Gratuities for lodge and field staff are not included in Argentina duck hunt package cost since tipping, in general, is discretionary.  Because clients have repeatedly asked that we provide general guidelines the following is suggested:
$50 per bird boy, per guest/day
$25 for the household staff, per guest/day
For transfers in Buenos Aires, your lodge host will tip the drivers and airport porters but not hotel or restaurant personnel. If you wish to tip your guide, do so at your discretion.
Related Links – Argentina Duck Hunting at La Plagaria
Travel Protection and Travel Insurance Protect your hunting travel investment
Certification of Registration for Personal Effects Taken Abroad (Form 4457)
Contact us about for more information about Argentina duck hunts.
Galleries
Customer Testimonials