Mexico Goulds Turkey Hunting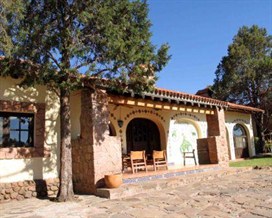 Gould's wild turkey hunting paradise awaits a quick 1.25 hour drive from Durango. This world-class Gould's turkey hunt is located in the state of Durango, Mexico, with an exclusive 55,000 acres that include majestic Sierra Madre mountains, impressive canyons, pine and oak woods, green ranges and important streams.
The diverse wildlife this magnificent natural habitat includes an abundance of trophy-sized Gould's turkeys ( Meleagris gallopavo mexicana). The Gould's turkey world record taken here by Clyde Neeley in 2007 weighed 27 pounds and sported 14 1/16″ beard! This Gould's turkey hunt has produced 15 of the top 20 record book Gould's turkeys; beard lengths of 11-12 inches and large spurs are the rule here, not the exception. With a tremendous density of 3500-4000 turkeys are on the property, limited groups of hunters will hunt this area during peak periods to assure low-pressured, high-quality Gould's turkey hunting exeriences.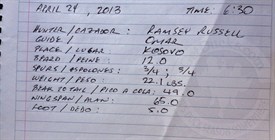 Expect moderate weather during Gould's turkey hunts, with morning lows in the 30s to 40s F, and daytime highs in the 80s F. The hunt occurs at about 8,000 feet MSL, and each hunt is personally guided. Roosts, travel corridors and patterns are known well by capable and professional guides.
This Gould's wild turkey hunting package features first-rate facilities and equipment. Lodging of a 5-star level is comfortable and spacious with the following amenities included: daily room cleaning, laundry, all meals, open bar with national and imported spirits, billiards, golf driving range or putting green, skeet range, fishing, satellite television, wireless internet and horseback riding.
Expect to eat like kings between Gould's turkey hunts, too. Emma has been cooking here for decades. Her regional specialties include bacon-wrapped wild turkey, turkey and mole sauce, chilaquiles verde, quesadillas and guacamole. Her home-made salsa is a long-standing client favorite, is good on everything, and you may request a milder version if you can't handle the heat.
World-class Gould's turkey hunting, gracious hospitality, impeccable accommodations, excellent cuisine. Look no further than here for the very best guided Gould's turkey hunts available anywhere. And, yes, non-hunting spouses absolutely love it, here.
View Incredible Photo Gallery: Gould's Wild Turkey Hunting
Timing
Gould´s Turkey Hunting Season dates usually run early-April through early-June. 
Rates
Gould's Turkey Hunt all-inclusive package for 3 nights, with 6 hunts and the right to harvest one Gould's Wild Turkey: $2,900 US dollars. Wounded turkeys and accidentally killed hens: $450 US dollars. Non-hunting guests accompanying hunters: $850 US dollars for a 3 night stay. Hunters under 16 years of age: 75% of package cost.
Included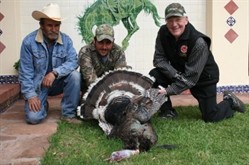 All-inclusive Gould's Turkey Hunt Package includes everything:
FREE use shotgun
One (1) Gould's Wild Turkey
Professional skinning of your bird (according to procedure taught by a World Champion U.S. registered taxidermist)
All hunting fees and tags
The cartridges necessary for the hunt
Experienced personal guides 1×1
Blinds and decoys
First-class lodging, 3 delicious meals daily, open bar with national and imported spirits.
Round -trip ground transfers from the city of Durango and transportation within the ranch, both in comfortable 4 by 4 vehicles
Simple and hassle-free importation of your guns and ammo: For those that prefer to hunt with their own shotgun or rifle and ammunition, you can give us some information over the phone and we will send you the forms for import of your gun and ammunition, which you will need at the airport when you enter Mexico. We will take care of everything else at no extra cost, and we will greet you at the airport when you arrive.
Not Included
Discretionary items not included in the All-inclusive Gould's Turkey Hunt package:
Air transfers from your origin to Durango, Mexico.
Harvesting an extra Gould's Wild Turkey: $750 US dollars per. With each additional bird, the trophy fee increases in $200 dollar increments (example, third turkey costs $950 US, etc.).
Shotguns provided at no extra cost, semi-auto or pump as available.
Extra night lodging costs $200 US dollars if you leave before 10:00 a.m. the next morning ($150 for  non-hunters); otherwise, the extra night is $300 US dollars ($150 for those accompanying non-hunters).
Javelina can be harvested for only $350 U.S. Additional ones are $250 each.
More Info
Gould's Wild Turkey
The fifth recognized, but least known, wild turkey subspecies is the Gould's found in portions of Arizona and New Mexico, as well as northern Mexico. It was first described by J. Gould in 1856 during his travels in Mexico.
Like the Merriam's, the Gould's wild turkey is a bird of the mountains. It exists in very small numbers along the U.S./Mexico borders in Arizona and New Mexico, but is abundant in the northwestern portions of Mexico. The Arizona Game and Fish Department, U.S. Forest Service, the Centro Ecologico de Sonora, the National Wild Turkey Federation and other agencies are working cooperatively to reintroduce a strong Gould's population into Arizona and eventually other states where suitable range exists.
The Gould's turkey is the largest of the 5 subspecies and resembles the Merriam's turkey. They have longer legs, larger feet and larger center tail feathers than any of the other wild turkey subspecies in North America. Gould's differ by having distinctive white tips on the tail feathers and tail rump coverts which usually separate to show an "eyelash" appearance. Lower back and rump feathers have copper and greenish-golden reflections, not like the faintly iridescent velvety black found on the Merriam's. Gould's body plumage is said to be somewhat blue-green in coloration. Adult females have a less pronounced metallic greenish and reddish sheen and are more purplish.
The Sierra Madre Occidental Mountains in Mexico are the center of the Gould's turkey Mexican range, extending south from the U.S./Mexico border. Populations exist in Chihuahua, Sonora, Sinaloa, Durango, Zacatecas, Nayarit, Jalisco and Coahuila. In the United States, Gould's turkeys are found in the Animas and San Luis mountains of New Mexico and in the Peloncillo Mountains of New Mexico and Arizona.
*Content courtesy of The National Wild Turkey Federation.
Galleries
Customer Testimonials