KANATI WATERFOWL TAXIDERMY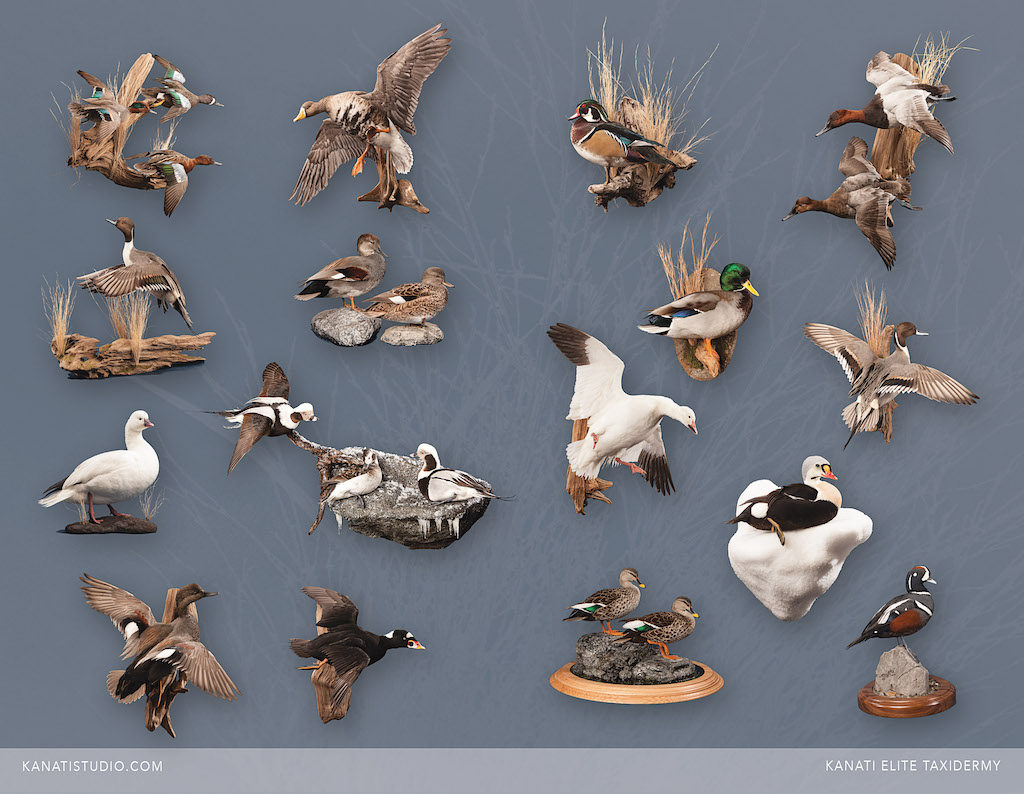 We all want the very best waterfowl taxidermy service available. Because we hunt far and wide, committing time and money into gaining our hard-earned waterfowl trophies. Excellent bird work, assistance and communication throughout much of the process, attention to important details, and timeliness are important. That's why it's Kanati Waterfowl Taxidermy receives Ramsey Russell's GetDucks.com hearty endorsements.
GetDucks.com confidently refers all clients and friends to Kanati Waterfowl Taxidermy for all professional  waterfowl taxidermy. And KANATI ELITE TAXIDERMY STUDIO is Ramsey Russell's personal taxidermist, too. Kanati Waterfowl Taxidermy is a USDA-Approved establishment, works closely with import brokerages throughout the US, and accepts shipments from anywhere in the world.  Most importantly, for Mexico duck hunts, Azerbaijan duck hunts, Russian capercaillie hunts, South Africa waterfowl combo hunts – and many more destinations – it is absolutely essential that bird imports be consigned to a USDA-approved facility.  Unfortunately, the costs and laboriously detailed protocols involved, many small taxidermists are unwilling or unable to become USDA-approved.
Putting your prized waterfowl trophies into the skilled hands of Kanati's waterfowl taxidermy experts is as simple as a next-day or second-day shipment via FedEx or UPS. And the best part? They'll walk you through the entire process right down to the shipping labels.  Before, during and after your hunt, they're never further than a phone call away.
Their superior waterfowl taxidermy speaks for itself. But Kanati Elite Taxidermy Studio is a complete, full-service taxidermy service. Their large staff is comprised of expert, highly-specialized taxidermists, to include 2 expert taxidermists dedicated to birds-only, and related support staff. As we've all learned sooner or later, it usually takes a team to keep the production line rolling so that our hard-earned trophies don't take years to adorn our gamerooms.  Kanati also creates customized scenic environments, provides customized trophy room design and fabrication, and even offers hand-painted game room murals. Ask about their hand deliveries and installations services! Absolutely no job is too big. They are committed to the very best waterfowl taxidermy services available.
For rates, more information or to coordinate shipment of your coveted waterfowl taxidermy specimens, contact:
Kanati Elite Taxidermy Studio
Phone: 717.933.4828 or 800.809.8508
email info@kanatistudio.com
46 Frystown Road
Myerstown, PA 17067
Business Hours:
Monday 8:00am – 5:00pm
Tuesday 8:00am – 5:00pm
Wednesday 8:00am – 7:00pm
Thursday 8:00am – 5:00pm
Friday 8:00am – 5:00pm
Closed Saturday and Sunday