Alberta Canada Duck and Goose Hunting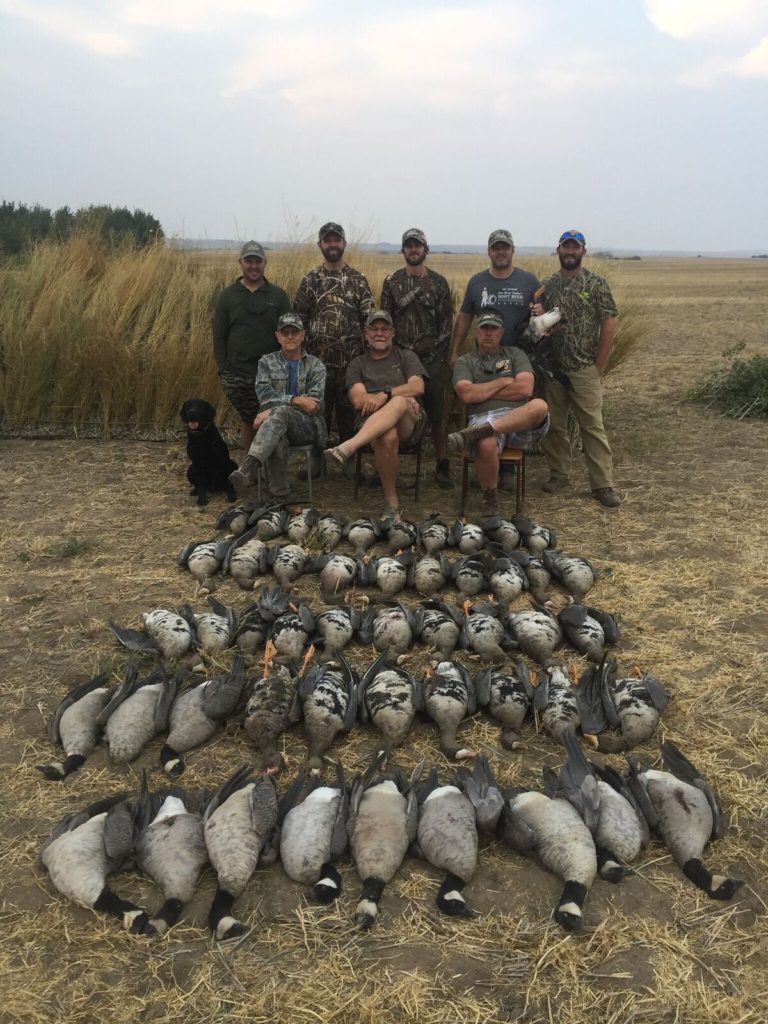 Alberta Canada Duck and Goose Hunting the likes of which you've always dreamed. The Alberta Waterfowl Outfitters experience entails mostly dry-field hunting for mallards, pintails, Canada geese, cackler geese, snow geese and more specklebelly geese then you'll find elsewhere in Canada. But it doesn't happen by accident. Full-time waterfowl hunting guide, Brennan Hudson brings over a decade of professional guide experience to the table. He and staff are young, savvy and committed to delivering superior waterfowl hunting in Alberta. Says a long-time guest, "The accommodations, the meals, the scenery, the hunting and the people make this a must-do for any waterfowler. If you look up the definition of work ethic there is a picture of Brennan."
A rich tapestry of hot agricultural food crops paint million-acre swaths in the headwaters of North America's waterfowl migration.  September through October, abundant, locally-hatched ducks and geese are joined by a tremendous influx of waterfowl from the arctic, which amass into flocks numbering thousands. Gorging themselves on peas, barley, corn, wheat, fattening themselves for the long southbound journey. Like the narrow stem of a funnel, most of North America's white-front migration passes through this area, too.  And it's here that these spectacular Alberta duck and goose hunting take place. Full-time scouts scour the vast countryside for the most active feeds.
Leave the waders at home. Dry-field hunts are the norm, and waterfowl hunting near water doesn't involve your pitching decoys. Hate to shoot from layout blinds? No problem. Most hunts utilize well-grassed a-frame blinds so that hunters can stand to shoot. Let Brennan know when booking of any special mobility concerns and they'll gladly accommodate your needs. Depending on the game-plan, sizable spreads of full-body, windsocks and silhouettes are deployed such that ducks geese present themselves as perfectly as possible.
Guests stay in a 5,000 square-feet lodge that is beautifully appointed with comfortable furnishings, massive Canadian white-tail game heads, wifi, pool table and captivating view of majestic Alberta countryside. Better loosen your belt because meals won't disappoint, either. Pre-hunt continental-style breakfasts and coffee will be forgotten at brunch when heaping platters of eggs, breakfast meats and home-made pastries hit the table. Not that you'll still be hungry, but tempting party trays are available throughout the day.  Following afternoon hunts, 3-course dinners consisting of ribeyes, pork chops, roasts are accompanied by home-made sides and desserts like Momma makes.
Minimum 4 hunters to ensure private party, up to 12 guests total. A few dates each season are reserved for mixed groups of solo hunters and pairs. Getting to this Alberta Canada duck and goose hunting paradise is as simple as flying into either Calgary or Saskatoon, renting a car and driving less than 3 hours through the beautiful fall landscape of Canada. Brennan personally contacts each group 5 days prior to scheduled hunt dates to makes sure that hunters are updated. It's little wonder this hunt sell out quickly to repeat guests.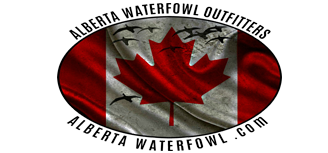 For more information about these excellent Alberta Canada duck and goose hunting packages, contact Brennan Hudson, Alberta Waterfowl Outfitters, call 409-926-6042, email hudsonoutfitters@yahoo.com.  In addition to total-package Canadian hunting experiences, this Canada waterfowl hunt is on the X for migrating specklebellies.