Chesapeake Bay Maryland Duck Hunting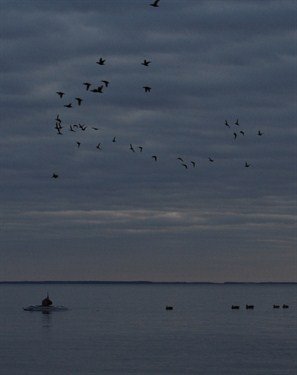 Black Duck Outfitters' Maryland duck hunting takes place in the legendary Chesapeake Bay region and can be customized for guest preferences of sea duck hunts, diver duck hunts, puddle duck hunts, snow geese and Atlantic brant. Few places conjure nostalgia for the good-old-days of American duck hunting like Chesapeake Bay and no waterfowling career is truly complete without having enjoyed it. Hunting for the canvasbacks and bluebills for which Chesapeake Bay will be forever remembered remains solid, and this knowledgeable, hard-working team goes the extra mile necessary to ensure success.
Black Duck Outfitters' specialty is hunting from layout boats and custom, big water duck boats using successful, generations-old techniques. Custom, oversized big water decoys and v-boards that are extremely effective when hunting in the open water. Spreads are as big as 300 decoys. All decoys are hand-painted each season and set to assure best shooting possible – in guests' faces is always the goal!  Spring snow goose hunting with Black Duck Outfitters is among the very best in the Atlantic Flyway.
Diver duck hunting takes place in Maryland's tidal waters and the Chesapeake Bay and focuses primarily on canvasbacks and bluebills (Greater and Lesser Scaup), with buffleheads, redheads and goldeneyes rounding out the daily bag. Sea duck hunts consist of "big rig" long-line sets. Expert decoy placement, religous daily scouting and a willingness and ability to cover a large portion of the Chesapeake Bay – from the Bay Bridge south to Tangier Sound, ensure lots of action for rocket-fast scoters and oldswaq (long-tailed ducks). Hunting for Canada geese, greater snow geese, Atlantic brant, mallards and black ducks are among the impressive list of seasonal opportunities also available. Guests may customize their hunt to target any combination of desired species.
Black Duck Outfitters guide-staff are all Maryland state-licensed waterfowl hunting guides and possess United States Coast Guard Captains licenses. Black Duck Outfitters has been a licensed Maryland waterfowl outfitter for over 10 years. Ideal party size is 4-6 hunters per vessel. Larger groups are possible among multiple boats, making this a perfect destination for corporate retreats and business groups. Solo hunters are also welcomed provided that a mixed group can be organized by the outfitter. Morning drive times vary from 20 minutes to an hour depending on the morning objectives and scouting report.
There is an excellent selection of hotels and restaurants from which guests may choose. This region's famous steamed blue crabs, crab cakes, crab soup and oysters are must-have for seafood lovers. There are plenty of nearby activities and attractions to entertain accompanying non-hunters.
Black Duck Outfitters goes the extra mile to bring the very best duck hunts in Maryland and the Chesapeake Bay area. Contact Captain Todd Sauerwald, todd@blackduckoutfitters.com, 410-336-7078.