Chesapeake Bay Maryland Duck Hunting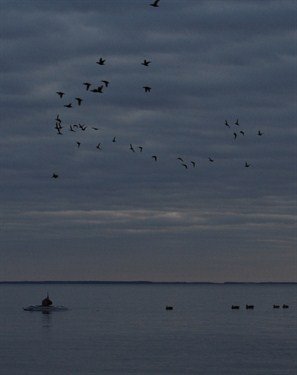 Black Duck Outfitters' Maryland duck hunting takes place in the legendary Chesapeake Bay region and can be customized for guest preferences of sea duck hunts, diver duck hunts, puddle duck hunts, snow geese and Atlantic brant. Few places conjure nostalgia for the good-old-days of American duck hunting like Chesapeake Bay and no waterfowling career is truly complete without having enjoyed it. Hunting for the canvasbacks and bluebills for which Chesapeake Bay will be forever remembered remains solid, and this knowledgeable, hard-working team goes the extra mile necessary to ensure success.
Black Duck Outfitters' specialty is hunting from layout boats and custom, big water duck boats using successful, generations-old techniques. Custom, oversized big water decoys and v-boards that are extremely effective when hunting in the open water. Spreads are as big as 300 decoys. All decoys are hand-painted each season and set to assure best shooting possible – in guests' faces is always the goal!  Spring snow goose hunting with Black Duck Outfitters is among the very best in the Atlantic Flyway.
Diver duck hunting takes place in Maryland's tidal waters and the Chesapeake Bay and focuses primarily on canvasbacks and bluebills (Greater and Lesser Scaup), with buffleheads, redheads and goldeneyes rounding out the daily bag. Sea duck hunts consist of "big rig" long-line sets. Expert decoy placement, religous daily scouting and a willingness and ability to cover a large portion of the Chesapeake Bay – from the Bay Bridge south to Tangier Sound, ensure lots of action for rocket-fast scoters and oldswaq (long-tailed ducks). Hunting for Canada geese, greater snow geese, Atlantic brant, mallards and black ducks are among the impressive list of seasonal opportunities also available. Guests may customize their hunt to target any combination of desired species.
Black Duck Outfitters guide-staff are all Maryland state-licensed waterfowl hunting guides and possess United States Coast Guard Captains licenses. Black Duck Outfitters has been a licensed Maryland waterfowl outfitter for over 10 years. Ideal party size is 4-6 hunters per vessel. Larger groups are possible among multiple boats, making this a perfect destination for corporate retreats and business groups. Solo hunters are also welcomed provided that a mixed group can be organized by the outfitter. Morning drive times vary from 20 minutes to an hour depending on the morning objectives and scouting report.
There is an excellent selection of hotels and restaurants from which guests may choose. This region's famous steamed blue crabs, crab cakes, crab soup and oysters are must-have for seafood lovers. There are plenty of nearby activities and attractions to entertain accompanying non-hunters.
Black Duck Outfitters goes the extra mile to bring the very best duck hunts in Maryland and the Chesapeake Bay area. Contact Captain Todd Sauerwald, todd@blackduckoutfitters.com Phone 410-336-7078.
Timing
Contact Todd Sauerwald at Black Duck Outfitters to discuss specific objectives and preferences. 
Sea duck hunting: October through January
Diver & Puddle Ducks Hunting: 3 splits October through January
Canada Goose Hunting: September 1-25 (8 birds per day limit) and all of the late season in November – February.
Atlantic Brant: Late-December through January
Snow Goose Hunting: January through April
Rates
BDO Guided Daily Hunting Rates (click here)
Terms: 50% non-refundable deposit due within 7 days of reservation to confirm dates. Balance due on arrival. Outfitter reserves the right to cancel the hunt within 20 days if necessary and will reschedule hunt. In the event that dangerous winds and water conditions jeopardizes safely hunting sea ducks or divers, a solid Plan B activity may be arranged. Please discuss with Black Duck Outfitters at time of booking.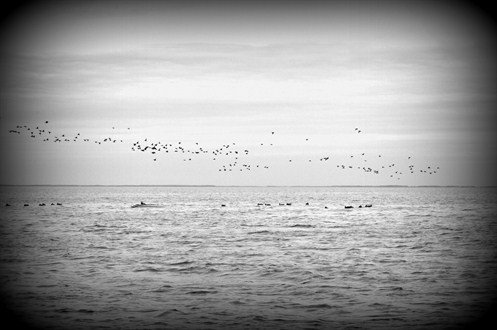 Included
All guided Maryland duck hunting packages at Black Duck Outfitters include:
Morning guided duck hunts, expertly scouted daily
Top-quality equipment and gear to include Bankes boats and layout boats
All professional guide services – safe, knowledgeable, entertaining and hard-working
Hunts last until either limits are acheived or until about noon.
Black Duck Outfitters FAQ Page
Not Included
Guided Maryland duck hunting packages at Black Duck Outfitters do not include:
Licenses and stamps
Airport transfers (may be arranged)
Firearms and ammo (can be provided on request)
Bird cleaning (may be arranged)
Gratuity – Minimum 15% gratuity should be paid to your guide following the hunt.
Lodging and meals are not included but a great selection is available nearby.
Afternoon hunts (may be arranged within daily bag limit allowances)
Details
Getting There
Fly into Baltimore-Washington (BWI), Dulles-VA or National-DC airports. Rent car and drive 0.5 to 1.5 hours to Annapolis, Maryland the day preceding scheduled hunt dates.
Annapolis, the state capital, has an excellent selection of hotels, restaurants and attractions as equally suited to non-hunting family as to a groups of friends or working acquaintances.
What To Bring- Duck Hunting in Maryland
Maryland Hunting License, State and Federal Stamps, HIP
Ammo, (Nontoxic, shot sizes 1, 2, or 3)
Shotgun
Weather-appropriate clothing layers in camouflage or dull earth tone colors, preferably waterproof
Waders and a dry change during sea duck hunts and diver duck hunts from layout blinds
Dry blind bag
Purchase 3-day Maryland hunting license, state stamp and HIP within a week of your scheduled hunt: https://compass.dnr.maryland.gov/dnrcompassportal
Retriever Policy – Maryland Duck Hunts
Obedient retrievers are welcome if hunting among your own group. Bring your retriever or hunt over your guide's experienced lab. Note – retrievers must be steady for their own safety, and may only be hunted at your guide's discretion.
Related Links – Maryland Duck Hunting & Black Duck Outfitters
Visit BlackDuckOutfitters.com
Connect with Black Duck Outfitters on Facebook for real-time updates
Maryland Hunting Regulations



Wildfowl Feature Story Return of the King: Canvasback Population Rebounding. "Throughout the morning, we watched hundreds of canvasbacks toll into the decoys," Jayson said. "We took turns picking our shots. The canvasback decoys like no other waterfowl, turning on a dime with the sound of wings cutting the wind like a small fighter jet." September 2012.
CLICK HERE TO VIEW BLACK DUCK OUTFITTERS MARYLAND DUCK HUNTING PHOTO GALLERIES

Videos
Photos
References
Beth & Mark Robinson beth_and_mark@msn.com
Sean Irey SIrey@kwikgoal.com
Brian Klein bklein@dnesco.com
Dan Keen dlkeen87@yahoo.com
>> Read client testimonials for Black Duck Outfitters' sea duck hunts and diver duck hunting
Book This Hunt Direct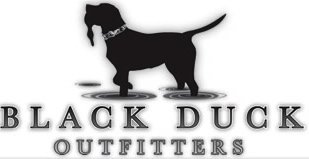 For an excellent guided waterfowl hunting experience on Maryland's Chesapeake Bay contact this reputable outfitter directly to schedule and discuss your next adventure.
Black Duck Outfitters goes the distance to deliver the very best Maryland duck hunts on the Chesapeake Bay area. Contact Captain Todd Sauerwald, todd@blackduckoutfitters.com Phone 410-336-7078.
Black Duck Outfitters' staff operate under the motto that "Our extra mile will never be crowded." Our guides are some of the most knowledgeable, down to earth, hardest working, and overall greatest guys you will ever meet. They are second to none. As a team, each one of us brings a unique skill set to the table. We do our homework and use our collective resources to deliver the best client experiences possible. Our willingness to work is our commitment to our valued guests. Todd Sauerwald, Black Duck Outfitters