North Dakota Goose Hunting
North Dakota Goose Hunting during the early Canada goose season now represents one of the best – and earliest – Canada goose hunting opportunities in the US.  Daily limits are a generous 15 daily.  The month-long season begins in mid-August, 2 weeks before the conventional September 1 start date for North America.  The North Dakota goose guides at All Flocked Up Outdoors are can-do locals with access to countless prime hunting properties and the expert know-how that comes from experience to put big honkers paddles down into the decoys.  If you're looking to experience authentic early season Canada Goose hunting without the costs and hassle of crossing the border into Canada, here's your hunt.
Nearing a half-million birds, North Dakota's population of resident giant Canada geese exceeds the DNR's goals by more than 5 times!  This unprecedented explosion in Canada geese has resulted in very liberal limits and, as an upshot, increased leg banding initiatives.  While successful goose hunting still requires a good game plan and cooperative weather, there's an abundance of Canada geese and relatively low hunting pressure as compared to other parts of the US.  Hunts take place on a vast landscape of harvested agricultural fields in the heart of America's prairie pothole region, that not only produces millions of ducks and geese but also functions as a major staging area for migrators coming out of Canada.
The typical set-up consists of moderately small spreads of full-body goose decoys and field layout blinds strategically located on the carefully pre-scouted X. It's common for flocks of mallards to strafe the decoys  at sunrise, providing the perfect pre-hunt entertainment.  During the early season, temperatures are quite warm and doesn't require heavy clothing, which makes packing light very simple.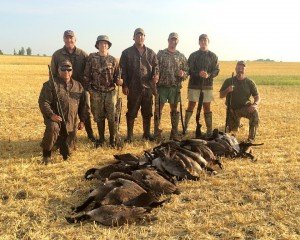 Guests stay in their choice of suggested cabin rentals that are fully furnished to include satellite TV, washer-dryer, and freezer storage.  Guides meet at the cabin well before sunrise and everyone heads to the field to set up.  Drive times vary range from 15 to 60 minutes.  Morning hunts last until about 11, or until the geese return to water to sit.  Afternoons may consist of guided afternoon goose hunts to try to finish up limits, semi-guided mourning dove hunts (after September 1), or maybe even fishing on the nearby lake that's renown for its walleye.
Previously featured on Benelli's American Bird Hunter and Wolf Creek Production's The Wing Shooter, this operator is dedicated to great North Dakota goose hunting opportunities for groups of 5-6 hunters.  For an excellent goose hunting guide in North Dakota, contact Eric Strub, All Flocked Up Outdoors at 701-230-9173 or 701-466-2107, email ericstrub@gmail.com. Website: AllFlockedUpOutdoors.com
Timing
Early Canada goose hunting in North Dakota is August 15 through September 15.  Ask the outfitter about afternoon opportunities for mourning doves and ducks, which may seasonally be added.
Rates
$350 daily for early Canada goose hunting in North Dakota.  Hunts can be upgraded to include seasonally available ducks or doves.
A 50% nonrefundable deposit for reservations.  Balance due on arrival.  Cash and personal checks are accepted.
Included
These North Dakota goose hunts include expert scouting, professional guide services, quality blinds, decoys and equipment.
All Flocked up Outdoors has access to many thousands of acres of hunting properties, some strictly exclusive and some no more than a phone call away.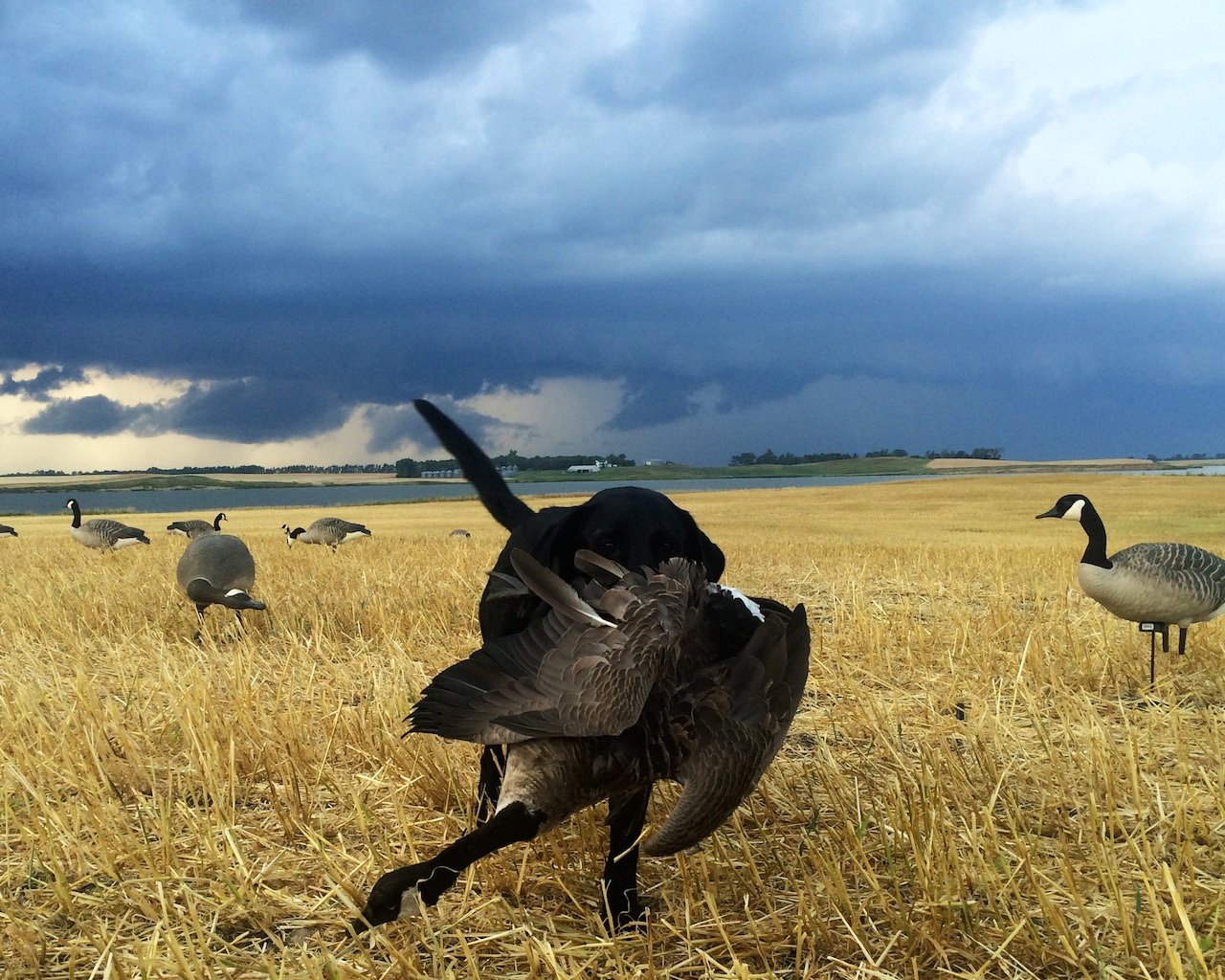 Not Included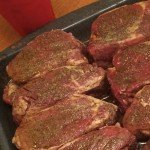 Lodging, meals, ammo, licenses, gratuities and transportation are not included.
There is a great selection of restaurants and grocery stores nearby.
Suggested lodging options include satellite TV, furnished kitchens and freezer storage.
Guide will HELP hunters clean birds at no extra charge if clients leave the bird cleaning to the guides its a price of $4 per bird.
Details
Licensing Requirements – North Dakota Goose Hunting
Early Canada Goose season non-resident requirements are an Early Canada goose License, HIP number, and Federal duck Stamp. Hunters under the age of 16 from states that have reciprocity with North Dakota may purchase a license for Resident prices. Cost about $50.00
Spring Light Goose Non-resident requirements are a spring statewide light goose license NO federal duck stamp is required for this season. Cost about $50.00
Non-resident licensing can only be purchased on-line and must be done prior to arriving for the hunt.
North Dakota Hunting Regulations, North Dakota Hunting License Sales Online
Retriever Policy during your North Dakota Goose Hunt
Obedient retrievers are welcomed.

What to Bring – North Dakota Goose Hunting
Shotgun

Non-Toxic Ammo

Hunters Safety

Hunting License

State & Federal Stamps

HIP Registration

Layered Clothing

Carcass Disposal & Meat Transportation Items (ice chest, trash bags, zip locks, knife, shears)
The early Canada goose hunting season opens in mid-August and temperatures can be very warm.  Pack according to the weather forecasts for your hunt dates.  Suggested lodging options will have freezer storage for harvested game.  Please comply with state and federal regulations when processing and transporting migratory birds.  The current early Canada goose limit is 15 daily and 45 in possession.
Videos
References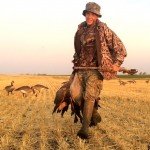 Ramsey Russell 601-214-9737
Greg Stanton 601-573-4704
Keith Coulter 601-549-3103
Book This Hunt Direct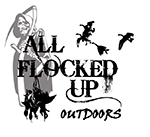 For an excellent Early Canada Goose Hunting guide in North Dakota, contact this reputable outfitter directly to schedule or discuss your adventure.
Contact Eric Strub, call 701-230-9173 or 701-466-2107, email ericstrub@gmail.com, visit AllFlockedUpOutdoors.com