Primarily mallards and pintails are targeted throughout entire season.  Though greenheads and sprigs predominate the bag, wigeon, green-winged teal, and several races of Canada geese are also plentiful.  Duck hunting takes place on several exclusive private properties with numerous wetlands, many of which are planted to corn.  Tight openings among flooded corn fields are conducive to in-your-face shooting at decoying birds.  Aerators, running water and natural springs ensure open water that attracts and holds ducks for the entire season.  Leave your waders at home if you'd rather –  hunters are driven right up to warm, comfortable 6-man blinds that are perfectly concealed.
Meet the guides in hotel lobby about an hour before sunrise to head out to the field to set up.  Drive times vary from 15 to 45 minutes. Hunts last until limits or about noon. Optional afternoon activities include hunting geese or touring local wineries.  Located in Tri-Cities, there are commercial flight services in nearby Pasco, about 20 minutes away.  The area offers nearby amenities to include night life, regional micro-breweries, and excellent restaurant choices (Anthony's is the go-to place for  fresh local seafood and great steaks).
Timing
Washington duck hunting season runs from mid-October through late-January.
While peak flight dates are typically mid-November through mid-December, guests are assured excellent duck hunting for the entire season due to superior habitat management and limited hunting pressure.
Rates
Daily Rates Washington duck hunting $325 (per person, 4 or more hunters), $350 (per person, 3 shooters), $525 (combination duck/goose hunt over water), $400 (per person, 2 shooters unless combined with other hunters), $700 (per person, 1 shooter with own blind and guide).  Solo hunters welcome, no minimum or maximum group sizes.
$1,650 3-day Washington Duck Hunt Package ($2,750 5-days) includes 1 guided hunt per day, hotel lodging, bird processing, license and stamp.
GROUP DISCOUNT: Book 10 or more hunt days for $300 per day.  Can be combined for group discount (example: 2 people for 5 days, or 5 hunters for 2 days).
Youth discount $300 per day. Non-hunter guest $100 if accompanying hunters to blind.
A non-refundable deposit of 50% is due to reserve dates with the remainder due following your Washington duck hunt.  All cancelations will either reschedule a hunt for the next applicable season in a timely fashion or forfeit deposit.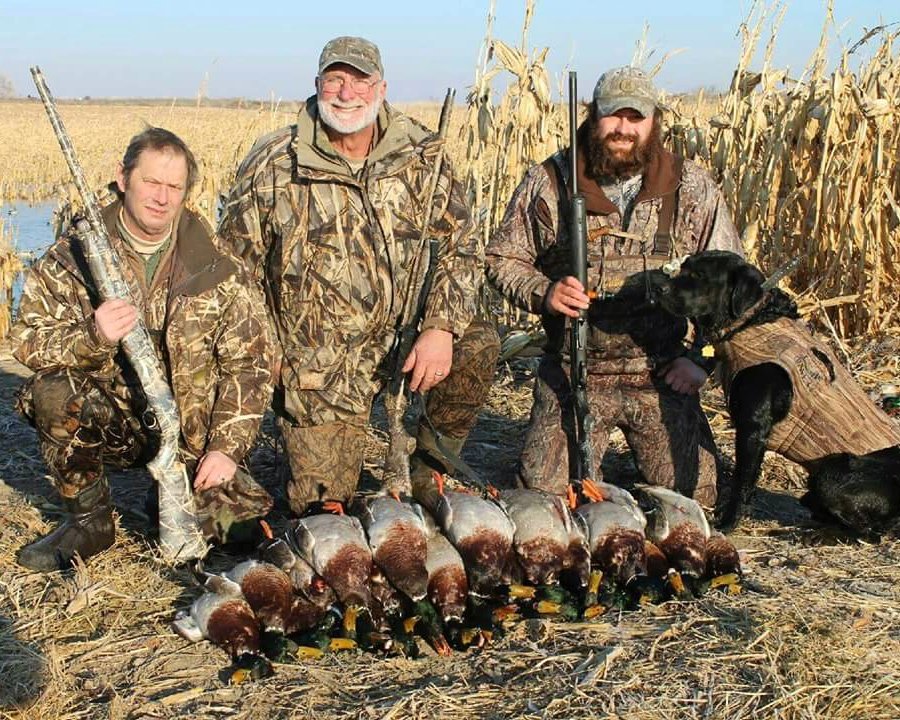 Included
Washington duck hunts with Pacific Wings Waterfowl Adventures include fully-guided hunts on exclusive private properties.  Expect to hunt large numbers of primarily mallards primarily in flooded corn fields from a warm, comfortable pit blinds. Guides provide beautiful spreads of highest-quality decoys (fully body Canada goose "stuffers" are used during goose hunts) and expert calling to put birds paddles down at the end of your gun barrel. All birds are shot over decoys, fully cupped and committed.  Hotel lodging, bird processing, license and stamp are included with package hunts.  Freezer storage is available.
Not Included
Gun, ammo, meals, transportation, and gratuities are not included in this Washington goose hunting package. Gratuities are solely at the hunters discretion and usually range 10-20% of the daily rate. Hotel lodging, bird processing, license and stamp are not included on day-rate hunts.   State and Federal guidelines for cleaning and transporting game should be closely abided.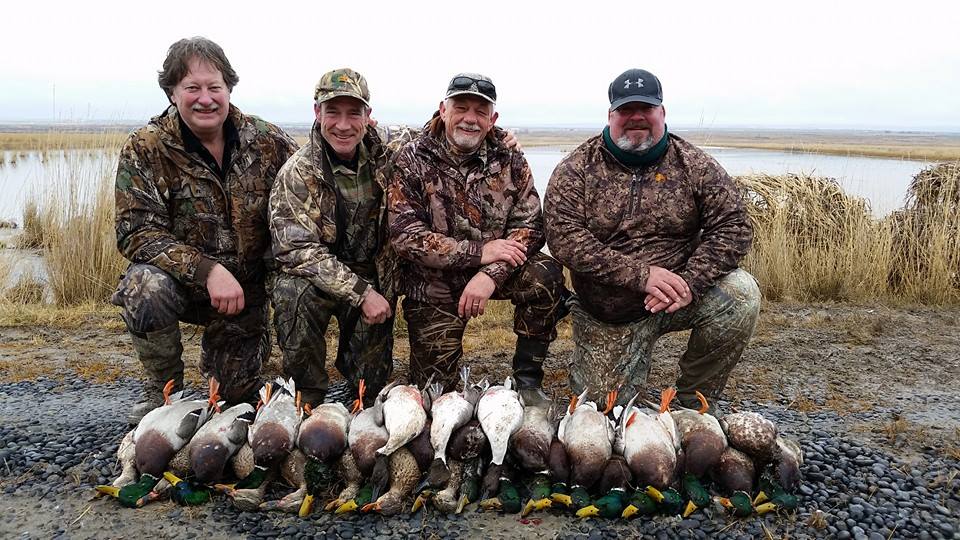 Details
Licensing Requirements – Washington Duck Hunting
Washington State Small Game License and Washington Migratory Bird Permit ($81)
Federal waterfowl stamp $15
Hip registration (free)
May purchase licenses online, nearby retail outlets or call 1-866-246-9453.
Washington Waterfowl Regulations, Washington Hunting License Sales Online

Meet your Washington Goose Hunting Guides –  Pacific Wings Waterfowl Adventures
Pacific Wings Waterfowl Adventures' Washington duck hunting guides staff have several decades experience, are knowledgeable, likable and extremely hard working.  Learn more HERE.
Connect with Pacific Wings Waterfowl Adventures on Facebook
Pacific Wings Waterfowl Adventures on Twitter
View more Pacific Wings Waterfowl Adventures' Washington Duck Hunting videos

Retriever Policy during your Washington Duck Hunt
Pacific Wings Waterfowl Adventures has excellent retrievers, but obedient retrievers are welcomed during single-group hunts.

What to Bring – Washington Duck Hunting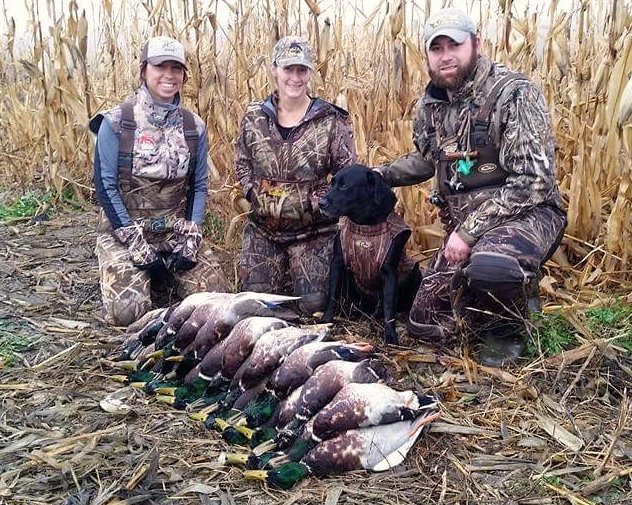 Gallery
View many Pacific Wings Waterfowl Adventures' recent Washington duck hunting photos HERE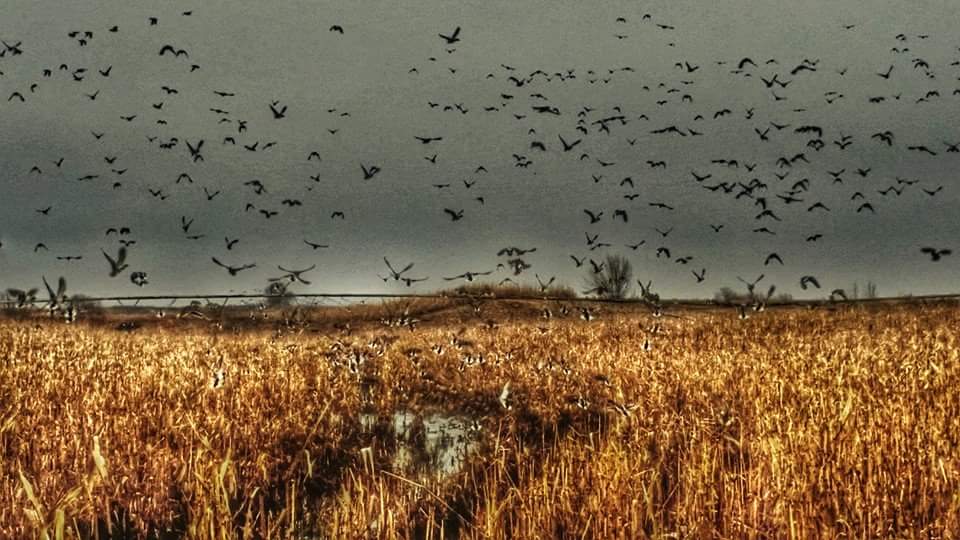 Videos
Photos
References
Albert "Skeets" Osborne skeetso@comcast.net
Mark Slezak mslezak@cfpwood.com
Jack Orr orrville47@sbcglobal.net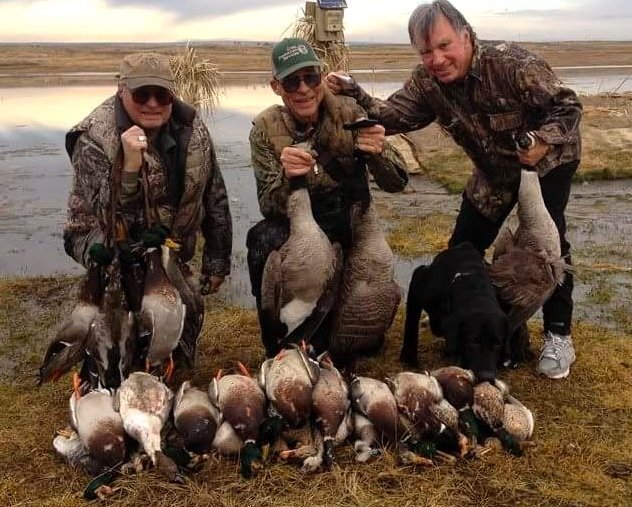 Book This Hunt Direct
For the very best guided Washington Duck Hunts, contact this reputable outfitter directly to discuss your hunt:
Pacific Wings Waterfowl Adventures
Telephone (509) 967-2303  Email pacificwings@hotmail.com
Mike Franklin 509-948-1457 (cell)
Justin Franklin 509-366-6298 (cell)

Located in the Tri-cities area of southeastern Washington, Pacific Wings Waterfowl Adventures delivers the best waterfowl hunting within the Pacific Flyway. More than 20 years experience guiding duck hunters from all over the world, their guide staff is among the best waterfowl guides in the Pacific Northwest and have earned many titles in goose and duck calling championships.  Prime properties, expert guide services, superior habitat management and minimal hunting pressure produce an astounding 6.5 duck per hunter per day bagged.  Mallards, pintail and Canada geese and more await you with Pacific Wings.