Benelli Adds Legendary Waterfowl Hunter Ramsey Russell as Brand Ambassador
Benelli announces the addition of legendary waterfowl hunter Ramsey Russell as its latest ambassador. Russell has waterfowl hunted on six continents and spends an average of 200 days in the field with his Benelli shotguns.
"I've had the good fortune to share a blind with Ramsey on several international waterfowl hunts and, although he needs no additional endorsement, he is the real deal when it comes to waterfowling,' said Benelli Vice President of Brand Marketing Timothy Joseph. "The fact that he chose to shoot Benelli shotguns long before we met says a lot, and we're proud to have him join the Benelli family."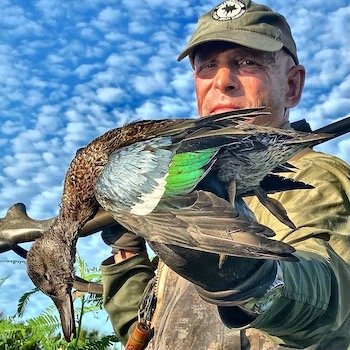 Founder and owner of GetDucks.com, Ramsey Russell, travels the world in pursuit of waterfowl. He's hunted and shot teal around the globe, exotic species such as silver, cape and Brazilian teal included, but he still enjoys teal hunting at home in Mississippi. Russell also makes shorts trips to Louisiana and Texas to hunt with friends in the two largest blue-winged teal staging areas in the U.S.
"The start of hunting season in the south begins with doves. Soon after though, the blue-winged teal hunting season arrives and it's duck season all over again," Russell said. "You start working on blinds, running the rivers, fishing the lakes and everyone is seeing blue-wings here and there as early as August. Those sightings get your blood pumping for the return of migrating ducks. Around that time of year, something in the wing changes and you know it's coming."
Read Full Story: The Blue-Winged Kickoff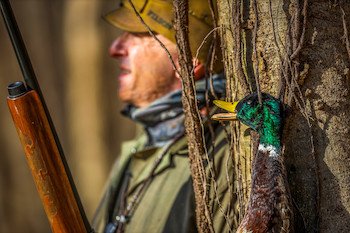 For Ramsey Russell, duck hunting is about the passion, the quest, the authenticity of adventure. The Delta native and owner of GetDucks.com explains, "Somewhere in the world, it's always duck season—even in the most remote, wild, pure destinations on the planet. Of course, there are ducks galore in many places we hunt, some incredibly unique species; but for me, it's not about collecting trophies or accruing numbers, it's about collecting experiences." 
His passion for hunting was spawned in the Mississippi Delta where he enjoyed quality time spent with his grandfather who introduced him to fishing on Lake Ferguson as well as the pageantry of dove hunting near Inverness. When Ramsey reached junior high, his family moved from Greenville to Jackson, but he continued down the path, explaining, "I've just always been enamored with outdoor adventures." Throughout college at Mississippi State University, where he received a degree in Forestry and Wildlife, he first began exploring hunting venues by working on a massive ranch along the Mexico border. He then had opportunities to hunt with friends in the U.S. and began dreaming about at the time about hunting Canada. He, however, attributes his resolute focus on the sport to a life-altering event.
Read Full Story: Ramsey Russell Beyond the Birds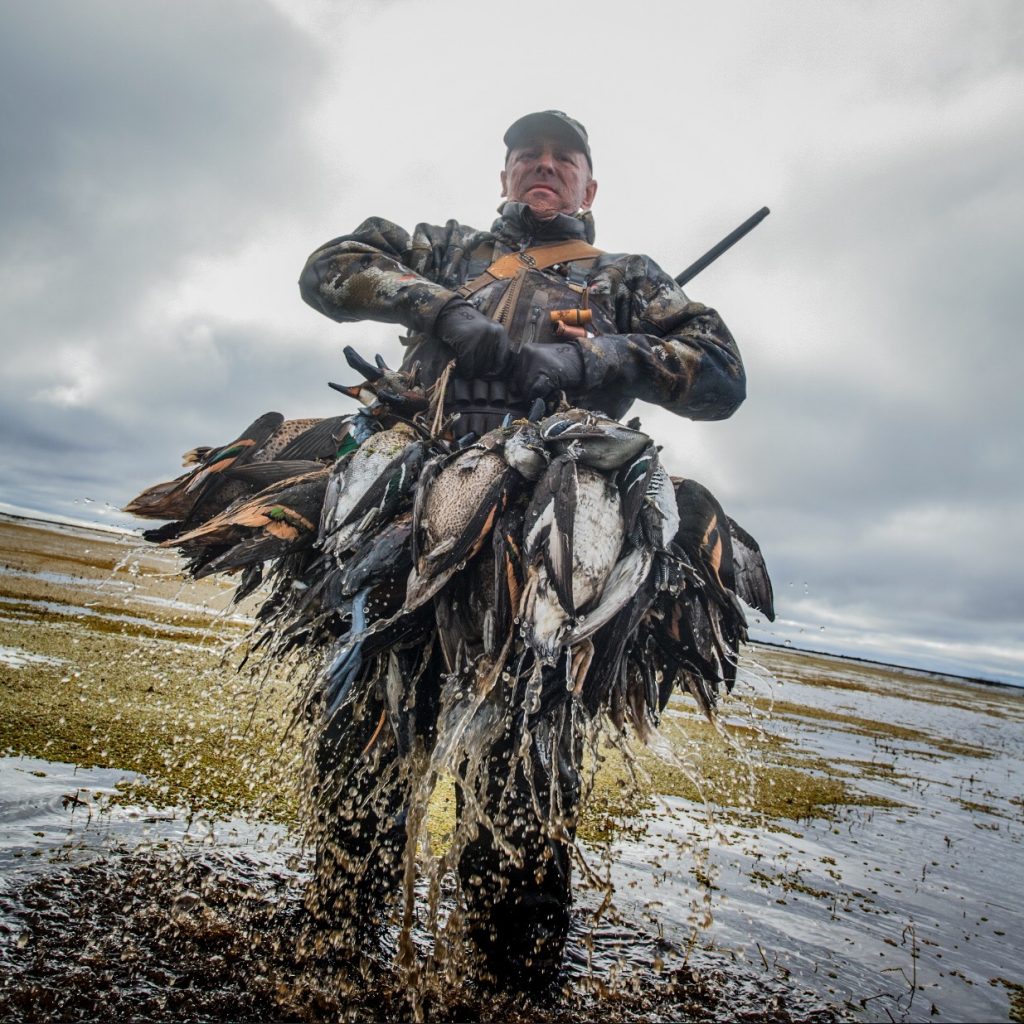 For those of us who also feel like we were born a hundred years too late, Rio Salado confirms you're not wrong. The numbers of birds stuffed into what equates to a 115 square-mile roam unit will test the computational abilities of your brain. Here, among unspoiled wetlands and lush grasses, you truly have the chance to stop and picture the staggering bird densities North America once held. So many birds in this place, seemingly everywhere. Among them the famed Rosey-billed Pochard in stunning numbers. Black-Billed and Fulvous Whistling Duck. Two species of pintail. Four flavors of teal. Brazilian ducks and more, all relatively unpressured and playing nice the way you'd wish, call-responsive and a window of insight back into what we once had. 
A word of advice to those lucky enough to find themselves in a place this magical: Indulge your idealistic side. Sift through time's back-catalog of your most memorable hunts. Inside those years, find the wide-eyed beauty and the picture of perfect that endeared you to waterfowling years ago. Remember the way those birds worked when fully committed, locked up and eating it. That's the special sauce and always will be, and it's why you come to places like Rio Salado: To see ducks act like ducks. Real Argentina duck hunting at Rio Salado.  As real as it gets.
Read incredible full-color story (PDF): The Boys of Rio Salado, The Good Ol' Days Still Exist (Argentina duck hunting at Rio Salado)
Referenced GetDucks hunting experience: Argentina Duck Hunting at Rio Salado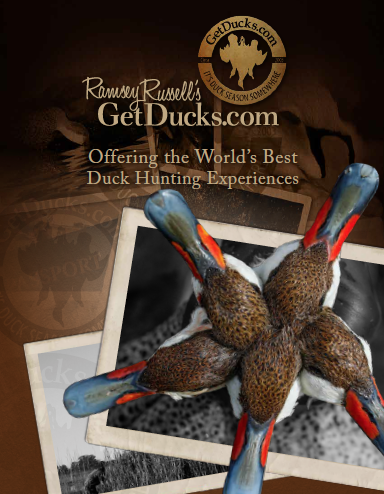 View our latest 36-page, full-color catalog online: Ramsey Russell's GetDucks.com 2020 Brochure – Offering the World's Best Duck Hunting Experiences (hi res PDF).  Or view the online flip-page 2020 GetDucks Brochure here.
Contact us to receive your complimentary hi-res, high-quality print copy mailed directly to you. Copies also available at Safari Club International, Dallas Safari Club, and other select sporting events.
In this issue: GetDucks Company Profile • About GetDucks • It's Always Duck Season Somewhere Highlights • The Best Argentina Duck Hunts • Mexico Wingshooting • Azerbaijan Hunting • Alaska King Eider Hunting • Peru Duck Hunting • New Zealand Waterfowl Hunting • South Africa Duck and Bird Hunting • Russia Bird Hunting • Netherlands Goose Hunting • Sweden Goose Hunting • Australia Duck Hunting • Cordoba Argentina Dove Hunting • Mongolia Bird Hunting • Pakistan Duck Hunting • Client Testimonials • USHuntList Outfitters and Contacts • Trophies of a Feather Story, an 8-Species Run-Down of Must-Do Adventures (SCI Magazine reprint) • The Flyway Rambler, On Ramsey Russell Hunting Worldwide (Outdoor Life Magazine reprint) • Life's Short GetDucks Short Films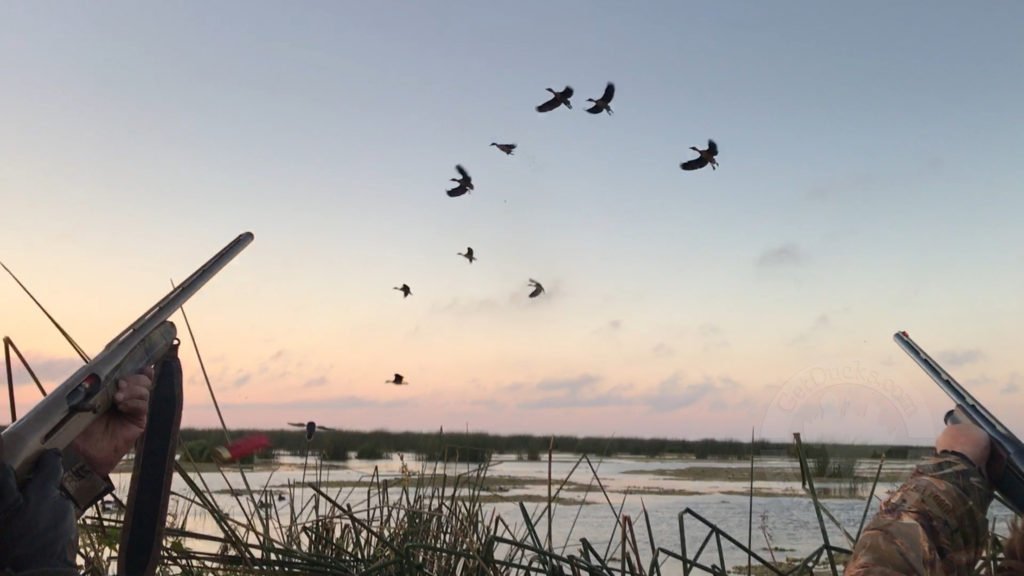 SCI CEO W. Laird Hamberlin recently spent time with Ramsey Russell, host of the "Duck Season Somewhere" podcast to discuss SCI's history, the pivotal role SCI plays as the largest pro-hunting and pro-wildlife organization on earth, how SCI benefits hunters and wildlife.  It's an informal and insightful discussion all hunters will appreciate.
Ramsey has hunted ducks around the world and is an SCI Convention exhibitor, offering global duck hunting and wingshooting adventures through his full-service agency. Visit GetDucks.com to learn more.
In January, Ramsey was profiled by Blood Origins in the short film, "Get Ducks", presented by SCI.
Find "Duck Season Somewhere" podcast on your favorite player or listen online.
>>>> Listen to Laird Hamberlin, CEO Safari Club International Interview, Read Transcript  Here.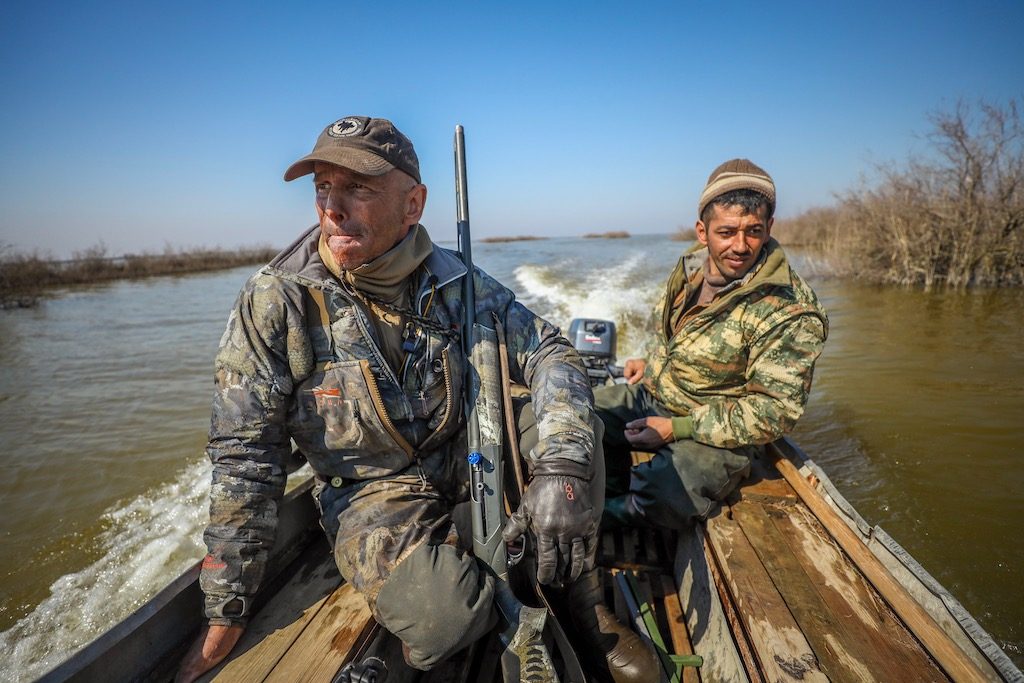 Booking hunts is only part of the business.  Ramsey Russell hosts many excursions and travels to find new duck hunting locations. He's duck hunted on 6 continents, averaging 150 to 200-plus days of travel per year.
Although it has its downsides, Ramsey Russell realizes he's living what many would consider a dream. He travels, experiences cultures and food, and makes friends with people he otherwise would have never met. He also realizes that were it not for the explosion that almost killed him and the scars that remind him of it, he would not be where he is today.
Read Full Story: A NEW DAWN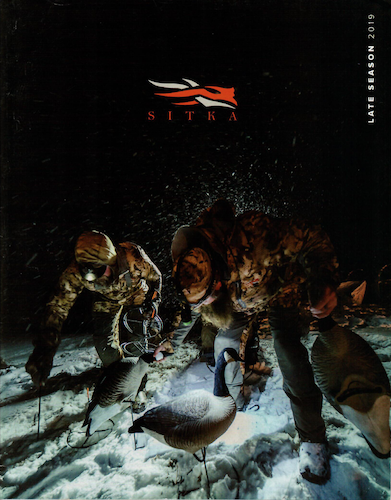 Soon he booked out Canada. He started a website: getducks.com. He added Argentina duck hunting to his list. He joined Dallas Safari Club and breathed the rarified air of markhor hunters. Soon he was opening adventure duck hunts around the world–for species most mallard hunters never heard of. Duck hunts in Azerbaijan, Peru, Russia, Sweden, South Africa.
"If I'm not traveling, I'm here at camp," he says. "We spend Christmas here, Thanksgiving, the important days, the best days, we spend them at camp. This is where my best friendships are, my oldest friendships." The walls are covered with 6 continents of photos and birds. There's potluck dinners. Club members bring a dish, share stories, catch up on family and on hunts. "I'm not a collector of species," Russell says, "I'm a collector of experience. This life is short. It can end in a flash." No one knows that better than him.
Read Full Story: THE EXPERIENCE COLLECTOR
Though sometimes forgotten waterfowling paradise, the eastern shore of Mexico's Sea of Cortez…offers hunting combinations found nowhere else on the planet.
It doesn't seem like a place you'd find ducks, given the terrain of fishing villages punctuated by desert and prickly pear cactus. But they are there. By the many thousands. Pintails. Wigeons. Teal of all flavors including cinnamons. Even brant in giant flocks feeding on eel grass on the roll of the tide.
See Full Story: FORGOTTEN PARADISE: DUCK HUNTING MEXICO 'S SEA OF CORTEZ OFFERS UNPRESSURED DUCKS, PRIME PLUMAGE
Referenced hunts: Obregon Mexico Duck Hunt Combo and Sonora Duck-Dove Hunting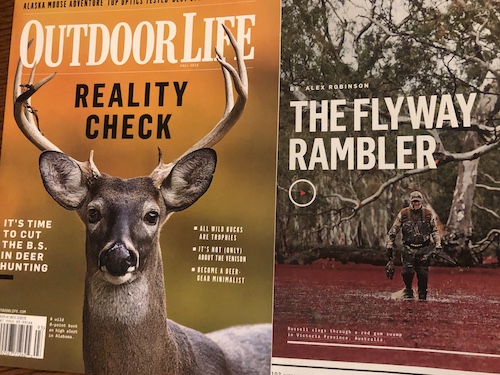 Ramsey Russell is a southern salesman, an entrepreneur, and an old-school duck slayer. He's also opening new duck hunting opportunities around the globe for American waterfowlers. "These are real duck hunts for real duck hunters. If you want all of the other shit, take your wife to Italy."
Many times, Russell hunts with locals who speak a different language from him. This minimizes the small talk, but they still communicate through hand signals and gestures in the duck hunter's common language: fix the hide, the ducks are flaring; tweak the spread, they're not committing close enough; good shot, here comes more birds. "You can put four people from anywhere in the world together in a blind, and they'll have more in common than they'll have differences, because they're hunters."
Read Full Story: The Flyway Rambler