Texas Duck Hunting – Gulf Coast Redheads and More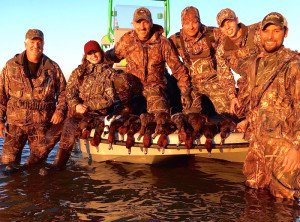 Premium redheads are arguably one of the most stunning and highly sought trophy duck species in North America.  Because the greatest percentage of the entire world's population of redheads winters along the Laguna Madre of Texas, where shoalgrass and other important food sources are abundant, putting lightning-fast flocks of bull redheads over the decoys will be one of many thrills experienced while Texas duck hunting with Run-N-Gun Adventures. This savvy outfitter runs 100-plus miles of prime coastline less than 20 minutes from their premium lodge, but they have also amassed an impressive amount of intensively managed, private waterfowl properties.  Well-seasoned from a decade of guiding, this energetic team has the experience, know-how and equipment to consistently produce birds.  The sheer number and diversity of overwintering waterfowl on the storied Texas Coastal Prairie provides an excellent opportunity for getting your hands on many Central Flyway waterfowl species that will be excellently plumed December through January.
In addition to prime bull redheads, other prized ducks that predominate the bag are pintail, American wigeon, green-winged teal, blue-winged teal, coastal mottled ducks, black-bellied whistlers and, occasionally, fulvous whistlers.  Snows and blues, Ross' geese, white-fronts and sandhill cranes are plentiful.  Among the 50,000 acres of prime habitat managed for waterfowl by Run-N-Gun Adventures are freshwater marsh, flooded rice fields, and moist-soil vegetation or millet impoundments. Geese are hunted over dry fields of harvested rice. Habitat management is year-long to ensure maximum waterfowl utilization. Both freshwater marsh hunts and flooded rice field hunts consist of ample decoy spreads, brushed blinds or pits.  On the bay, guests hunt from comfortable boat blinds nestled next to the shoreline.
Waterfowl impoundments number around 70 ranging in size from 10 to 100-plus acres – plenty of room for hunters and, importantly, rest ponds. An experienced staff of just over a dozen (and growing) spends hours scouting each day to ensure that clients hunt the "X".  Says owner Daniel Kubecka, "We have access to more private property than anyone else in our area,  quite a bit more.  We control a big portion of the waterfowl property in Matagorda and surrounding counties.  No one does more prep work than we do in the 'offseason' to make sure that we are providing the best waterfowl habitat for the birds and for our clients to hunt.  Managing these properties, habitat and birds once they arrive are key to holding and harvesting birds throughout a season.  Resting and rotating properties are vital aspects that clearly set us apart from other outfitters; we DO NOT overhunt our birds or properties.  We strive for quality hunting experiences, never the maximum number of shooters."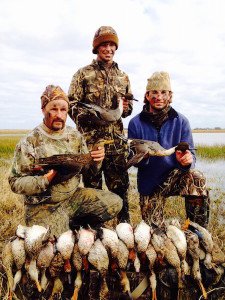 Guests awake well before daylight and begin the day with plentiful hot coffee and a quick bite.  Drive times to hunting areas vary from 15 to 35 minutes. Morning hunts last until limits or about noon.  Return to lodge for a hearty home-cooked lunch.  Afternoon activities include finishing up on duck limits, goose hunting or some of that famous coastal Texas fishing for those that prefer a cast and blast.  Seasonally, your Texas duck hunting package can be customized to include alligator, wild hogs and doves. Dinner is usually served about 7 PM, another round of big-time southern deliciousness.  And relax, don't worry about your birds – staff will professionally prepare and properly tag your birds at no additional charge while you enjoy the ample hospitality.  Special note: for out-of-state guests that wish to streamline air travel, packages may be customized to include waders, shotguns and ammo.  Your well-behaved retriever is welcomed.
Located in Bay City, only 80 miles southwest of Houston, with plenty of convenient amenities. Guests stay at the newly-constructed 11,000 square-feet lodge (completed August 2017), where the atmosphere is warm and family-friendly, understated opulence. Loaded with comfortable furniture for relaxing and studying the back of your eyelids.  There's also wifi for staying in touch. Lodge features 8 bedrooms, 9 bathrooms, large covered parking area, generous screened in porch area overlooking stocked pond, spacious client-only mud room, full kitchen, pro room with apparel and gear, fireplace, pool table and shuffle board, outdoor fire pit, stocked pond for fishing, and guest dog kennels.  The chefs are absolutely amazing each course is as absolutely delicious as it is aesthetically appealing. Each room sleeps 6 guests and has its own full bathroom. There's a golf club and driving range right next door!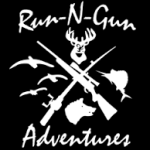 Where size and satisfaction really matter. These guided coastal Texas duck hunts for trophy redheads, pintails and much more will definitely sell out to people in the know well ahead of prime-time and holidays. Southwest Airlines runs good fares about 6-9 months in advance.  For more information about Run-N-Gun Adventures, visit www.run-n-gunadventures.com. Contact owners Daniel KubeckA, Run-n-gunadventures@hotmail.com, or Nick Stillwell, Rng.stillwell@gmail.com.  CALL 979.476.5858.