Australia Duck Hunting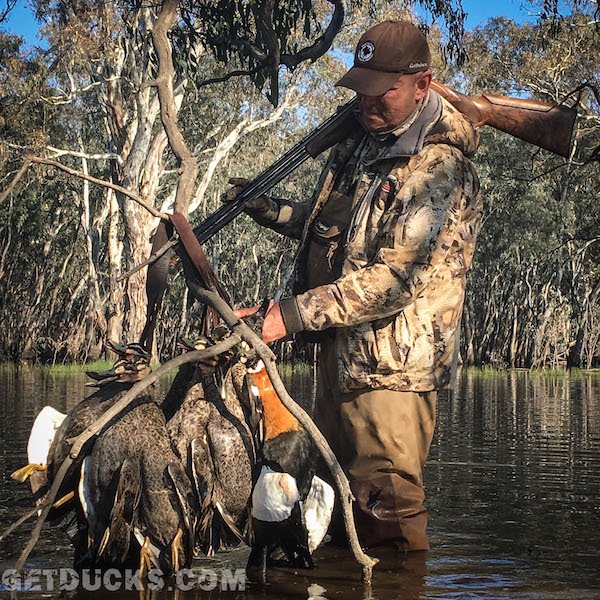 Because emotionally based anti-hunter opinion takes absolute precedence to responsible, science-based management of Australia waterfowl and wetlands habitat,  the Australia duck hunting season has been whittled down to only a few weeks and 4 ducks daily. For this reason, this hunt is unavailable. Shame on Australia for mismanagement of this treasured resource! And rest assured, that when duck hunting is banned in Australia, there will then be ZERO management of waterfowl and their habitat. Unfortunately, with a world population of 8-plus billon humans, doing absolutely nothing is not an option for ensuring sustainable wildlife populations.
Australia duck hunting is a continuation of unchartered waterfowling adventures provided exclusively by GetDucks.com, and like many of our other off-the-beaten-path destinations, duck hunting in Australia provides an immersive experience for only 1-3 guests per session in a laid back, highly-interpersonal atmosphere – guide-staff comfortably feels more like falling in among long-lost friends than staying in a bustling hotel.
Though the driest continent on earth, wet years result in astounding duck production. There is a rich tradition of duck hunting in Australia to include decoys, duck calls, and retrievers. Full of friendly and English-speaking duck hunters, Australia duck hunting is surprisingly more similar to hunting in the US than most other foreign destinations. Hunting primarily throughout the Victoria province, hunting among 2-3 locations ensure opportunities for the full variety of endemic Australian duck species to include: Pacific black ducks, grey teal, chestnut teal, maned duck, pink-eared duck, hardheads, Australian shovelers (pending seasonal availability), and Australian shelducks. In good wet years, the limit is an enviable 10 duck per day.
Hunts take place Monday-Friday, leaving weekends free for travel or sightseeing. The variety of habitats hunted include flooded and dry-field agriculture, rivers, stick pond swamps, and flooded green timber, usually using natural cover for concealment.  A degree of mobility necessary for walking moderate distances is required to ensure the greatest hunting opportunities. Depending on seasonal timing and availability, upland birds, geese or big game might also be hunted.
Lodging varies among simple hotels and B&Bs along the way of your Australia duck hunting tour. Meals are a combination of casual local restaurants and home-cooked, everything from bacon cheese burgers (the locals love topping them with fried eggs, pineapple or beets) to lamb, beef steaks, Thai, pizza – your preference to include your own waterfowl as desired.  Like duck hunting the world over, each morning begins well before daylight with a quick cup of coffee, driving one-half to an hour to the hunting area in time to set the decoys. Hunts last until limits are achieved, the ducks quit flying or the guest is ready; the hunt pace is completely customized to suit client needs.
Guests are received at the airport in Melbourne. A couple days spent in Melbourne preceding scheduled hunt dates may mitigate jet-lag.  Australia duck hunting easily combines with New Zealand duck hunting for an excellent South Pacific waterfowling combo.