Texas Goose Hunting – Panhandle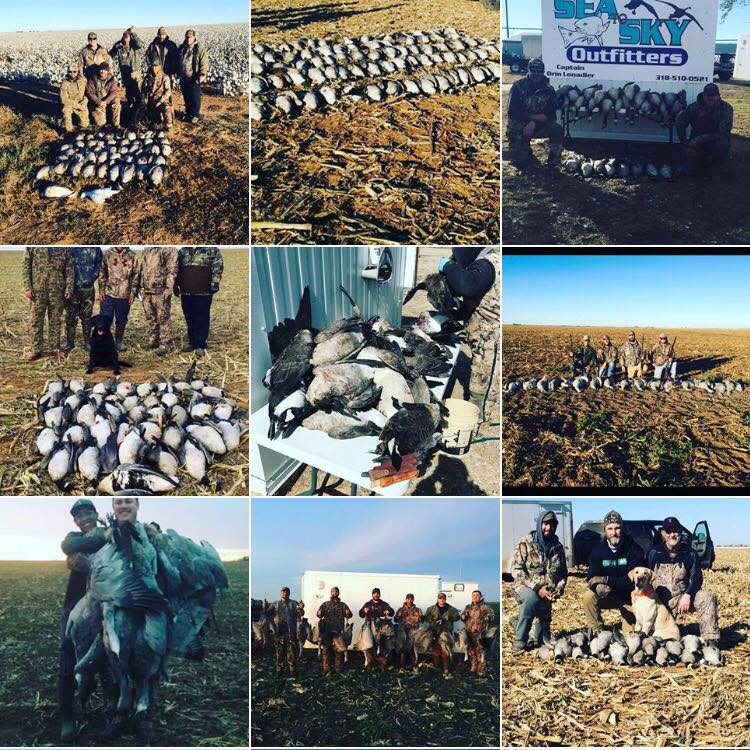 Texas goose hunting in the west Texas panhandle remains a best-kept secret among die-hard goose hunters familiar with the region's plentiful overwintering waterfowl and relatively low hunting pressure.   The west Texas Panhandle is an expansive agricultural landscape of hot crops – corn, winter wheat, milo, peanuts and soybeans – that's punctuated with countless shallow playa lakes.  In the middle of nowhere and far-removed from major cities, the abundance of superior habitat produces a paradise for waterfowl.   It's a mecca to hunters that value unrivaled goose hunting. Lots of sandhill cranes and ducks, too!
Sea to Sky Outfitters' Texas goose hunting operation consists of numerous premium tracts scattered in about a 1-hour radius of Plainview, Texas.  Landholdings consist of  ownerships and long-held, exclusive-use leases that annually attract and hold many waterfowl.  Scouting is constant during hunting season to ensure that guests are always hunting the magical "x."  Highly-experienced guides know their business, and their friendly, engaging personalities make for happy guests. They deliver consistently great goose hunting experiences. "For geese, sandhill cranes and ducks, the Texas panhandle is on of the most amazing places you'll ever hunt. You'll never hear anyone talk about it, it's such a well-kept secret," says Ramsey Russell speaking from first-hand experience.
Texas goose hunting is predominately for Canada geese, snows, Ross', and to a lesser extent, white-fronts.  Ducks and sandhill cranes are abundant, too.  Average drive-time from lodge is 20 minutes. The usual dry-field goose hunting set involves large spreads of quality, full-body decoys and silhouettes.  Comfortable, low-profile blinds keep hunters concealed. Occasionally, geese are hunted over water, where ducks and sandhill cranes make for a super combo. Everyone pitches in during set-up and it goes quickly. Expert full-time guides have many years experience, and are young, friendly, energetic. After lunch, guests may opt to hunt doves (Eurasian) or sandhill cranes depending on what was hunted that morning.
Guests are stay in a comfortable lodge that conveniently located near town. Sitting on 3 acres, amenities include fire pit, a gas grill, charcoal grill, full kitchen with all utensils needed, dining room, 2 full bathrooms, 2 living areas, and 2 widescreen televisions. Three bunk rooms sleep 15 easily. Hunters prepare their own meals or if the prefer there are several local restaurants nearby. Its like a home away from home. The outfitter will provide directions in advance of your arrival.  This affordable, high-quality Texas goose hunt is perfect for groups of buddies or co-workers.
These Texas goose hunting packages usually sell out well in advance to returning clients.  For more information about West Texas goose hunting or Texas sandhill crane hunts, visit SeatoSkyOutfitters.com or contact Orin Lonadier at (318) 510-0521, email olonadier@gmail.com.