Arkansas Spring Snow Goose Hunting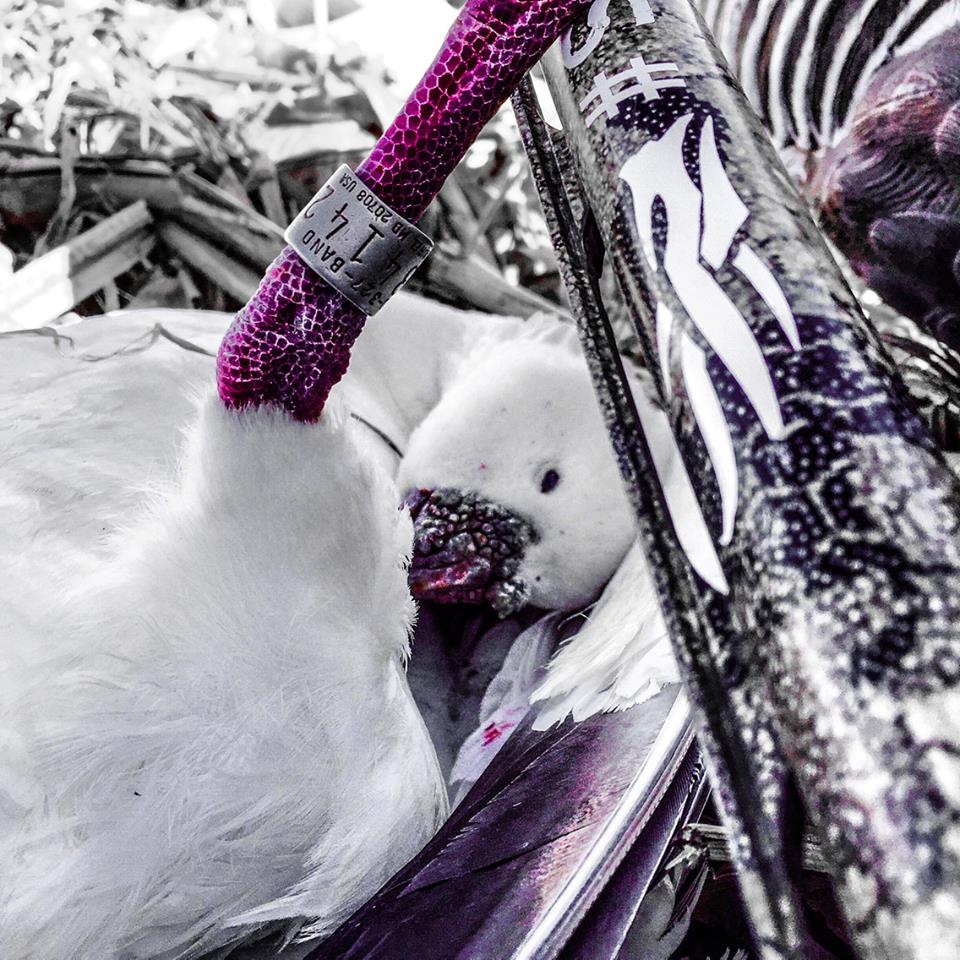 Arkansas spring snow goose hunting provides the first crack at wary snow geese during the light goose conservation order.  Abundant crops of rice, winter wheat and soybeans attract a countless yet growing number of overwintering and migrating geese to the region.   Successful hunting gregarious snow geese requires significant investments – thousands of decoys and other essential equipment, and especially time required to scout daily and manage a large decoy spread.  For those of us that want to enjoy spring snow goose hunting in the Mid-South without going full hog into it, Dirty Bird Outfitters offers convenient and affordable remedy.  They've built incredible brand following in relatively very little time for good reason: young, able-bodied and enthusiastic, with successful careers in energy services and agriculture, guiding spring snow goose hunts isn't work to them at all – it's merely an extension of the passion-fueled fun they've enjoyed for most of their lives while chasing snows from Saskatchewan to Arkansas and back.  And they're good.
The typical day starts with a hotel rendezvous well before daylight.  The first hour could be the best of the entire day. After about a half-hour drive to the pre-scouted field, guests are invited to set up decoys but it's completely optional.  From layout blinds (different sizes provided to ensure comfort), guest will find themselves immersed in a massive spread of over 1,500 premium Avian-X, wind sock decoys (Dakota, White Rock and Deadly Decoy), rotaries and flyers for goose-like movement.  Live recordings pumped out over 4 e-callers keep it sounding lively, too.  Depending on goose activity, hunts may end late-morning, with a mid-day lunch and nap before returning for the afternoon hunt.  If the migrational flow is in high gear, guests may decide to wait out that next dumb flock of snows that tumbles into the decoys like they've never seen one before.
Everyone that hunts spring snow geese know that when it's hot it's hot and when it's not it's not, but guests should optimistically expect to shoot 20-40 snows and allow for 3 boxes of ammo daily.  Dirty Bird Outfitters' staff goes the distance. Those magical 100+ days we all dream about happen here each February, but same as picking up a banded bird it's just the blind luck of the draw against the white devils as to when it'll happen.  Maybe that's why we keep going back with the right outfitters, to stack those odds in our favor.
Located 1.5 hours from either Memphis or Little Rock, commercial air services are available.  It's also within only one day's driving distance for much of the central US.  Stuttgart is only 40 minutes away and an interesting place to visit.

For more information about guided Arkansas spring snow goose hunts with Dirty Bird Outfitters, please contact Matthew Piehl directly:
Matthew Piehl, cell (701) 290-6582, email matt@dirtybirdoutfitters.com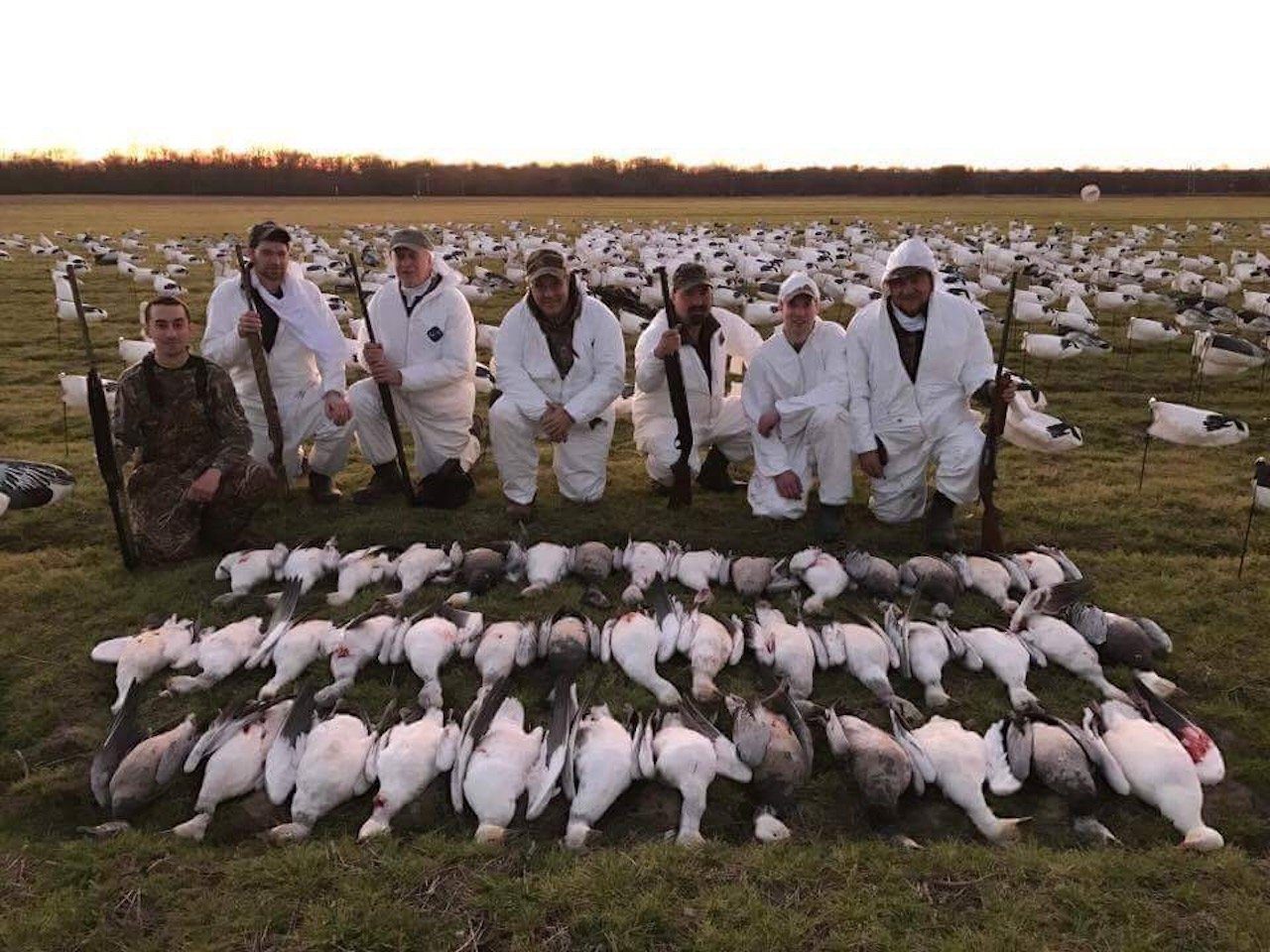 Timing
Arkansas spring snow goose hunting is usually available February 1-5 and February 8-28.  The peak dates are usually first 2 weeks of February.
Rates
Per-hunter rates for Spring Snow Goose Hunting in Arkansas with Dirty Bird Outfitters:
$250 per day (no lodging)
$300 per day w/ lodging
$850 per 3-Day hunt w/ lodging
$1,125 per 4-Day hunt w/ lodging
$1,400 per 5-Day hunt w/ lodging
Youth hunter $175 daily (hunters ages 15 years-old and younger)
A 50% non-refundable deposit required to reserve dates. Balance due on arrival.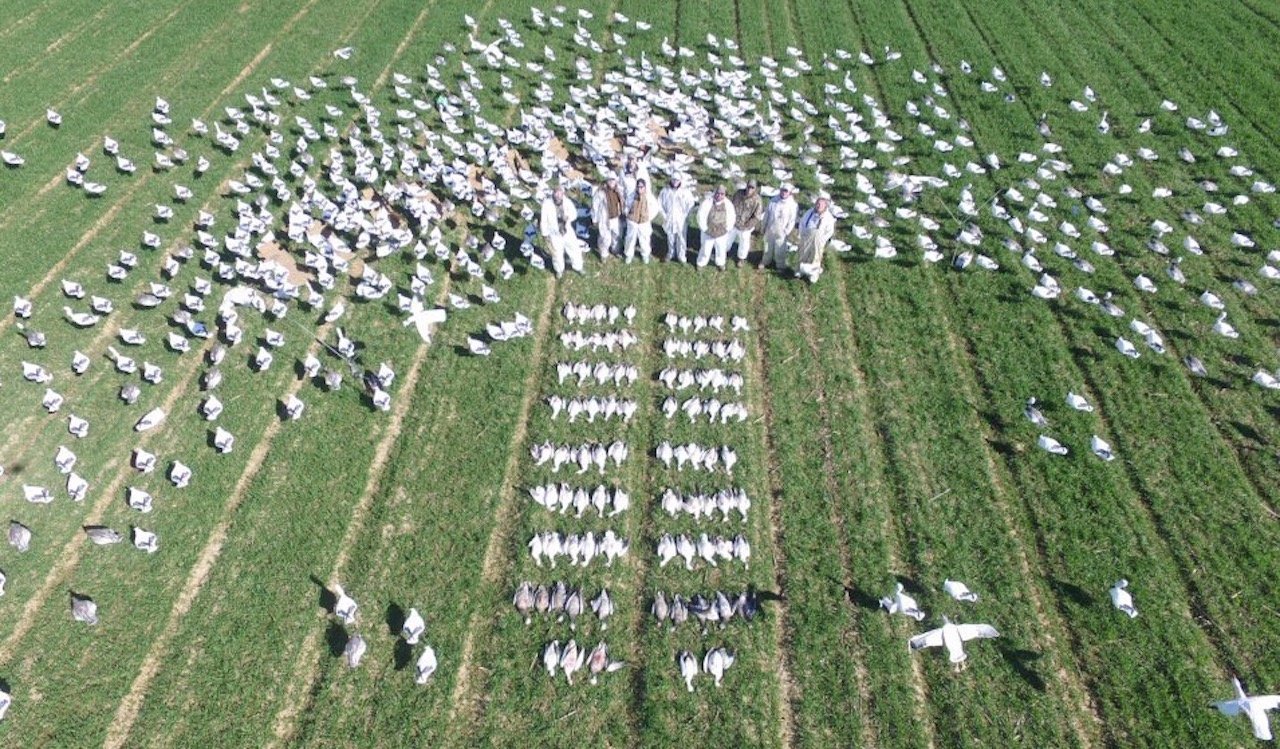 Included
Includes professional guide services, scouting, decoys and equipment, decoy placement.
Not Included
Does not include transfers, ammo, lodging, meals, or bird processing.  Local restaurants and hotels available.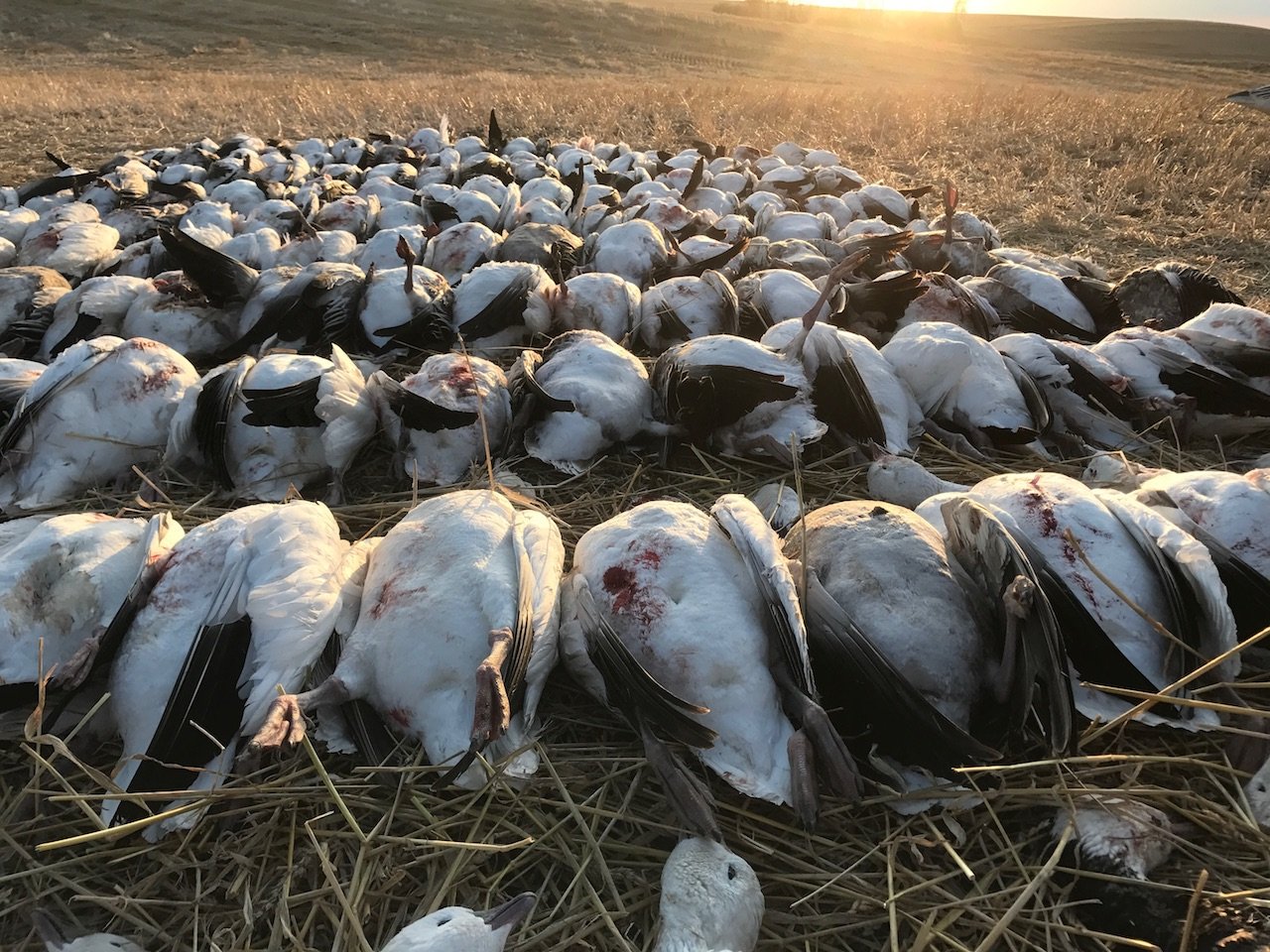 Details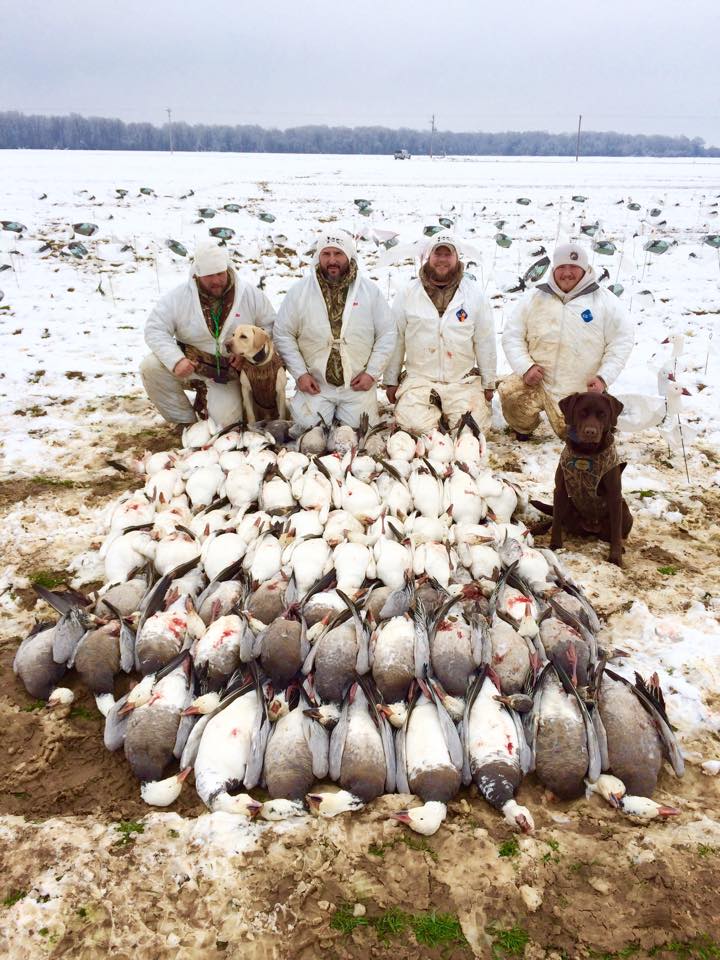 Getting There
Dirty Bird Outfitter's spring snow goose hunts operate on Arkansas's Grand Prairie, about 1.5 hours from Memphis.  Driving directions are provided.   Nearest commercial flight services are located in Memphis, TN, and Little Rock, AR.
Hunts are full-day affairs (morning and afternoon).  Hotel reservations and travel itineraries should be planned accordingly.
Arkansas Spring Snow Goose Hunting Regulations
Hunting is allowed from 30 minutes before sunrise until 30 minutes after sunset.
There is no daily bag limit or possession limit.
Hunters may use unplugged shotguns.
Hunters may use electronic calls.
No federal or state waterfowl stamps are required to hunt during the conservation order.
Hunters must have a valid hunting license, but it may be from any state.
All hunters participating in the conservation order must get a free registration permit number.
What To Bring – Arkansas Spring Snow Goose Hunts
Shotgun (12 or 10 gauge) with extended magazine.

Warm and cold weather clothes. Come prepared for any weather.  It can range from as cold as 0 degrees to in the 60's.  Also be prepared for rain, snow or sunshine as it is springtime and we never know what it will
throw at us.

Knee-high boots are recommended, but many prefer waders.

Ammo 3″-3 1/2″( 2's or bb's are recommended), allow for a

t least 3 boxes of shells per day.

Camouflage face mask.

Large coolers for your birds (guide will clean your birds for $3/per bird).


Camera to capture all the great memories.

License Requirements
A valid hunting license from any state is all that is required to attain a free conservation order snow goose permit.  Permit and HIP are available online.  No federal or state stamps are required.
Click here to get your free Arkansas spring snow goose hunting registration permit.
Arkansas Duck Hunting License Sales Online
Arkansas Waterfowl Hunting Regulations
Snow Goose Processing
Staff will clean waterfowl to comply with federal regs for $3.00 per goose or you may clean them yourself.

Retriever Policy 
Obedient retrievers are welcome for groups that have exclusive use of field.  A minimum 6 guns is required for exclusive field use.

Connect with Dirty Bird Outfitters – Arkansas Snow Goose Hunting Guide

Facebook Dirty Bird Outfitters
Website dirtybirdoutfitters.com
Videos
Photos
References
Brian Delaney 701-770-7244
Weston Wunder 515-231-8426
Jim Rowe 715-571-9364
Ramsey Russell 601-214-9737
Shawn Rogers 504-237-7362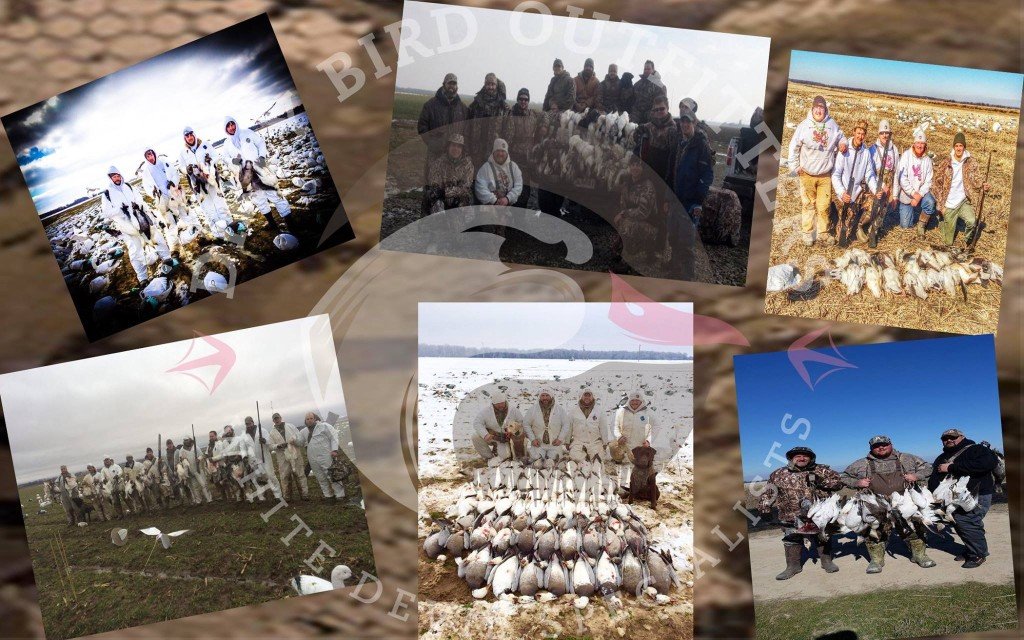 Book This Hunt Direct

For more information or to schedule guided Arkansas spring snow goose hunt with Dirty Bird Outfitters, please contact Matthew Piehl directly:
Matthew Piehl, cell (701) 290-6582, email matt@dirtybirdoutfitters.com