New England Sea Duck Hunting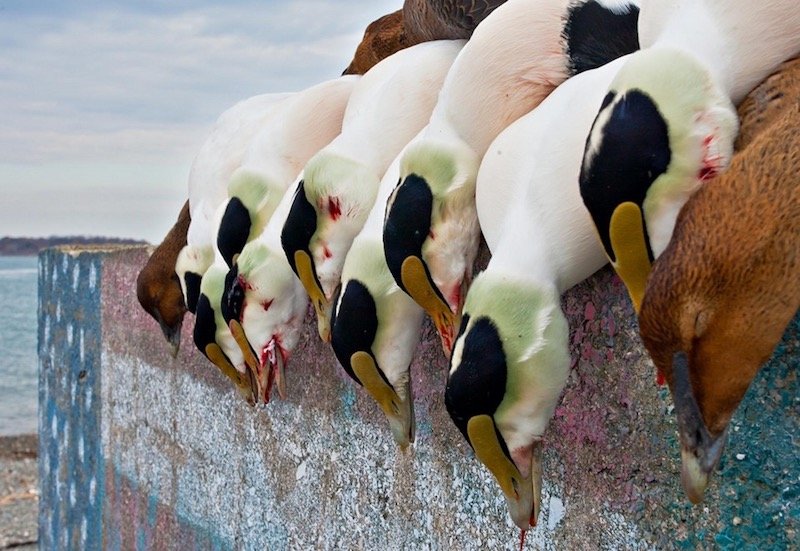 New England Sea Duck Hunting with RPM Outdoors is the definitive go-to New England sea duck hunting experience. Though perfect for avid waterfowlers simply seeking exciting changes of scenery – and there's no greater scenery change for most of us than eider hunting – this highly-specialized outfitter caters to serious collector-types that are checking off North American waterfowl species lists. New England's bountiful diversity allows for lots of species checking, too!  DO NOT mistake this as just another "one size fits all" sea duck hunt. Licensed in Massachusetts, New Hampshire and Maine, Cap. Reilly McCue's hunt differs distinctly from others in his pre-reservation meetings with clients, gaining a clear understanding of objectives and expectations; package inclusions and all-day hunt itinerary are geared towards your doing what you really came to do – seriously hunting and getting your birds.
Hunts take place in and around Boston Harbor depending on client objectives, weather conditions, tidal movement and recent bird activity. Various harbor islands, each with their own character and history, are hunted depending on desired species and weather conditions.  Rocky outcroppings are sometimes the perfect early morning vantage point for decoying sea ducks, but the ducks and weather ultimately determine the day's game plan.
Unlike many guided sea duck hunts in the area, RPM Outdoors' guests enjoy rewarding full-day New England duck hunting.  For morning eider hunts, decoys are set and guests are positioned shooting time until you have the birds or until the tide has changed the morning flight. Sack lunches are eaten on the go. As limits allow, it's off to the next hunt as conditions dictate. During your stay hunting situation may vary to include boat blinds, shore hunting, layout boats, scull boats, maybe even walk-up jump shoots.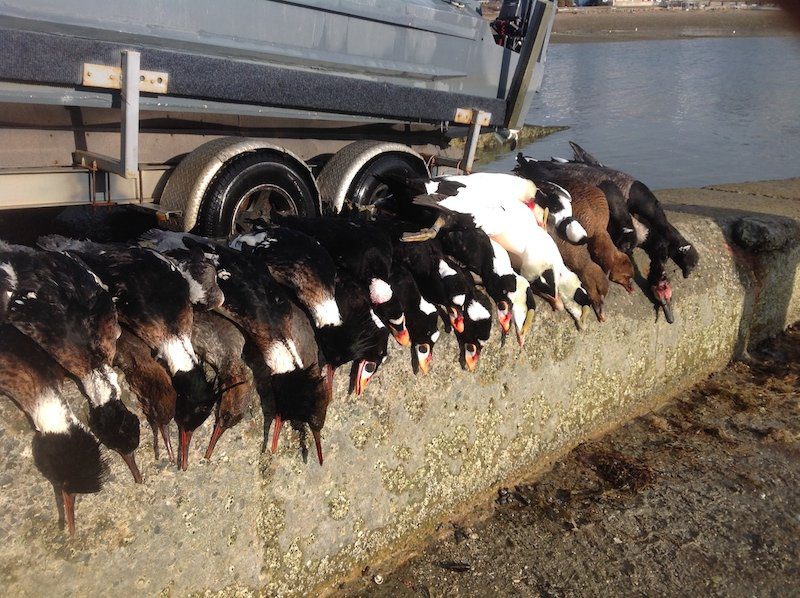 Species diversity is incredible. Eider hunting steals the show. Typical New England eider hunting set-ups produce a good many sea duck species to include common eiders (both the American and Northern subspecies) and all 3 species of scoters (Common Scoter, White-winged Scoter and Surf Scoter). Long-tailed ducks and mergansers (Common Merganser and Red-breasted Merganser) are common. This is not the place to target king eiders, but it sometimes happens. Atlantic brant are abundant in association with shorelines. Inlets, rivers, and marshes produce a variety of waterfowl to include common goldeneye, other diver species and puddle ducks. Special note: the highest mid-winter American black duck census ever recorded was in this area – this is the best place within the United States to score trophy American black ducks.  Canada geese are always an option.
"Best duck guide I've ever hunted with anywhere," is often used to describe Capt. Reilly. As a licensed Coast Guard Captain with 17 years experience captaining deep water or inshore fishing vessels, Capt. Reilly McCue has hunted the area since he was a child and is a year-round guide for striped bass and waterfowl. His keen knowledge of Atlantic weather patterns, navigating rocky coastline of New England and myriad of associated wetland habitats is an asset to duck hunters like yourself.  As a professional sea duck hunter specialized in the trophy waterfowl quests of hunters from throughout North America, he's earned the confidence of the top collectors and taxidermists in the country.
Eider hunting requires specialized equipment and know-how. RPM Outdoors' New England sea duck hunting service is fully equipped with decoys and the right equipment; safe, comfortable boats and blinds.  Your experienced host, Capt. Reilly, is dedicated to making each hunt perfect. All birds are inspected each day and tagged with color-coded zip ties. Keepers are frozen tagged with hunters' names and information.   You may take your birds home with you as luggage or arrange to have them shipped to your home or taxidermist.
Fly into Boston, rent car and drive to hotel where met by outfitter. Lodge accommodations at the Lamie's Inn are included in your New England sea duck hunting package. They are extremely accommodating and friendly towards hunters. The historic Old Salt Restaurant is attached, and if local seafood is your thing you'll need only to walk down the hall to enjoy some of the best clam chowder in the world, broiled lobster, lobster rolls, fresh steamers, and local daily catch.  Continental breakfasts and made-to-order sack lunches are provided before hunters depart the hotel each morning.
Parties of 4-6 hunters per boat are accommodated, up to 2 boats per day as your group size requires. Minimum 4 hunters per party, but if your group is less than 4, contact the outfitter to discuss mixed-party or private-hunt options.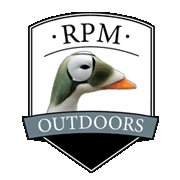 RPM Outdoors delivers New England sea duck hunts and eider hunting that focuses on client priorities.  "One size fits all" rarely fits anyone well – especially when you're talking special duck hunting adventures. Whether looking for the change of scenery that New England sea duck hunting provides, or closing in on your North America waterfowl species collection, contact Capt. Reilly McCue to directly to discuss options (802) 233-6621, email rpmoutdoors@hotmail.com.