Texas Duck Hunting – North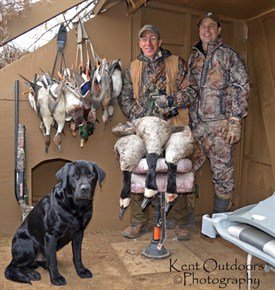 North Texas Duck Hunting with Kent Outdoors delivers superior guided Texas duck hunts only and hour from Dallas. Extremely professional and seasoned guides attend to all details regarding your hunting enjoyment and success. Relax and enjoy the morning, let them do what they do best – land ducks on the end of your gun barrel!
Kent Outdoors' guide-staff are each superb callers who have won several competitions and Pro-Staff for some of leading industry brands. Decoys are replaced annually – out with the old and in with the new – and perfectly-located blinds ensure guests' comfort between volleys.
Headquartered in Pottsboro, Kent Outdoors commands exclusive-use of thousands of acres throught teh Red River Valley, one of the state's preeminent flyways. This rich farmland region state is very well known for consistently producing phenomenal mixed-species hunts and plenty of mallards. The 11,000-acre Hagerman National Wildlife Refuge, Lake Texhoma and the Red River harbor many thousand of duck that avail themselves of nearby food sources – one of Kent Outdoors' specialty.
Owner JJ Kent, is relentless in devloping and managing superior waterfowl habitat. Thirty-five blinds located among 50 waterbodies rendering a combination of natural and established food-sources, such as millet or sorghum, Kent Outdoors consistently delivers memorable hunts for guests. Mallards are abundant, but other species bagged include pintail, widgeon, green-winged teal, blue-winged teal, canvasback, redhead, shoveler, and gadwall. Giant Canada Geese are not uncommon bonuses.
Hunts are conducted in the morning and go until limits are met or hunters are ready to retire, usually about 11 AM. Hunting locations are usually withi 5-20 minutes from meeting locations.
Available lodging opportunities consists of either in modern cabins, Tanglewood Resort on Lake Texoma, or at Choctaw Casino. The waterfowl season for North Texas starts in September with early teal and resident Canada Goose seasons. The main event begins the first Saturday of November and goes until late-January with a 2-week split occuring after Thanksgiving. Look no further than to Kent Outdoors for the very best North Texas duck hunt available.

TV appearances include Drake Migration Nation, DSC Quack Shack and Red River Outdoors TV. These guided North Texas duck hunts usually sell out to repeat guest well ahead of prime-time. For more information about East Texas duckhunting, visit KentOutdoors.com or contact JJ Kent at (903) 271-5524, email jjkent@kentoutdoors.com
Timing
Prime time Texas duck hunting with Kent Outdoors takes place December 20 through January 20.  These prime dates book quickly so make your reservations earlier than later.
Rates
$200 per morning, 2-hunter minimum.
$150 per hunt, early teal and goose season.
Youth hunters $50 discount

Group rate:  For bookings of 20 man-days or more, please call JJ for rates.
$50 per night lodging
$50 per day meals
Afternoon hog hunting $150
A 50% nonrefundable deposit required to reserve dates. Balance is due on or before arrival.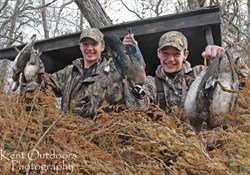 Details
Texas Goose Hunting Licensing & Requirements
Texas License Fees: 5-day non-resident $45.00, State Migratory Duck Stamp $7.00, Federal Duck Stamp $15.00, H.I.P. Certification (Free).
Texas Hunting License Sales Online
Lodging & Meals – Guided Texas Duck Hunt with Kent Outdoors
Lodging and meals are optionally included with these hunts. There are plenty of hotel options to choose, but Kent Outdoors can also provide excellent lodging as part of a package.
What to bring
Bring your favorite shotgun choked IC to MOD, and 3-inch non-tox ammo sizes 2s to BBs. Warm boots and gloves are necessary. Face masks are the norm. Waders are not required during most hunts. Also bring ice chests for bird meat and trophies, cameras, gun cleaning kit, and personal supplies.
Related Links for Texas Duck Hunting Guide Kent Outdoors
Website: KentOutdoors.com
Connect to Kent Outdoors through social media:
Photos
References
MIKE SCHONBURG  Mike.Schonberg@tklaw.com
BRIAN FREEMAN  f.riverrat@gmail.com   (903} 360-4921
BRAD TREYBIG  Brad.Treybig@mustangeng.com
RYAN BASSHAM ryan@getducks.com (214) 926-5536


Book This Hunt Direct
For more information or to discuss these guided North Texas duck hunts, please contact JJ Kent at Kent Outdoors:
JJ Kent: Telephone number (903) 271-5524, email jjkent@kentoutdoors.com