South Africa Bird Hunting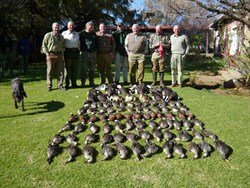 South Africa bird hunting (Africa duck hunting combo), to include a wide variety of ducks, geese and upland species, offers avid wingshooting travelers an authentic taste of Africa, a refreshingly challenging shotgun adventure. As stated by a long-time revisiting guest, "Africa bird hunting is must-do for any serious shotgunner. For the money, the volume may be a little lower (than Argentina hunts), but Africa bird hunting is a high-quality experience, that presents more diverse and challenging shooting, and best of all – you're in AFRICA!"
This excellent Africa duck hunting and bird hunting combo package is perfectly delivered with the expertise of nearly 2 decades professional guide-outfitter bird hunting experience in South Africa. Located in the Freestate Province of South Africa, about 3 hours south of Johannesburg, this Africa bird hunt easily accommodates for groups of 4-8 (single occupancy), from serious hunters to vacationing families, that seek to experience real South Africa.
As the foremost agricultural production area within Africa, the regionally-important crops of maize, sorghum and sunflower attract great numbers and diversity of game bird species indigenous to the region. South Africa bird hunting trips may be custom-coordinated with extended activities to include photo safaris, plains game or big game safaris, or Cape Town tours.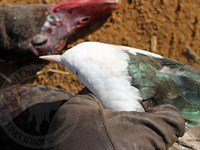 Whether seeking some of another continent's exotic crown jewels for a growing collection, or expanding wing-shoot and travel horizons, this Africa bird hunting trip is the perfect remedy. Common species include Egyptian Goose, Spur-winged Goose, African Yellow-billed Duck, African Shelduck, Red-billed Teal, Hottentot Teal, Cape Shoveler, White-faced Whistling Duck; Helmeted Guineafowl, Swainson's Francolin, Orange River Francolin; Redeye Dove, Laughing Dove, Cape Turtle Dove and Rock Pigeon. Most of South Africa's most popular game animals are also available nearby, or guests may choose to seriously trophy hunt at several other venues that are also available.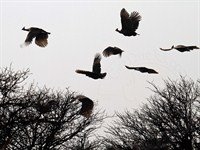 While the list of bird species hunted is impressive, the diversity of shooting tests presented by hunting them during the course of a single week is equally so: Egyptian and spur-winged geese present challenging pass shooting as they fly between pre-scouted reservoirs and feeding areas. Depending on guest objectives, ducks are also pass shot, but may be hunted with decoys or by spot and stalk methods to ensure certain species. Francolin are hunted over staunchly-pointing German shorthairs that know their business, and it's not uncommon for them to pin guineafowl as well. Doves and pigeons provide fast-paced shooting as they dart into grain fields in impressive number. With knowledge of the terrain and bird habits, field-staff ensure that driven guineafowl shoots are fun, productive, and easily high on the client favorite list.
Accommodations, food and staff services are of the highest standards and ensure that guests experience magnificent South Africa in its proper cultural context. Our South Africa duck hunting guests are lodged in charming, generations-old, family farmhouse with 7 en-suite bedrooms, a large central dining room, a well-stocked bar and cozy social area where guests may fellowship. After the hunting, guests enjoy an African sundowner – a roaring fire and cocktails. Dinner is a three-course affair, to include various venison, beef, pork, chicken and game bird with traditional African seasonings. The perfect South African wine accompanies each night's feast. Nothing is spared in ensuring that the hunters are well fed and ready for the next day's adventure.
View: South Africa Duck Hunting and Bird Hunting Photo Gallery
Timing
Africa bird hunting season opportunities are two-fold depending on shooting priorities.
June – August: the South Africa waterfowl hunting season runs 1 June – 31 August. Combo packages during this time include hunting for ducks, geese, doves, pigeons, guinea fowl, francolin.
February – April: South Africa rock pigeon hunting season, a challenging hunt that allows hunting guests the opportunity to shoot 1000 – 2000 shells per day.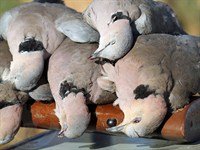 Rates
South Africa Bird Hunting rates are $850 per day (2-3 guns), $800/day (4-8 guns). Non-hunter rates $375. The South Africa duck hunting combo package is standard 6 days and 7 nights.
Overall duration of your Africa bird hunting safari may be customized to include Africa plains game, big game or dangerous game safaris, Cape Town great white shark dives or wine and tours, photographic safaris.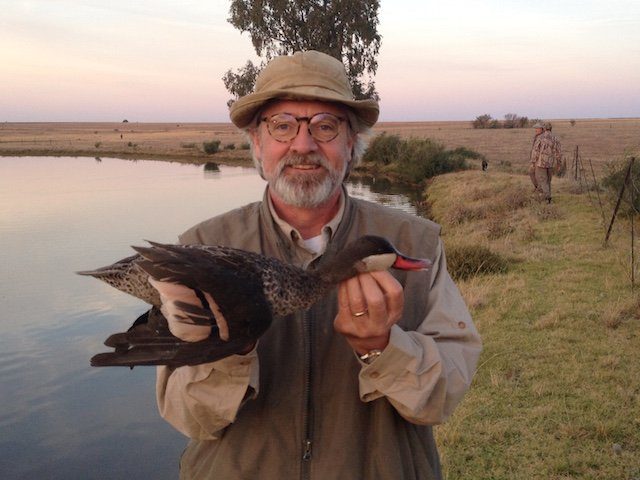 Included
South Africa bird hunting packages include:
Local airport and daily hunting transfers
Executive-class Lodging
Satellite TV and wifi connectivity
Chef-prepared Meals
Professional guide services and bird boys
Personalized, bilingual hosting from arrival through departure
Daily laundry services
South Africa bird hunting licenses and permits
Trophy preparation
Not Included
South Africa bird hunting packages do not include:
Ammo ($15 per box of 25) Prices subject to change.
Gun import permit fees
Optional "Hunter's Support" service with Air 2000, provides a comprehensive range of services that ensures a smooth arrival in Africa. Their service includes the arrangement of Firearm Import Permits at O. R. Tambo Airport.
All voluntary gratuities
Phone calls
Airfare and airport fees
Baggage overweight charges
Hotels, tours
Any item of strict personal nature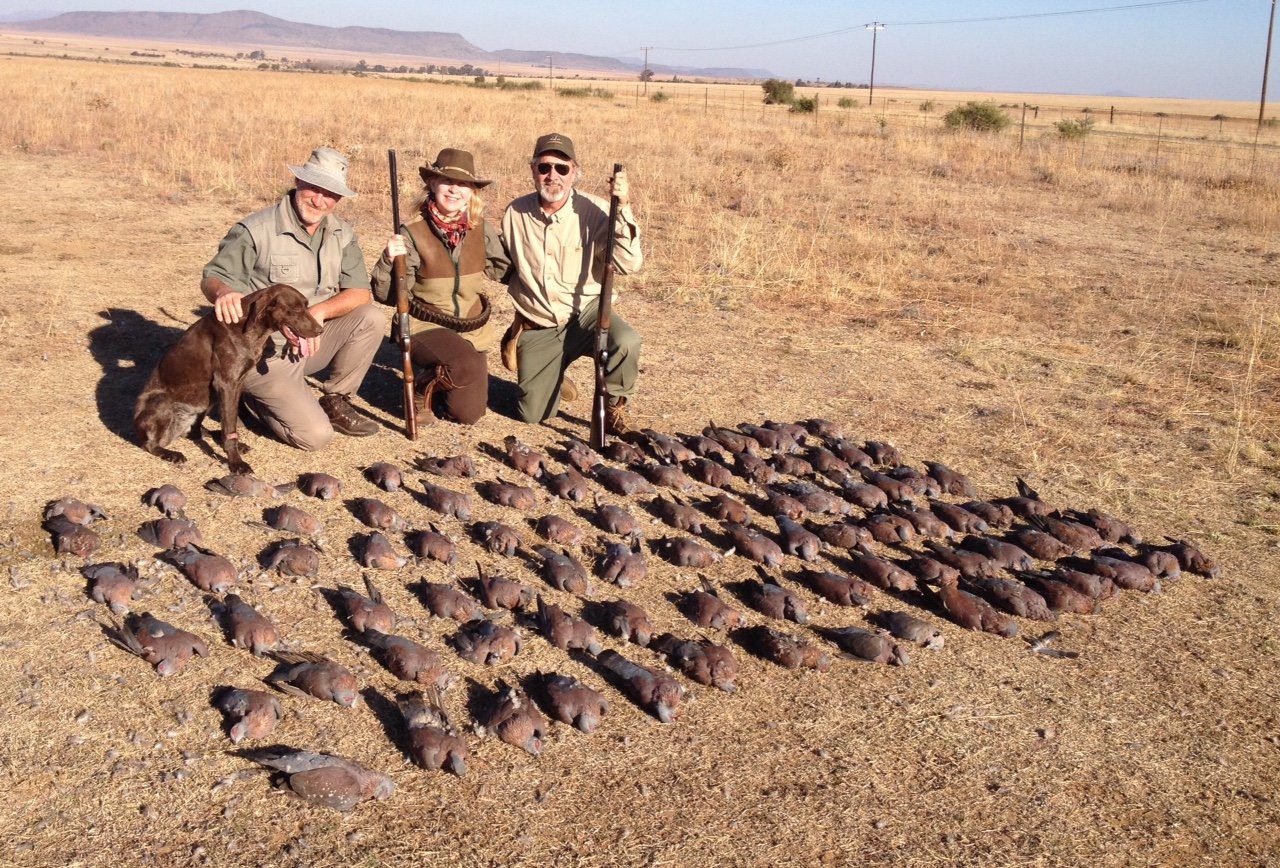 Galleries
Customer Testimonials
South Africa duck hunting…easily described as a "trip of a lifetime" but I don't think that it was our only visit!
A couple of years ago, my wife took me on a waterfowling trip to Alaska for my 50th birthday, so I was under considerable pressure when hers came around.  South Africa duck hunting could not have been a better choice.  We spent an enchanted week with gracious hosts at their beautiful lodge.  South Africa is a beautiful and interesting country with an abundance of wildlife and a spellbinding history.  And the wingshooting?  I must say that I have never seen a greater variety of opportunities anywhere.   A typical day might involve an early hunt for Egyptian and spurwing geese, a mid-morning hunt for driven guineafowl and francolin, a break for lunch and an afternoon shoot for hot-gun doves or pigeons.  I can easily describe this experience as a "trip of a lifetime" but I don't think that it was our first and only visit!
Jim Crews
Referenced hunt: South Africa duck hunt