Nebraska Duck Hunting
Prairie Rock Outfitters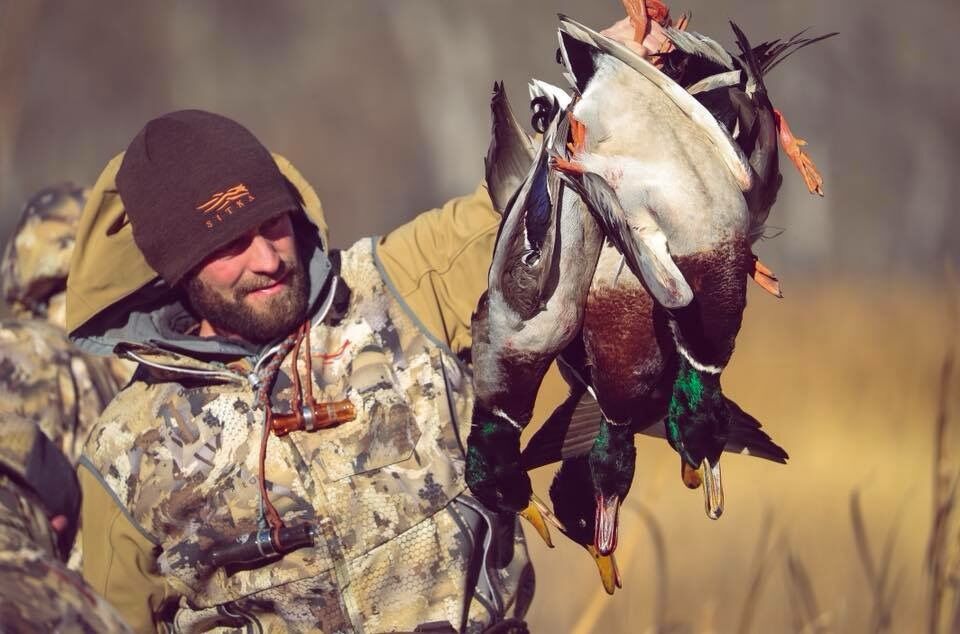 delivers the best Nebraska duck hunting available. Hands down. Think skies full of bull greenheads and big Canada geese floating slow-mo into decoys. Western Nebraska receives little relative hunting pressure due to limited public hunting opportunities. Central to this waterfowler's dream-come-true is a staggering 25 miles of North Platte River duck hunting habitat accompanied by 325,000-acres exclusive landholdings, where the deer and the antelope play, too.  Countless acres of harvested high-yield corn, wheat and beans sustain multitudinous migrating and overwintering waterfowl. Several nearby waterfowl areas (State WMAs and private-landowner cooperatives) provide inviolate sanctuaries. Miles of freeze-proof ,warm-water sloughs ensure winter-long open water. For what more could ducks, geese or waterfowl hunters ask?
Hunts are usually within a half-hour of camp. Hunting takes place over dry fields and water depending on bird activity. North Platte River duck hunting and field hunts mostly entail large, comfortable pit blinds have heaters and cooking areas for creature comfort. Those and a coffee thermos, plus a coat pocket full of ammo, and you're set. Decoy spreads are sizable, consisting of quality floaters and full-bodies, but by placing them just right the landing zone will be perfect. Mobile blinds are equipped to run-and-gun to specific hotspots as the need arises.
Greenhead and honker hunting is the main event. Other species include common goldeneyes, American wigeon, green-winged teal, cackling geese, and more. Ask the outfitter about pheasants and grouse hunting.
Recount the day's events from clean, comfortable cabins nestled into Nebraska's rolling countryside. It's easy to find yourself wondering spectacle of waterfowl witnessed first by Native Americans and later by fur traders and later yet by American pioneers traveling westwards along the old Oregon, Mormon, Pony Express and Deadwood trails. The surrounding area is rife with historical reminders of the Old West.
Preceded by hearty appetizers, excellent dinners feature never-before-frozen Nebraska corn-fed, fresh from the ranch beef – ribeyes as thick as stone pavers and tender prime-rib. The day's harvest of wild game is available, too. Surprisingly, there's usually some recently-caught Louisiana redfish, shrimp or alligator to liven things up a little. You'll not go hungry – for ducks, food, or memories.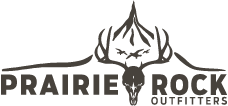 This Nebraska duck hunt along the fabled North Platte River is destined to become legendary for the very good reasons described (especially for world-class mallard and Canada goose hunting). To experience the best North Platte River duck hunting in Nebraska, Contact Ryan Livingston at 308-262-5966, email prairierockoutfitters@gmail.com.
Timing
Nebraska North Platte River Duck Hunting Season October 6 to January 27.  Goose Hunting Season usually October 29 to February 10.
PEAK DATES for Nebraska duck hunting and goose hunting combo – tons of greenheads and honkers – anytime December through January.
Rates
$2,250 Three-day package Nebraska duck hunting/ goose hunting North Platte River.
Terms: A 50% non-refundable deposit required to confirm reservations. Balance due 30 days prior to scheduled hunt dates. Contact outfitter to discuss cancellation policy.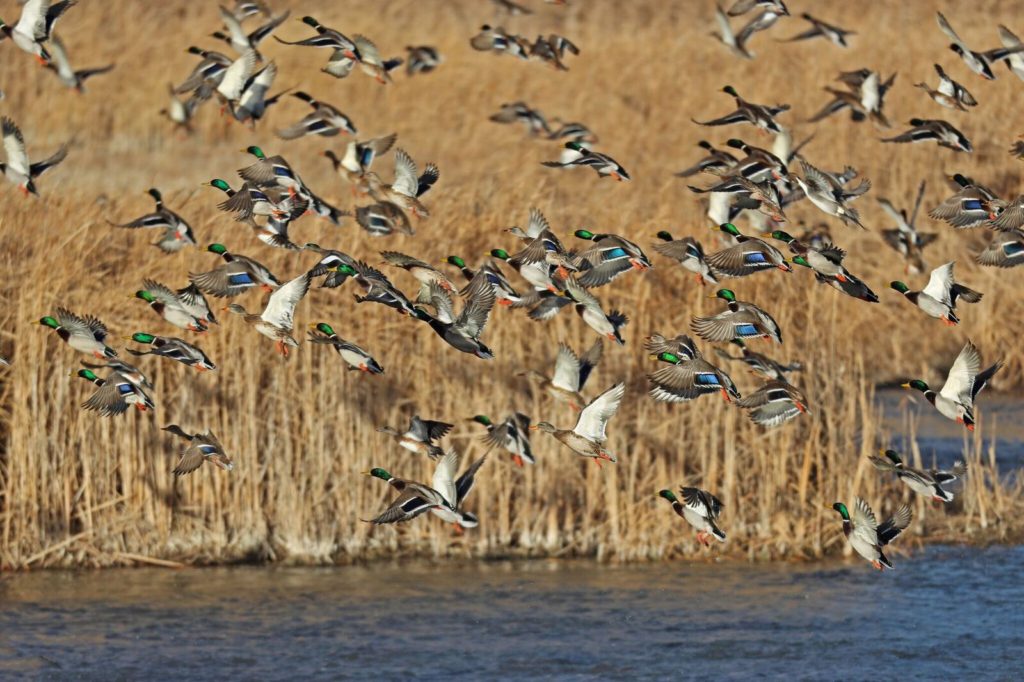 Included
North Platte River Nebraska duck hunting includes lodging, meals, professional guide services and equipment, hunt-related transfers, bird processing (each bird is processed with wing/wing attached and tagged with corresponding hunter's name).
Not Included
North Platte River Nebraska duck hunting does not include transport to camp (Scott's Bluff airport transfer $75, Denver airport transfer car rental), Nebraska waterfowl hunting license (small game permit $97), waterfowl and habitat stamps ($10 and $25, respectively, HIP, Federal waterfowl stamp, ammo, and items strictly of a personal nature.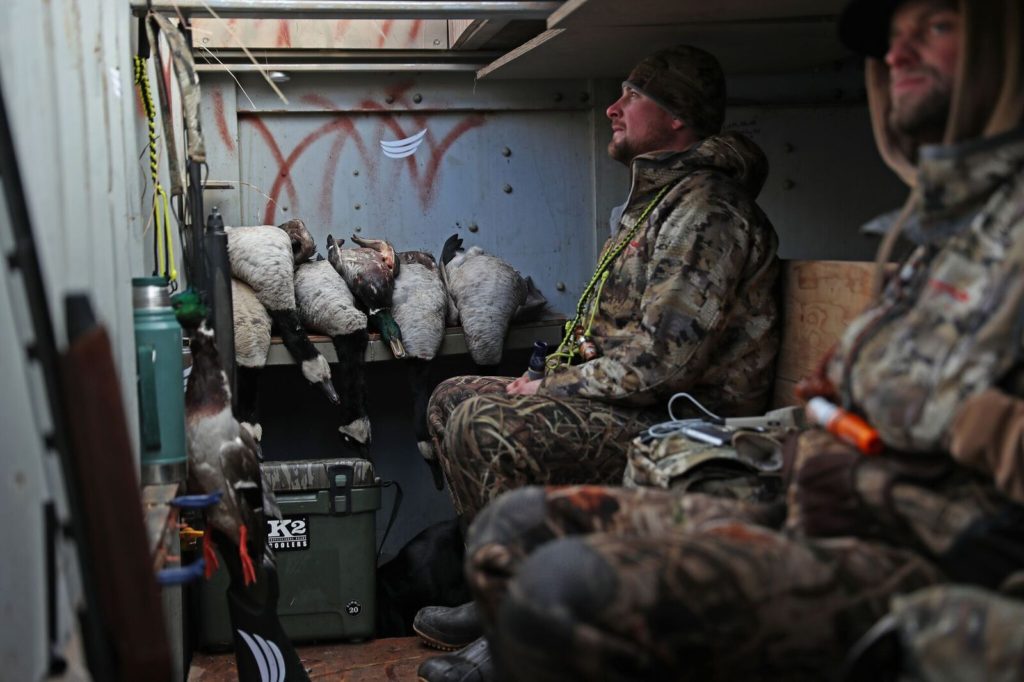 Details
Connect with Prairies Rock Outfitters – North Platte River Duck Hunting in Nebraska
Website PrairieRockOutfitters.com
Facebook @hunttherock Prairie Rock Outfitters
Instagram @prairierockoutfitters
Hunting Licenses – North Platte River Duck Hunting in Nebraska
Waterfowl hunting Nebraska North Platte River requires Nebraska small game permit, Nebraska waterfowl stamp, Nebraska habitat stamp, Federal waterfowl stamp and HIP. Hunters ages 12 through 29 must have on their person proof of successful completion of firearm Hunter Education while hunting with a firearm. Nebraska duck hunting licenses are available over the counter and online.
Getting There – North Platte River Duck Hunting in Nebraska
Commercial air service available in Denver (3.5 hour drive) and Scottsbluff (45-minute drive).
Waterfowl Limits – Nebraska Duck Hunting North Platte River
Nebraska daily waterfowl limits are 6 ducks (not to exceed 5 mallards) and 5 Canada geese. Possession limit s 3x daily bag.
Retriever Policy – Nebraska Duck Hunting North Platte River 
Your obedient retriever is welcome at Prairies Rock Outfitters. Guide-staff will be running theirs also.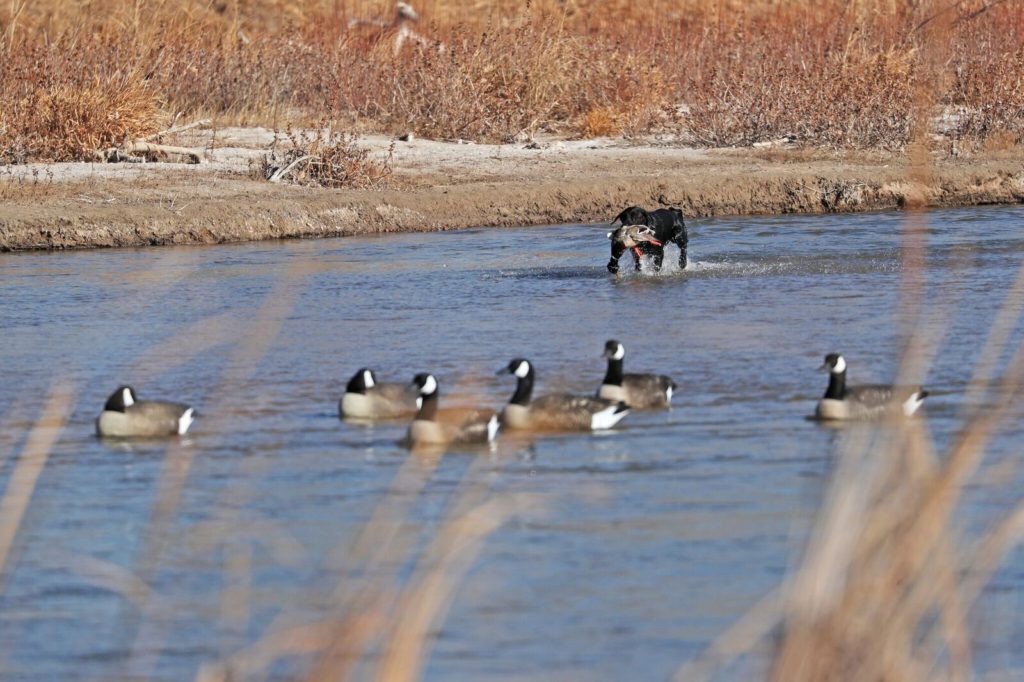 Videos
Photos
References
References available on request. Please contact Ryan Livingston, Prairie Rock Outfitters, to request.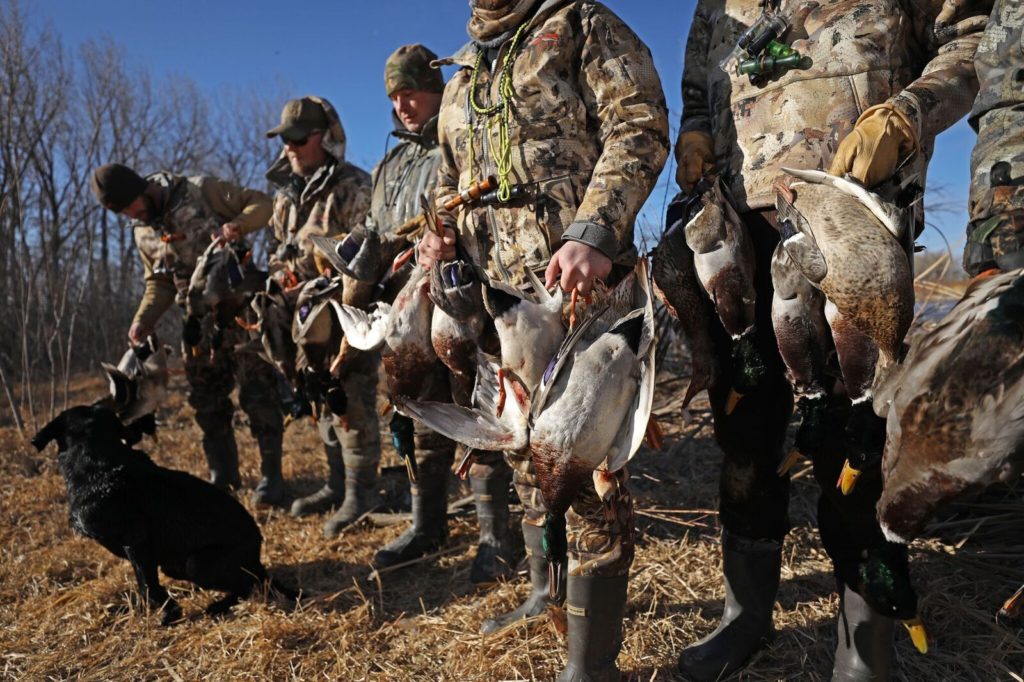 Book This Hunt Direct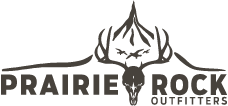 Experience definitive Nebraska duck hunting with Prairie Rock Outfitters. With a whopping 25 miles of the best North Platte River duck hunting (plus associated 325,000-acre) landholdings under exclusive wraps, knowledgeable guide-staff consistently delivers some of North America's most epic hunting for mallards and big Canada geese. Contact Ryan Livingston at 308-262-5966, email prairierockoutfitters@gmail.com.