North Dakota Waterfowl Hunt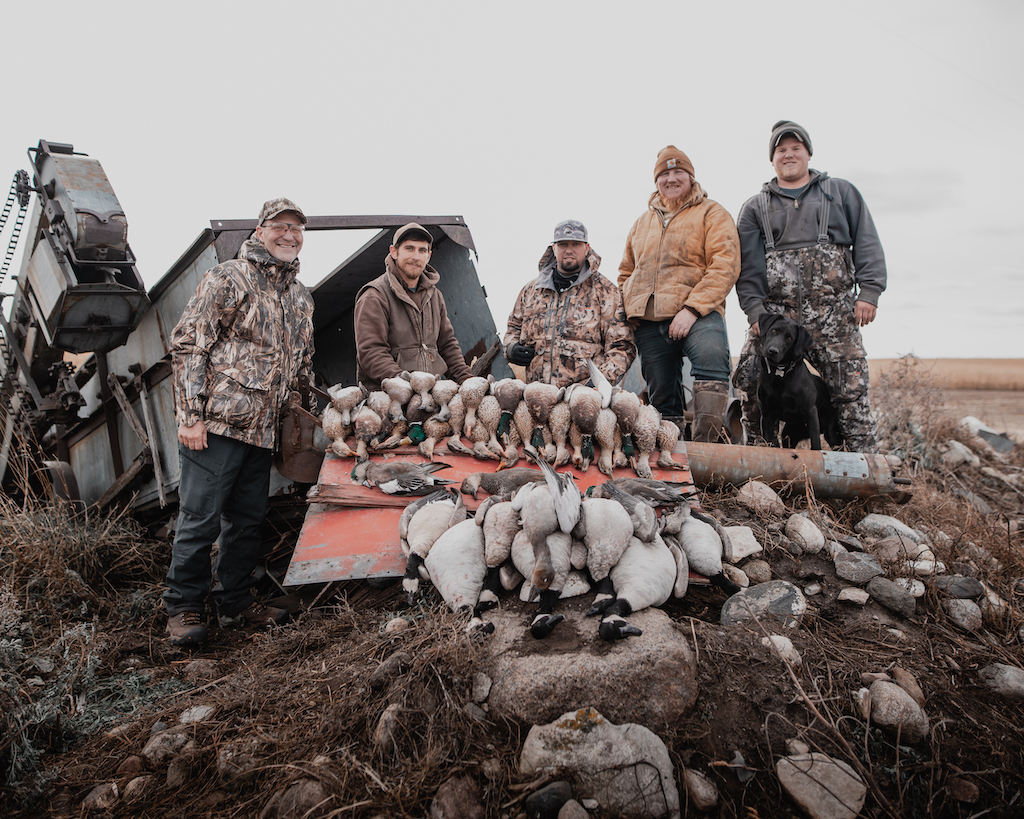 North Dakota Waterfowl Hunt Combo and North Dakota Swan Hunt with Dirty Bird Outfitters is the authentic guided North Dakota waterfowl hunting adventure you've forever dreamed. North Dakota is in the heart of the prairie pothole waterfowl production factory and is a major stop-over for migrators heading south from Canada. Ducks, geese and swans galore. "I've personally known and have hunted with Dirty Bird Outfitters for years," says Ramsey Russell, "With decades proven, nearly year-round professional waterfowl guiding experience, this go-getter outfitter delivers guided North Dakota duck hunts, goose hunts and swan hunts done right."
Dirty Bird Outfitters' small staff has decades worth of professional waterfowl guiding experience. Hard-working, savvy and committed to superior client hunting experiences, guests need only show up with the right attitude and enjoy their North Dakota duck hunting vacation. They scout a tremendous geographic area, working among a private landowner network with whom they've developed long-term relationships.
Prevalent waterfowl species are mallards, wigeons, pintails, cackler geese, Canada geese, white-fronted geese, light geese, and tundra swans. Hunting takes place primarily among dry-field agriculture such as wheat, barley, corn, peas.  Typical hunting set-ups include brushed panel blinds strategically nestled along field edges, standing crops or cattails near hot feeding areas. More-than-enough-sized spreads of full-bodied and silhouette decoys are right out front. Depending on scouting reports and waterfowl feeding patterns, hunts will be for ducks, geese or usually a combination of both.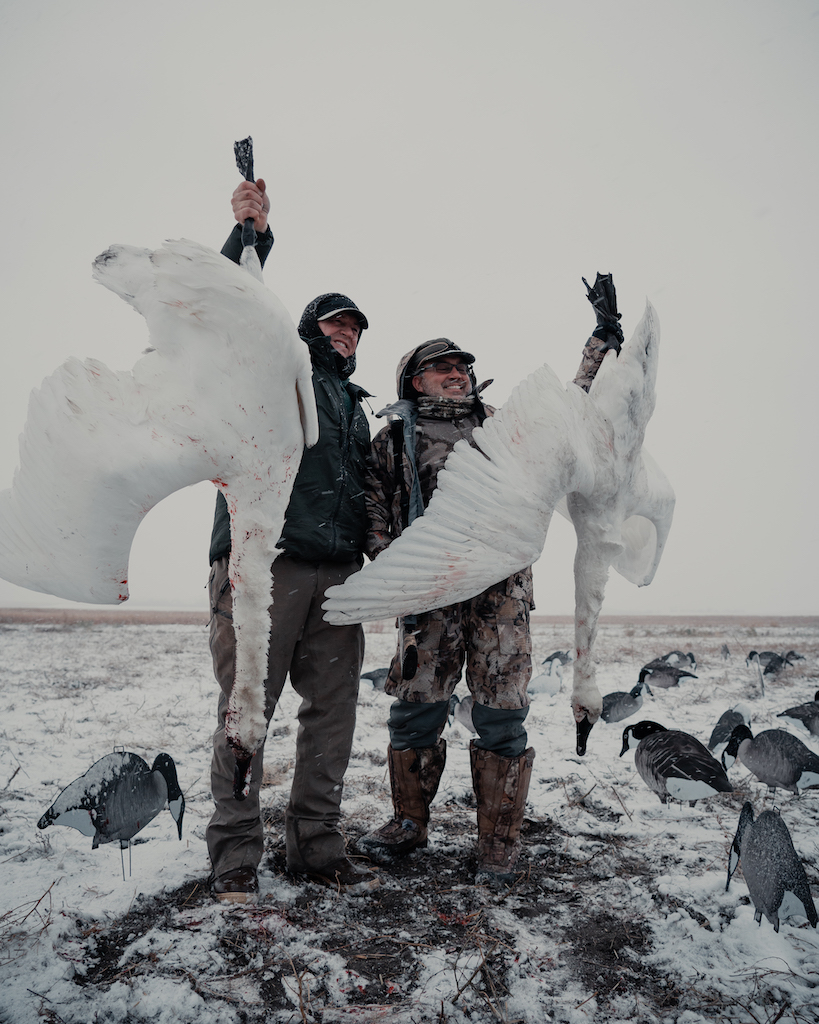 North Dakota tundra swan hunts with Dirty Bird Outfitters is extremely high-success. If successfully drawn for a North Dakota tundra swan hunting tag, it's an excellent opportunity to scratch this magnificent North American waterfowl species off of your life-list. Tundra swans are hunted over water loafing areas. These North Dakota swan hunts are all-day hunts. They're coming, but it's a waiting game. Mix in tundra swans with your North Dakota duck and goose hunt. As soon as you've collected your priced North Dakota swan, it's on to ducks and geese.
North Dakota Canada goose hunting is a specialty. Early-season North Dakota Canada goose hunts begin in mid-August, with extremely generous bag limits possible. Late-Season North Dakota Canada Goose hunts are from about mid-November through late-December, Dirty Bird Outfitters moves further west, targeting big honkers specifically. Most ducks have moved south during this time, but the Canada goose hunting can be nothing short of spectacular.
New for 2021, Dirty Bird Outfitters' North Dakota waterfowl hunting combo packages include meals and lodging! Lodge amenities include ensuite bedrooms, washer/dryer, satellite TVs, fire pit, bird cleaning station (tags are provided). There are nearby local restaurants and stores, too, if you want to run into town for anything.
Following hot coffee and sweet rolls, guests follow their guides to hunting areas 30 or so minutes away.  Returning to camp afterwards, enjoy recounting stories about morning and afternoon hunting highlights around the table, plates stacked high with hearty, meat-and-potato-style regional meal favorites.
Guests may fly into either Fargo or Bismarck, where they can then rent car and drive to lodge. But this excellent North Dakota waterfowl hunting combo is within a day's drive for most hunters living in the continental US.

Dirty Bird Outfitters delivers the best guided North Dakota waterfowl hunting experiences. North Dakota duck hunts, North Dakota goose hunts and North Dakota swan hunts are their specialties. To book this excellent North Dakota waterfowl hunt, contact Matt Piehl, 701-290-6582, email matt@dirtybirdoutfitters.com