Wyoming Waterfowl Hunting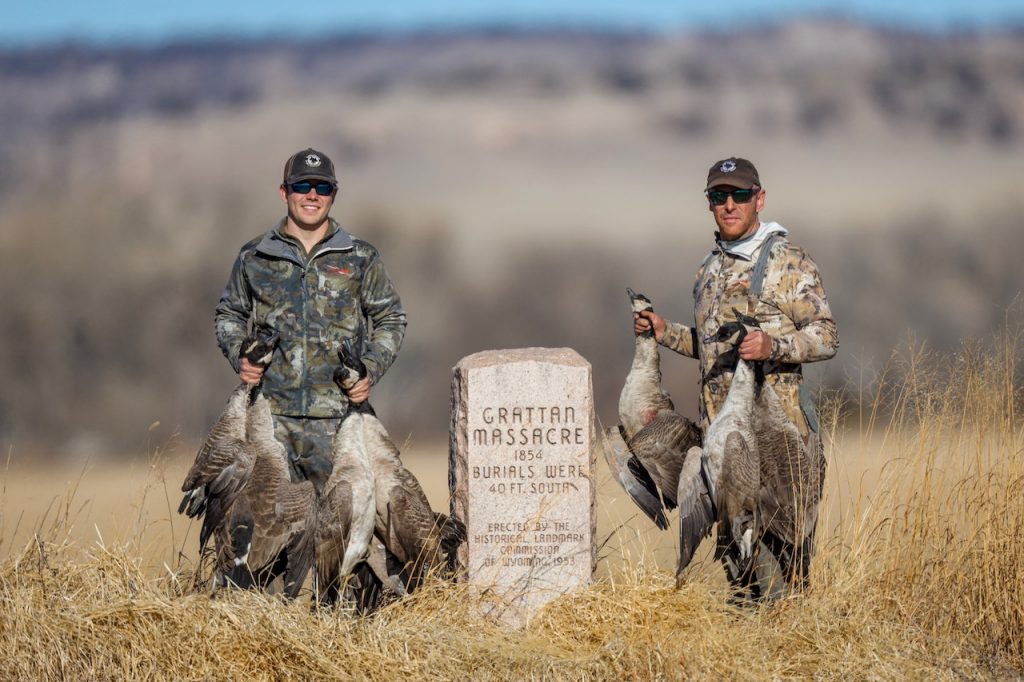 Wyoming waterfowl hunting with WyoBraska Waterfowl is about doing one thing really well: producing high-quality hunting experiences for mallards and Canada geese.  With an impressive 25 years professional waterfowl guiding experience under his belt – and an equally qualified guide staff – WyoBraska Waterfowl's Jason Randolph makes it look easy. The fertile agricultural lands and myriad freeze-proof wetlands amid the legendary North Platte River Valley over-winter enviable numbers of mallards and BIG Canada geese, but putting birds on the ends of gun barrels is only part of the equation. It's mostly about happy clients. Extreme client loyalty in the form of over 95% repeat-client bookings proves it.
Stretching through historic cowboy country, the North Platte coils through central and eastern Wyoming and half-way through central Nebraska's corn belt region before terminating into the Platte River.  Warm water springs and swift river currents proximate to ample, high-energy agricultural food sources sustain tens of thousands of predominately mallards and migrator Canada geese for the entire winter.  WyoBraska Waterfowl utilizes numerous exclusive-use properties in eastern Wyoming and western Nebraska that are characterized as premier waterfowl habitat. Waterfowl hunting locations include exclusive access on the North Platte River, private access of large lakes and warm water creeks, and exclusive access to property adjacent to the North Platte River Refuge, a private landowner cooperative that provides overwintering sanctuary to 50,000 waterfowl. But that's only the beginning.
Enjoy the spectacle of decoying mallards and Canada geese and hard-charging retrievers in pure wild beauty. The hunt day is yours. Hunt for the entire day or until legal limits are achieved, assured that guest comfort is top priority.   Whether hunting dry fields or water, custom blinds have comfortable office chair seating, heaters for each hunter, and a view – unique sliding lids let guests witness the magic of decoying birds. There's ample room for gear, thermoses and ammo boxes. A combination of floaters and full-bodies numbering 150-1,000 are deployed depending on the situation.  Waders aren't required unless you choose to help set decoys or handle your own retriever.  The art of decoying birds puts most shots within 20 yards. Guests are encouraged to bring their favorite shotgun, but the majority of the returning guests shoot 20 gauges. Some shoot 28-gauge and .410s. Shot size #4 choked cylinder, improved cylinder or modified usually does the trick.
You may choose to stay at hotels or condos in Torrington. Nearby restaurants feature steak, Mexican, steak, burgers, steak, Chinese, steak, Southwest and steak – it's cattle country after all! Meet your guide for breakfast at a nearby cafe each morning for breakfast and to top off your thermos. Follow them to the hunting area, with drive times ranging 10-45 minutes.  A nearby migratory bird processing facility conveniently simplifies bird cleaning.
Extremely experienced guides deliver superior Wyoming waterfowl hunting experiences and unequalled client comfort in a region that receives relatively little hunting pressure. There are mallards galore, but Canada goose hunting – and we're talking big migrator honkers and lots of them – is available December through mid-February, making this unique destination truly special. Contact Michael Kahler, WyoBraska Waterfowl Reservations at 307-575-9206 or reservations@wyobraskawaterfowl.com for more information or to reserve your team's spot.