Wyoming Waterfowl Hunting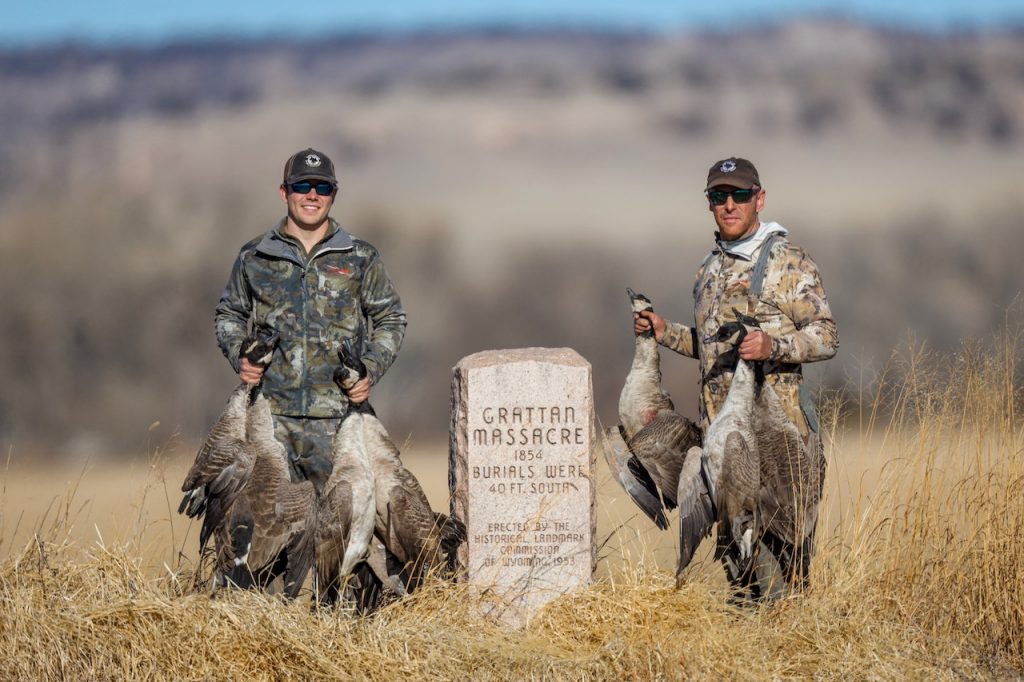 Wyoming waterfowl hunting with WyoBraska Waterfowl is about doing one thing really well: producing high-quality hunting experiences for mallards and Canada geese.  With an impressive 25 years professional waterfowl guiding experience under his belt – and an equally qualified guide staff – WyoBraska Waterfowl's Jason Randolph makes it look easy. The fertile agricultural lands and myriad freeze-proof wetlands amid the legendary North Platte River Valley over-winter enviable numbers of mallards and BIG Canada geese, but putting birds on the ends of gun barrels is only part of the equation. It's mostly about happy clients. Extreme client loyalty in the form of over 95% repeat-client bookings proves it.
Stretching through historic cowboy country, the North Platte coils through central and eastern Wyoming and half-way through central Nebraska's corn belt region before terminating into the Platte River.  Warm water springs and swift river currents proximate to ample, high-energy agricultural food sources sustain tens of thousands of predominately mallards and migrator Canada geese for the entire winter.  WyoBraska Waterfowl utilizes numerous exclusive-use properties in eastern Wyoming and western Nebraska that are characterized as premier waterfowl habitat. Waterfowl hunting locations include exclusive access on the North Platte River, private access of large lakes and warm water creeks, and exclusive access to property adjacent to the North Platte River Refuge, a private landowner cooperative that provides overwintering sanctuary to 50,000 waterfowl. But that's only the beginning.
Enjoy the spectacle of decoying mallards and Canada geese and hard-charging retrievers in pure wild beauty. The hunt day is yours. Hunt for the entire day or until legal limits are achieved, assured that guest comfort is top priority.   Whether hunting dry fields or water, custom blinds have comfortable office chair seating, heaters for each hunter, and a view – unique sliding lids let guests witness the magic of decoying birds. There's ample room for gear, thermoses and ammo boxes. A combination of floaters and full-bodies numbering 150-1,000 are deployed depending on the situation.  Waders aren't required unless you choose to help set decoys or handle your own retriever.  The art of decoying birds puts most shots within 20 yards. Guests are encouraged to bring their favorite shotgun, but the majority of the returning guests shoot 20 gauges. Some shoot 28-gauge and .410s. Shot size #4 choked cylinder, improved cylinder or modified usually does the trick.
You may choose to stay at hotels or condos in Torrington. Nearby restaurants feature steak, Mexican, steak, burgers, steak, Chinese, steak, Southwest and steak – it's cattle country after all! Meet your guide for breakfast at a nearby cafe each morning for breakfast and to top off your thermos. Follow them to the hunting area, with drive times ranging 10-45 minutes.  A nearby migratory bird processing facility conveniently simplifies bird cleaning.
Extremely experienced guides deliver superior Wyoming waterfowl hunting experiences and unequalled client comfort in a region that receives relatively little hunting pressure. There are mallards galore, but Canada goose hunting – and we're talking big migrator honkers and lots of them – is available December through mid-February, making this unique destination truly special. Contact Michael Kahler, WyoBraska Waterfowl Reservations at 307-575-9206 or reservations@wyobraskawaterfowl.com for more information or to reserve your team's spot. 
Timing
Wyoming waterfowl hunting season dates are usually November 10 – February 15.
PEAK DATES: Wyoming duck hunting November 15 – January 28,  Wyoming Canada goose hunting December 1 – February 15. 
Rates
2020-2021 Rates
Hunt Only Package November thru January 27
$1,500 per day 3-4 hunters
$1,000 per day 1-2 hunters
Hunt Only Canada Geese – January 28 – February 14
$1,100 per day – 3-4 hunters
$800 per day 1-2 hunters
Hunt/Lodging Package November – January 27
$1,720 per day 3-4 hunters
$1,220 per day 1-2 hunters
Hunt/Lodging Package January 28 – February 14
$1,320 per day 3-4 hunters
$1,020 per day 1-2 hunters
WyoBraska Waterfowl offers 3-day hunt-only packages.
50% deposit at time of reservation. Non-refundable on bookings within 60 days of hunt date. Balance due after final hunt.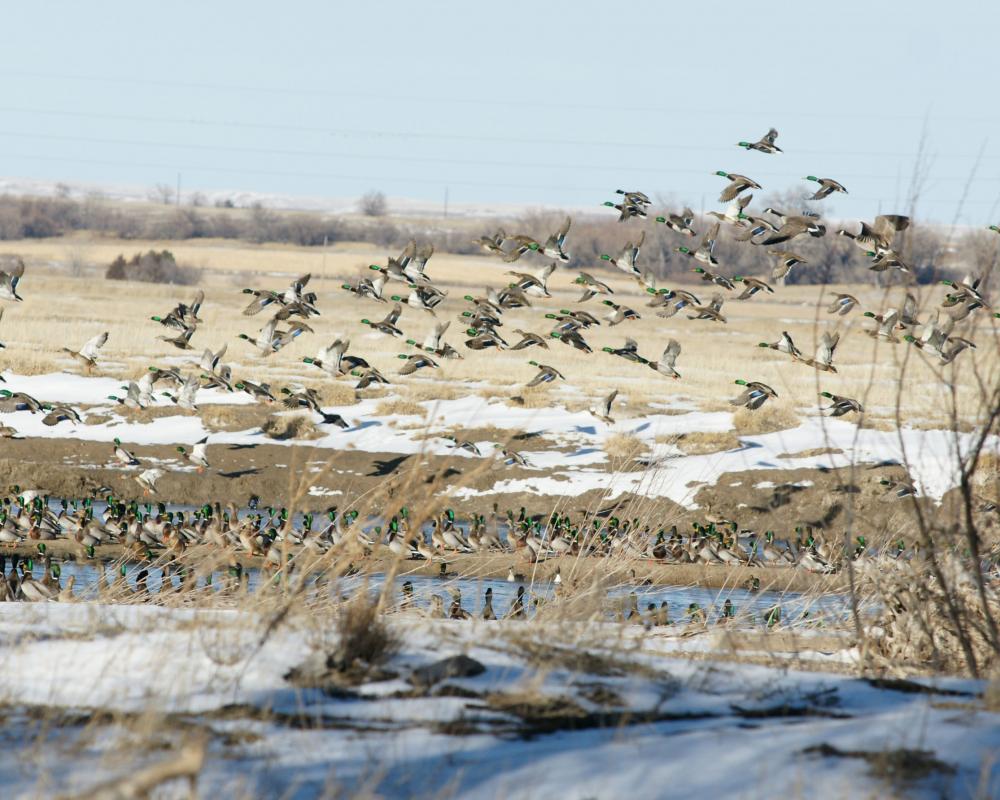 Included
All Wyoming waterfowl hunting packages include professional guide services, bird cleaning and packaging.
Details
Connect with WyoBraska Waterfowl:
Website www.wyobraskawaterfowl.com
Facebook @Jason Randolph
Instagram @wyobraska_waterfowl
Youtube @wyobraska_waterfowl
Hunting Licenses – Wyoming Waterfowl Hunting
Wyoming – license, conservation stamp, HIP, federal waterfowl stamp. Available online and local outlets. Daily license available.
Nebraska – license, conservation and waterfowl stamp, HIP, Federal waterfowl stamp. Available online.
Recommended that you wait until arrival orientation before purchasing. If staying at the Holiday Inn, a computer is available for online purchases.
Getting There – Wyoming Waterfowl Hunting
Nearest commercial air service is Denver (about 3 hours away), but Torrington and nearby Scottsbluff (40 minutes) service private flights.
Retriever Policy – Wyoming Waterfowl Hunting
Obedient retrievers are welcomed. WyoBraska Waterfowl guide-staff have excellent retrievers also.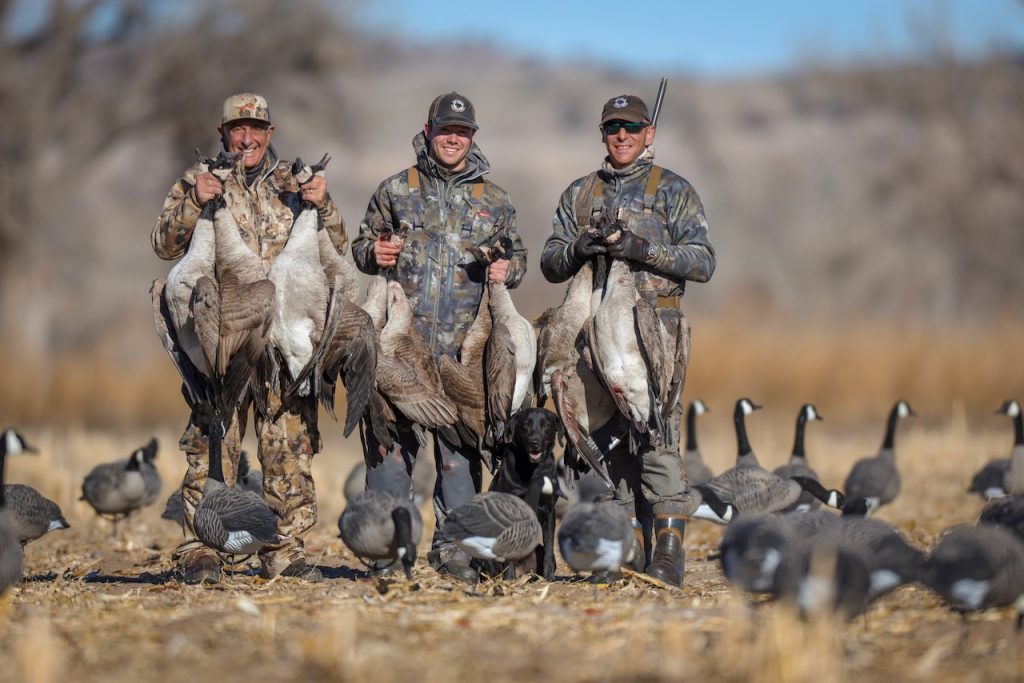 Videos
Photos
References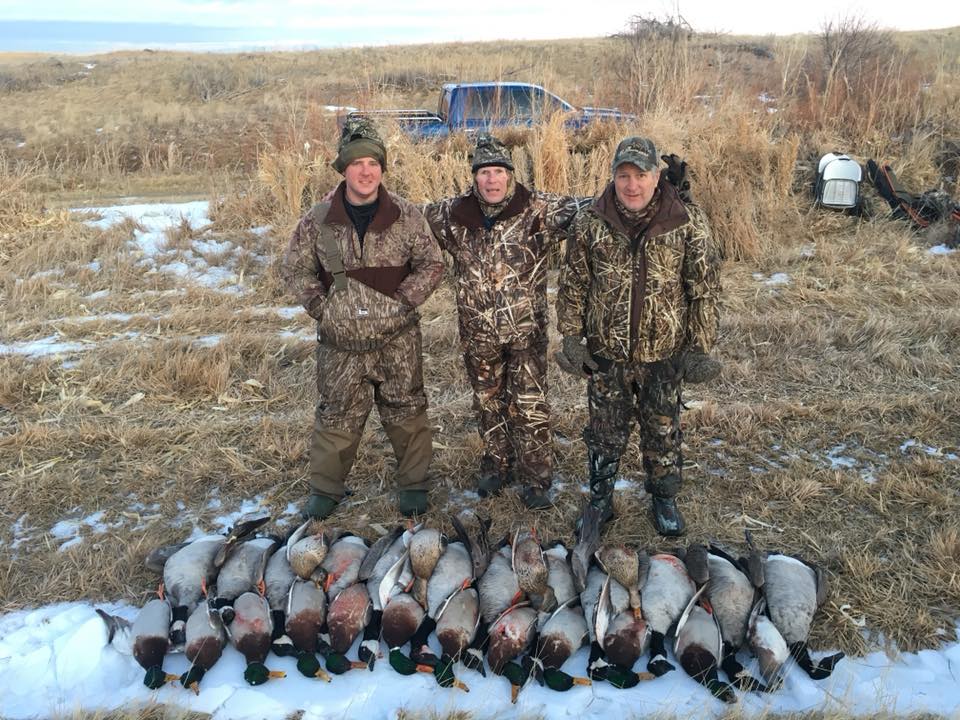 Reflections……as I look back over the past three days I have accumulated many of the finest memories possible in this mortal life!    It started with a dinner of hand-made tamales, pies and sharing the experience with the warmth of friends!    I'd rate the hunting days as follows:   Day three at Grattan was a 10/10; Day two at Location X was a 10/10 despite the wind; Day one at Location X was off the scale!! Probably a 12/10!  Taking limits of mallards and Canadas wasn't even the highlight of the day. Watching thousands of mallards and Canadas fill the sky as they passed overhead was simply majestic.   I can't imagine anything that might have enhanced the experience any further!    Wyobraska Waterfowl is committed to excellence in the outdoors, you treat your hunters like they're just part of the family, just like you'd want to be treated yourself.   Thanks Michael, Janet, JJ and all the WyoBraska retriever staff. ~Dr. Lynn Wilcox, Minkcreek, Idaho
If you are looking for a first-class hunt with a true gentleman sportsman with a high probability of being in the right place at the right time, then you should give Wyobraska Waterfowl with Jason Randolph very serious consideration. JJ's attention to detail is obvious in all facets of the hunt from the blinds to the decoys to the call of the shot and the retrieval of the game. The wildlife is the star of this adventure with the shot often an anticlimax as JJ works them into extremely close range. Whether you are after mallards, Canadas, or snow geese you will be treated to a terrific hunting experience in his very capable hands. I have been blessed to share the blind with three generations of this family and have come to appreciate that it is not just what they do; it is who they are. I can offer no stronger recommendation. ~Dr. Keith Baird, Charleston, SC
I have hunted with JJ numerous times over the past several years. In my experience waterfowl hunting all over North and South America, WyoBraska Waterfowl is hands down the best operation I have seen. Incredible blinds and decoy sets coupled with great dogs and expert calling have consistently produced wonderful results. I look forward to more of the same. ~Ken Markin, Lyons, Colorado
Book This Hunt Direct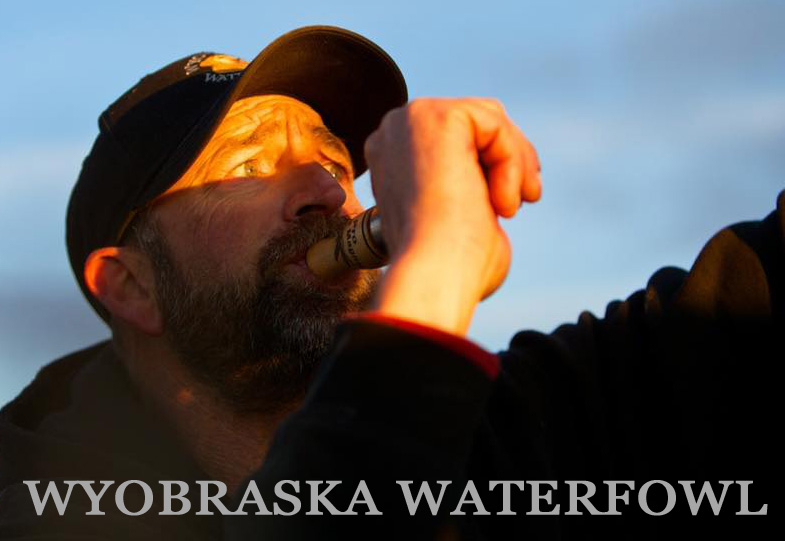 In a region that gets relatively little hunting pressure. extremely experienced guides deliver superior Wyoming waterfowl hunting experiences, unequalled client comfort. There are mallards aplenty, but Canada goose hunting – big migrator honkers and lots of them – is available December through mid-February, making Wyoming a uniquely special destination.
Contact:
Michael Kahler, WyoBraska Waterfowl Reservations at 307-575-9206 or reservations@wyobraskawaterfowl.com

Jason "JJ" Randolph 435-901-DUCKS (3825)