Saskatchewan Canada Goose and Duck Hunting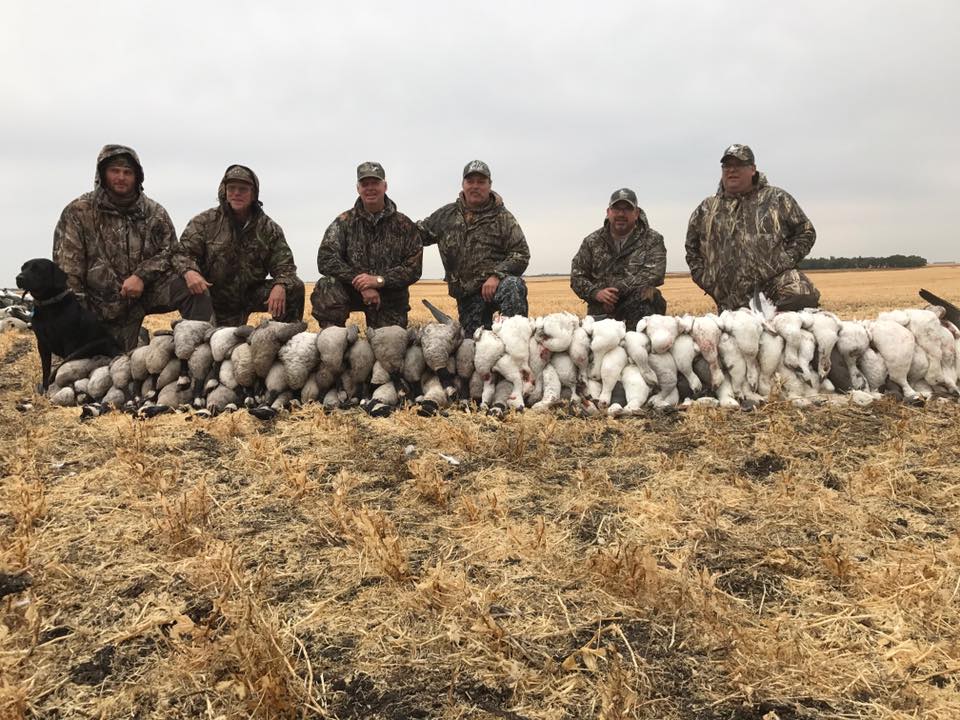 Saskatchewan Canada goose and duck hunting the likes of which you've always dreamed. An immense agricultural landscape of harvested peas, wheat and barley characterize the "land of living skies," and innumerable water bodies in this region form the final element necessary for consistently decoying staging and migrating ducks and geese in consistently high number.  Northern Skies Outfitters specializes in waterfowl-only. These full-time professional outfitters employ and energetic young staff that are very good at putting geese and ducks into the kill-hole – and a full roster of repeat clients that book well in advance are proof that they do it right.
These guided Saskatchewan Canada goose and duck hunts occur in some of the first agricultural habitat encountered by south-bound migrating waterfowl.  Northern Skies Outfitters manages a large hunting concession that's well off the beaten path, not over-run by other outfitters and freelancers. They use high-quality decoy spreads and an assortment of ground and upright blinds to include their famous "Tiki Hut Blind". The Tiki Hut is a 24-feet by 6-feet blind that easily seats 6 – enjoy chair-back comfort and shoot while standing! Full-time scouts are dedicated to finding the hottest fields for the next hunt, and guides concentrate on putting ducks and geese in the decoys. Details galore are covered, nothing left to chance. A lot of hard work and know-how goes into making your bucket-list Saskatchewan Canada waterfowl hunting experience the very best possible at Northern Skies Outfitters.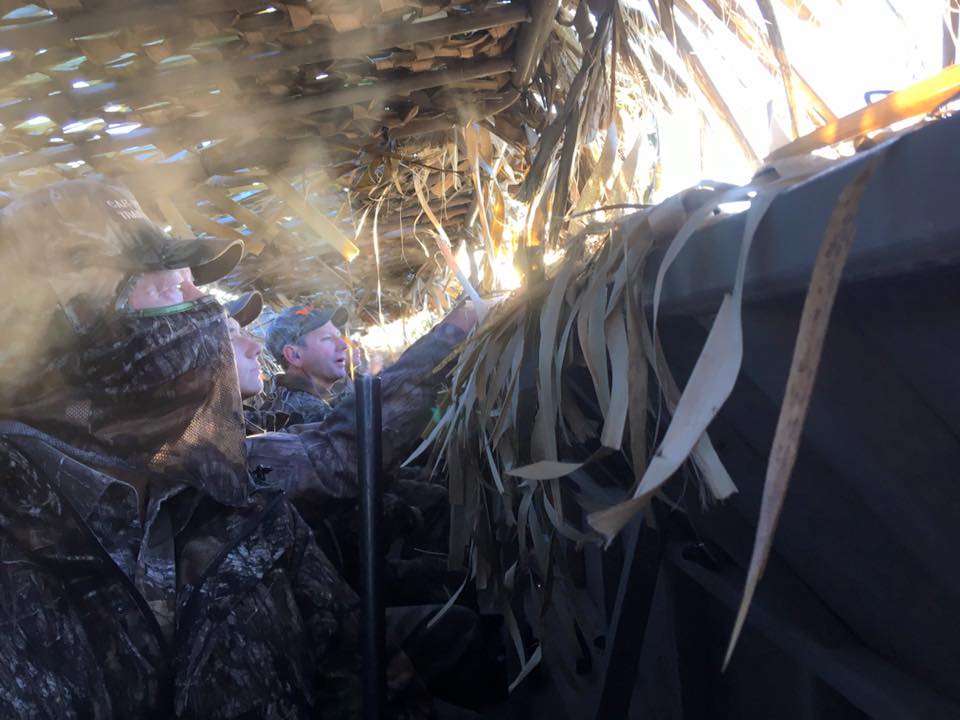 Saskatchewan Canada goose and duck hunting can be fun, too. Generous Canadian bag limits of  8 dark geese, 20 snow geese and 8 ducks are available.  Canada geese, cackling geese, light geese and white-fronted geese are plentiful. Mallards and pintail comprise the bulk of bagged ducks. Morning hunts are usually dry field affairs, with a solid mix of decoying ducks and geese.  Depending on the morning's take, afternoon hunts may be near potholes for ducks or dry field hunting. Full limits of Canadas, light geese and ducks are not uncommon here.
Relax and enjoy it. This package is all inclusive. Located a little over an hour from Saskatoon, camp house accommodations are included in this affordable guided goose hunting package.  Don't worry about picking up decoys either – the guides won't let you touch them anyways. A delicious home-cooked meal is waiting as soon as you arrive to camp. The camp house is as clean as your mother's home, is well appointed to include the expected comfortable seating in front of a big satellite TV, but a mudroom, boot dryers, washer and dryer and more offer the real conveniences of home. Bird processing is also included, it's your vacation after all.

Northern Skies Outfitters delivers bucket-list worthy guided Saskatchewan Canada goose and duck hunting trips. Packages of 3-6 or more days are all-inclusive.  This proven full-time outfitter has decades boots on the ground experience running successful action-packed hunts. Repeat bookings are living proof.  This hunt books quickly, contact them directly to discuss. Contact: Mat Schaur (952) 212-4828, email mat@northernskiesoutfitters.com