Included
Peru duck hunting packages include:
Professional guide services and bird boys
Hotel lodging with satellite TV
Meals – light breakfasts, excellent restaurant-prepared lunches and dinners
Reliable Shotguns
Personalized, bilingual hosting from arrival through departure
Freezer storage of trophies
Not Included
Peru duck hunting packages do not include:
Ammo ($15 per box of 25) Prices subject to change.
License and transportation documents ($300)
Lima Transportation Services ($200)
Bird boys tips minimum $20, paid daily
Private room $65 nightly
Lima meals, hotels, souvenirs, etc.
Phone calls
Airfare and airport fees
Baggage overweight charges
Alcoholic beverages
Any item of strict personal nature
Travel Protection Policy (Trip Insurance)
Itinerary
Sample Itinerary for 3-day Peru Duck HUnting Trip for Trophy Mountain Species
Day 1. Depart the U.S. and arrive Lima, Peru about midnight. Overnight at hotel or apartment.
Day 2. Transfer to hunt area. An afternoon warm up for doves kicks things off.
Days 3-4. Full days of Peru wingshooting, with Peru Cinnamon Teal duck hunting in the morning. Following a lunch and nap, hot-barrel action for doves will ensue during afternoons. All hunting occurs within 30 minutes of the hotel.
Day 5. Morning hunt and return to Lima for evening flight back to the US. The direct drive is about 3 hours long and most outgoing flights depart at 10 pm.
Day 6. Arrive in the U.S. and make connections home, usually arriving about mid-day.
Your Peru duck hunting itinerary may be fully customized to allow for extra days or to add a few days of mountain species Peru duck hunting to your itinerary.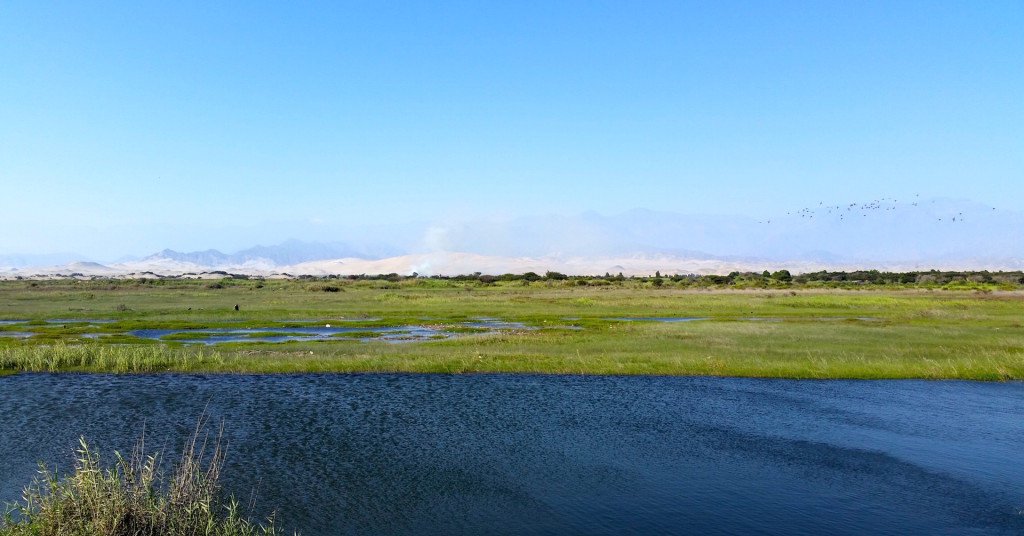 More Info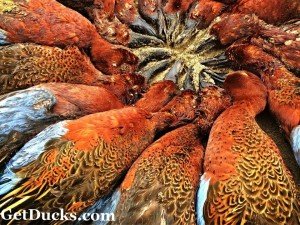 Peru Duck Hunting Limits – Cinnamon Teal Duck Hunting in Peru
The bag limit for this Peru duck hunting experience is quite generous, but as a measure of conservation we hope that you will let your conscience be your guide as well. Our outfitter abides a limit of 25 Andean Cinnamon Teal per hunter/day. Dove hunting typically produces 40-50 white-winged doves per gun.
Average Daily Temperature Range – Peru Duck Hunting Cinnamon Teal
Apr 74/48F, 23/9C
May 74/46F, 23/8C
Jun 72/45F, 22/7C
Jul 72/45F, 22/7C
Aug 74/46F, 23/8C
Sep 74/46F, 23/8C
Oct 74/46F, 23/8C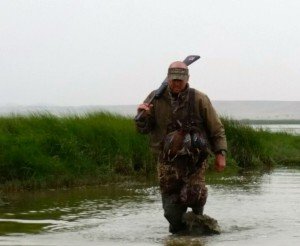 What to Pack
Packing for Peru duck hunts is relatively simple: layers. Remember, however, that you'll be hunting the temperate coastal region of Peru, which is much warmer than mountainous areas. Consult the weather forecast for Lima, Peru, for up-to-date forecast. Pack a pair of comfortable hip boots or uninsulated, breathable waders. Light trousers or hunting pants, a fleece jacket and raincoat or windbreaker. Binoculars are good to have.
General Packing List for Peru Duck Hunting CINNAMON TEAL © (PDF) will be provided as a courtesy of our pre-trip planning services.
Gratuities – Peru Duck Hunting
Gratuities for lodge and field staff are not included in Peru duck hunt package cost since tipping, in general, is discretionary. Because clients have repeatedly asked that we provide general guidelines the following is suggested:
$20 per bird boy per hunter/day (paid to bird boys each day)
$200-300 for your host per person for the total stay.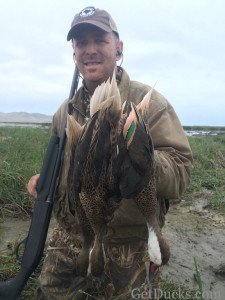 Payment Method during Peru Duck Hunting
Important Note: Please pay for ammo and gratuities with cash. Checks, money orders and credit cards are not accepted during Peru duck hunts.
Related Links – Peru Duck Hunting
Importation of Fish and Wildlife Form 3-177
Field Care of Trophy Waterfowl & Birds
Special Notes Regarding Trophy Importations & Peru Duck Hunting
Trophy importation is legal only for bird species listed in current year hunting calendar. The rules change year to year.   A hunting license and transportation document are required.  Except for CITES species (no presently available species are CITE-listed), there is no formal export document for Peru.  Birds imported into the USA must be declared at USCBP, who should also be provided original copies of hunting license and transportation document issued in the hunter's name, and consigned to a USDA-approved facility.
Among the new hunting rules being implemented by the Peruvian government for 2016 are a hunter education requirement (Non-residents with a current hunting license from their country of origin will have their hunting education requirements fulfilled) and a provision allowing for non-residents to acquire hunting licenses through a third-party (the outfitter). 
Contact us about for more information about Peru duck hunting.
Customer Testimonials
This was my 4th Peru duck hunt and my best. Really think you have picked a winner. Plan to go again!
Just got back from Peru duck hunt. The outfitter did an excellent job in all aspects of the hunt. We hunted the marshes north of Lima with great success shooting a great variety of pintails, cinnamon teal, and other ducks. This was my 4th Peru duck hunt and my best. Really think you have picked a winner. Plan to go again after my next mission trip.
Dr. Harrison Bowes
Referenced hunt: Peru Duck Hunt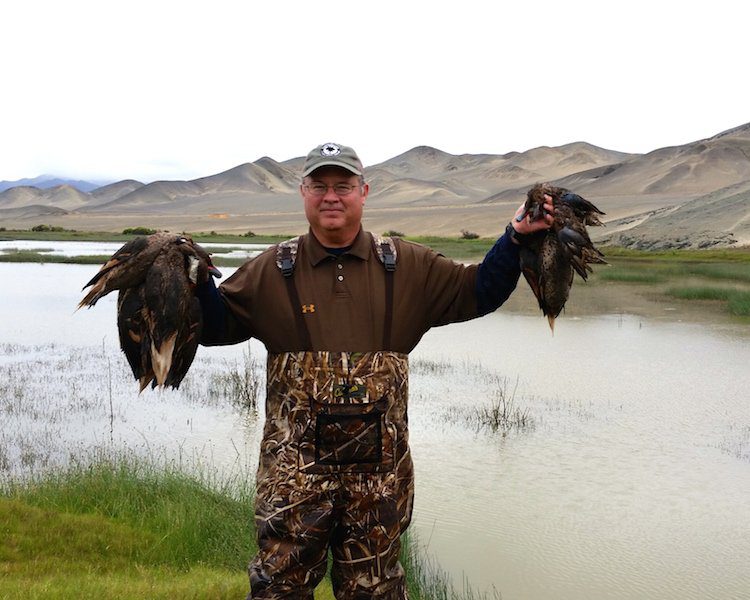 I easily recommend GetDucks.com.
I have worked and hunted with many hunting agencies all over the world and can easily recommend GetDucks.com.  The duck hunting trips arranged for us were great hunts and very well organized. Ramsey and Anita make sure all details are attended.  There is nothing worse than getting to some remote location and greeted with surprises. If you are interested in a quality duck hunt, contact Ramsey Russell at GetDucks.com.
Terry Denmon
Professional Hunter
Host MOJO TV
President & CEO
MOJO Outdoors
Referenced hunts: Argentina Duck Hunt, Peru Duck Hunt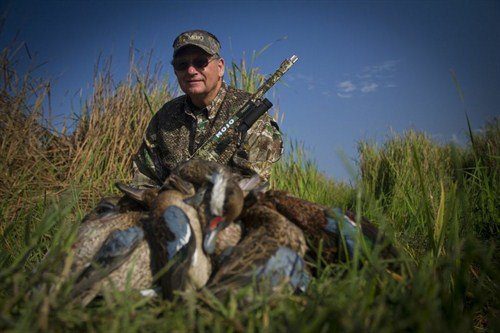 people were great, they treated you like family! Interesting to experience a different culture and cuisine. Scenery was beautiful.
Peru duck hunting was exceptional, people were great, they treated you like family! Interesting to experience a different culture and cuisine.  Scenery was beautiful.  I was finished with my Peru duck hunt a day early with all species in hand.  This is not a volume hunt but a great species collector hunt.  Everything went exactly as Ramsey described, couldn't have been better.  I would highly recommend this hunt to anyone who is interested in seeing different cultures and collecting different species of ducks. I will definitely hunt with GetDucks.com in the future!!
THANKS for an enjoyable hunt!!
Lee Friend
Referenced hunt: Peru Duck Hunting