Peru Duck Hunting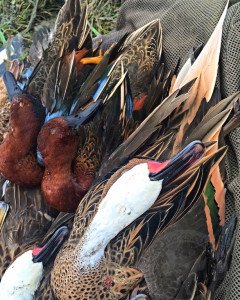 Peru Duck Hunting for the world's largest concentration of cinnamon teal is an experience not to be missed! Located a brief 3 hours from Lima, possibly the most beautiful city in South America, kick things off with an afternoon warm up session for white-winged and mourning doves. But don't forget why you're here – this Peru duck hunt is for prized cinnamon teal. Peru duck hunting along the coast is a must-do international wingshooting experience.
This Peru duck hunting package is perfect for 2 to 3 like-minded trophy collectors or adventuresome duck hunters. Bookings of 1-4 hunters are accepted. Peru duck hunting along coastal wetlands is a high-volume wingshooting event to include generous limits during morning hunts and fun doses of white-winged doves during afternoons.  Your hunt may be customized for all ducks, all doves, or duck-dove combos.
Coastal Peru for cinnamon teal takes place in a narrow sliver of alluvial flood plain situated between the Pacific Ocean and the Atacama Desert.  The ducks will first feed in brackish water and return with great thirsts after the sun comes up. You'll be there in plenty of time to make their day – and yours. In addition to cinnamon teal, white-cheeked pintails are common. As an added bonus, guests will find themselves immersed in local history; remnants of the ancient pre-Incan civilization abound.
Add additional days for trophy duck hunting Peru mountain species or save it for another time.  Available mountain species include crested duck, puna teal, sharp-winged teal, Andean goose, and 2 species of perdiz (Andean and Ornate tinamou).  Peru mountain duck species are hunted primarily by spot-and-stalk. Special Note: Torrent ducks, Andean ruddy ducks and giant coots can only be hunted if they're on the Peruvian hunting calendar. Unless they're on the list of allowable species, they may neither be hunted nor lawfully imported into the US.  Torrent ducks have not been allowable since about 2012. Giant Coot and Andean Ruddy are sometimes allowable. Regardless, Peru  is an excellent and extremely worthwhile adventure.
Leave the cumbersome waders at home; hip boots will suffice perfectly during this Peru duck hunt. A walk through knee-high cover and sometimes clump-to-clump stepping is required. Hunters are stationed in simple blinds of natural cover for concealment, guides place decoys and then leave to walk up rafted birds elsewhere. Limits rarely involve more than a couple of hours shooting so take your time and enjoy the spectacle of many swarming cinnamon teal flocks. Unlike the mountain duck hunts in Peru, cinnamon teal hunting takes place at sea level.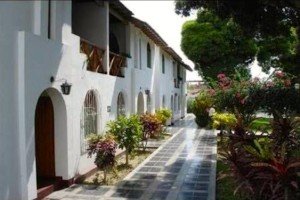 Hunters are lodged in a beautiful resort hotel that is safe and extremely convenient to hunting areas. Hunting areas are usually within about 15-30 minutes. All meals are included and taken in a variety of restaurants featuring regional specialties, primarily fresh-caught seafood. Traditional breakfasts are usually hand-baked bread and tea or coffee which is customary for Peru. Lunches and dinners are full meals, order as you please. For seafood-lovers like myself, authentic chupe (shrimp chowder) and ceviche are hard to beat.
Expect mild weather, typical of Gulf-coastal US areas. A selection of super-clean shotguns are available for guest use at no additional cost. The temporary importation of personal firearms is presently prohibited in Peru.
From the time you arrive in Lima, every detail pertaining to your travel enjoyment and hunting success is personally attended. Your host will serve as your personal tour guide and translator for the duration. This is the Peru duck hunting trip for guests that wish to experience new species, add to their life list of places duck hunted and experience unique traditions unavailable elsewhere in South America wingshooting. No international wingshooting career is complete in the absence of a Peru Duck Hunt.