Argentina Duck Hunting Rio Salado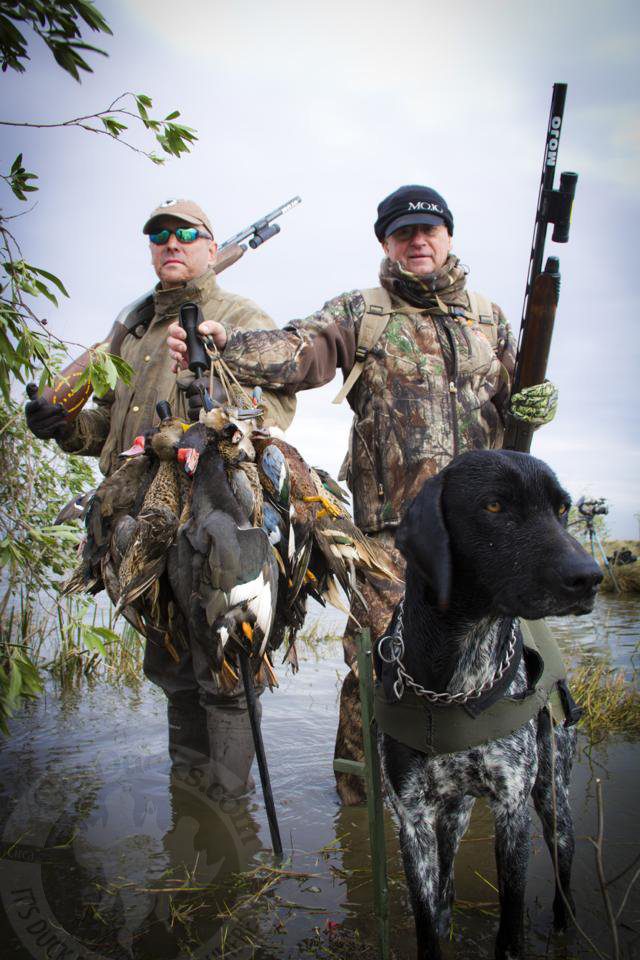 Argentina duck hunting Rio Salado is for serious duck hunters willing to go the extra distance for some the very best available duck hunting in Argentina. This remote Argentina duck hunt lacks the logistical and hunting convenience available elsewhere. Wild duck hunting in a wild, remote location. For reasons below, we and our clients think it's well worth it.
Many programs are as convenient as Disney World to Orlando, but this Argentina duck hunt is way off the beaten path in the northern province of Santa Fe. The last 52 km consists of excellently maintained but otherwise dirt roads. Hunting takes place in an incredible 74,000-acre marsh that fed by the Salado River. Other than occasional strands of barbed wire and few cattle, this wetland is as wild and pristine as anything seen by coastal Louisiana's original settlers. This wetland is mostly contiguous and water depths average less than knee-deep. With relatively few disturbances, it's waterfowl habitat as God intended.
Duck density and species diversity is can be greater than elsewhere in Argentina. Duck species you might see includes the usual suspects plus blue-winged teal, South American knob-billed ducks, and black-bellied whistling ducks – species that you'll not see on other Argentina duck hunts. During a typical week, 14-15 duck species will be bagged. The ammo allowance is very generous, daily bag varies among shooting proficiencies.
This is a "real duck hunter's Argentina duck hunt" that many U.S. hunters will easily relate to for several reasons. It's un-baited. Abundant habitat combined with low relative hunting pressure holds ducks all year. This Argentina duck hunts are based on scouting, decoys and skillful calling. Experienced Argentina clients describe guide-staff here as the best and most hard-working they've ever encountered. Blinds are simply natural cover hides on the "X", and are accessed only by Argentine mud motors (horse-drawn boats) or relatively easy walks. Once you're at the lodge, duck hunting is usually within a half-hour drive time.
This destination is for serious duck hunters that prioritize wild duck hunting experiences. The region is fluctuates from wet to dry years. Occasionally the marsh dries due to drought, requiring greater driving distances, longer walks, fewer ducks, decreased diversity.
Because there's no finite number of bait piles to protect from over-hunting, hunters hunt alone with a guide unless specifically requested – a real treat anywhere.  This program is intended as duck hunting only. Perdiz hunting might be available, but the cover is not ideal (tough walking) and it's usually too warm for productive hunts. The program is duck hunting mornings and afternoons, but afternoon dove hunting is sometimes available.
A perfectly authentic, comfortable 5-bedroom estancia sleeps up to 10 hunters double occupancy with ensuite facilities, but this hunt is perfect for 5-8 hunters. Home-cooked meals include delicious regional dishes of beef, chicken, pork and game. Regional wines and beer are readily available.  Our bilingual hosts, Martha Ciaffoni or her staff, personally attend to every detail involving your travel enjoyment from the time you arrive in Buenos Aires until your return to airport. From ground transfers to time spent at the lodge, she will serve as your personal tour guide and interpreter.
Read More: The Boys of Rio Salado Argentina, The Good Old Days of Duck Hunting Still Exist (by Lee Kjos, Wheels Afield, 2020).
This Argentina duck hunt is strictly for hunters that are unbothered by the inconvenience of longer travel (8-10 hours from BA unless chartering a private flight) and want to experience pure, non-baited Argentina duck hunting and simple, authentic Argentina customs. Most that venture this far off the beaten path say it's well worth it and swear off going to all other places. For hunters that prefer similarly-packaged, high-volume duck hunting more convenient to Buenos Aires, the Las Flores Argentina Duck Hunt is perfect. NOTE: for guests that want Argentina duck hunting combo hunts to include doves and perdiz, please refer to our combo hunt offerings La Paz and Los Ceibos.
×
Rates & Dates
Timing
Argentina duck hunts at Rio Salado are available May – August.  Rosy-billed pochards usually peak in June, but will be shot in good number throughout.  Blue-winged teal and a full spectrum of species are available June through early-August.  Perdiz may be hunted only May through late-July. Pigeons are available at any time.
Rates
PLEASE NOTE THAT DUE TO UNPREDICTABLE SUSCEPTIBILITY TO EXTREME DROUGHT AND OTHER COMPLICATING FACTORS, WE ARE NOT CURRENTLY ACCEPTING RESERVATIONS.  
$950 per day Argentina duck hunting Rio Salado.
$3,800 basic 4-day Argentina duck hunting Rio Salado
$4,750 for 5-day Argentina duck hunting Rio Salado package.
Non-hunter rate $450 daily.
Reservations require 50% deposit, balance due 60 days prior to travel. GetDucks Travel Protection added to each invoice and due with initial deposit (call to discuss).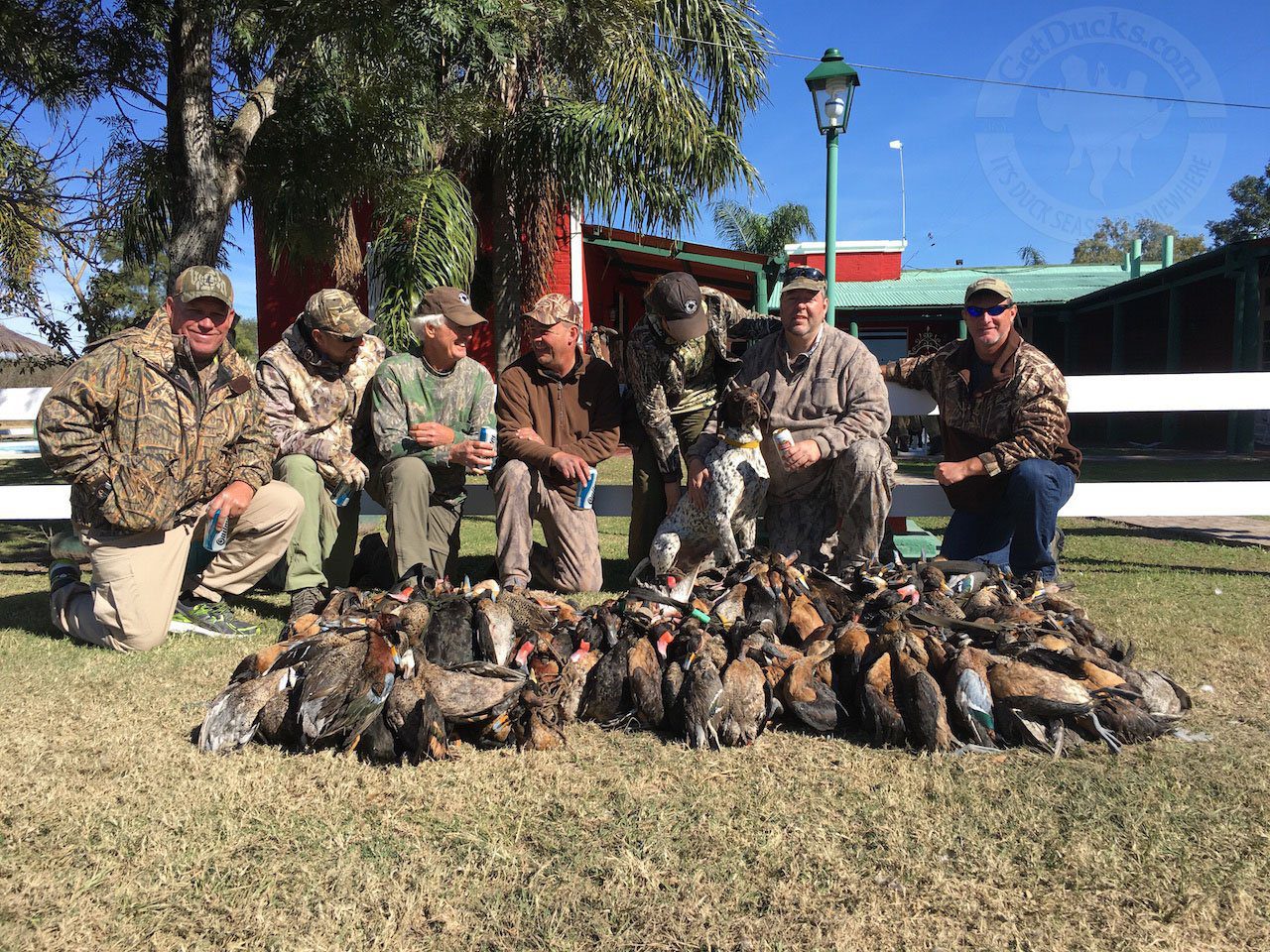 Trip Specifics
Included
Argentina duck hunting at Rio Salado includes:
Assistance on arrivals and departure
Personal, bilingual hosting for entire trip from BA
Daily hunting transfers
Authentic lodging minutes from hunt areas
Satellite TV, wifi
Chef-prepared Meals
Regional wines and beer
Professional guide services and bird boys
Not Included
Argentina Duck Hunting at Rio Saldo does not include:
Shotshells ($16 per box of 25) Prices subject to change.
Gun permit ($120 per person) or gun rental ($50 per day)
Hunting license $100 per trip
All voluntary gratuities
Airport transfers from BA (about $450 pp with 3-8 people)
Reasonable Private charters also available
Liquor is not included
Airfare, baggage overweight charges, travel insurance
Buenos Aires Hotel and city tours
Any item of strict personal nature
GetDucks Travel Protection Plan/ Trip Insurance (added line-item to each invoice)

Itinerary
Argentina duck hunts at Rio Salado are usually 5-day events. Duration can be customized.
Friday (optional) or Saturday: Depart US, overnight flight
Saturday (optional): Overnight in BA
Sunday: Transfer to Rio Salado Argentina duck hunt
Monday-Friday: High-volume Argentina duck hunts in true Rio Salado paradise
Saturday: Transfer to BA  in time to eat lunch and return to airport
More Information
Field Report
More Info
Getting There
Argentina duck hunting Rio Salado entails travel one of the wildest and most remote locations in Argentina, for truly unique experience. This is real Argentina duck hunting. Transfers to Rio Salado are on Sundays, return transfers on Saturday. Private air charters deliver clients to within 3 hours. Arrive to Buenos Aires not later than early Sunday morning preceding your scheduled Argentina duck hunt at Rio Salado.  If bringing your own firearm, or to relax the night following overnight flight from US, plan to arrive the Saturday preceding your scheduled duck hunting in Argentina and overnight in Buenos Aires. Travel options include private van or passenger cars (most popular) or private charter flights to within about 3 hours. Please note: it takes a little extra effort to get there, but you're never more than a few minutes from the blind in this  Argentina duck hunting paradise. Contact us for details.
Average Daily Temperature Range – Argentina Duck Hunt Rio Salado
Feb   87°-68°F / 31-25C
Mar   83°-73°F / 28-18C
Apr   76°-59°F / 25-15C
May 70°-52°F / 21-12C
Jun  63°-45°F / 17-8C
July 63°-46°F / 17-8C
Aug 67°-50°F / 20-9C
Sep 70-51°F / 21-10C
What to Bring – Argentina Duck Hunt Rio Salado
Packing for an Argentina duck hunt is not complicated.  Weather is comparably mild for waterfowling, and the walk or ride to the blind is relatively simple.  Bring your own favorite firearm or rent from a selection of clean, reliable semi-automatic Beretta or Benelli-type shotguns.  Lightweight, breathable waders are the perfect choice for the walk-ins and hides used while Argentina duck hunting Rio Salado.
General Packing List for Argentina Duck Hunting Rio Salado Check List provided at time of booking.
Gratuities – Argentina Duck Hunt Rio Salado
Gratuities for lodge and field staff are not included in Argentina duck hunt package cost since tipping, in general, is discretionary.  Because clients have repeatedly asked that we provide general guidelines the following is suggested:
$35-50 per hunt to your guide
$65 for household staff, per person for total stay
Do not tip house of field staff daily.  Pay them when settling your ammo account prior to departure.  Tip your hostess after returning to Buenos Aires.
Related Links – Argentina Duck Hunt Rio Salado
Certification of Registration for Personal Effects Taken Abroad (Form 4457)
Contact us about for more information about Argentina duck hunts at Rio Salado or to inquire about group discounts.
Customer Testimonials