Argentina Duck Hunting Rio Salado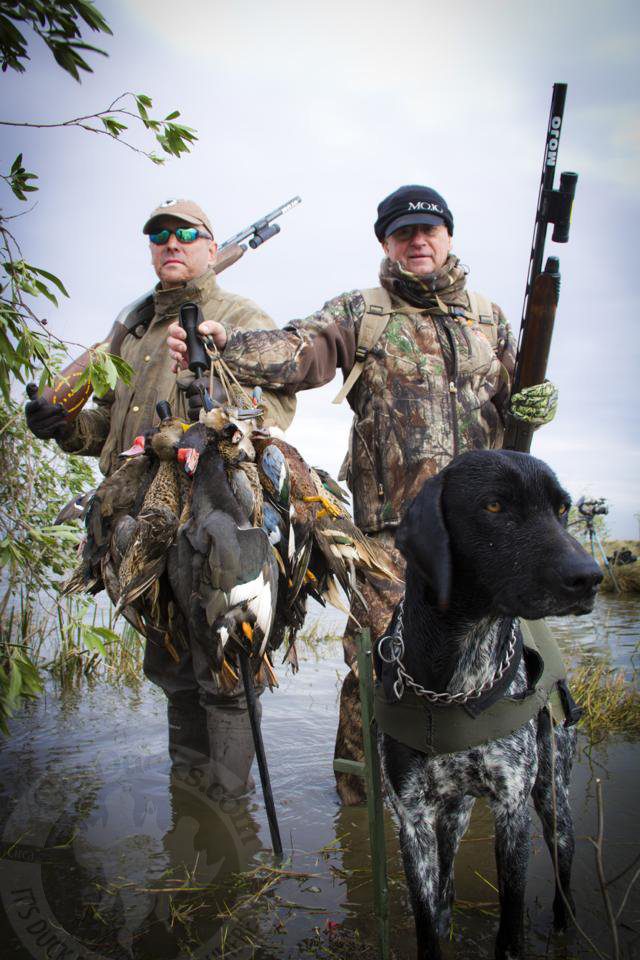 Argentina duck hunting Rio Salado is for serious duck hunters willing to go the extra distance for some the very best available duck hunting in Argentina. This remote Argentina duck hunt lacks the logistical and hunting convenience available elsewhere. For reasons below, we and our clients think it's well worth it.
Many programs are as convenient as Disney World to Orlando, but this Argentina duck hunt is way off the beaten path in the northern province of Santa Fe. The last 45 km consists of excellently maintained but otherwise dirt roads. Hunting takes place in an incredible 74,000-acre marsh that fed by the Salado River. Other than occasional strands of barbed wire and few cattle, this wetland is as wild and pristine as anything seen by coastal Louisiana's original settlers. This wetland is mostly contiguous and water depths average less than knee-deep. With relatively few disturbances, it's waterfowl habitat as God intended.
Duck density and species diversity is usually greater than elsewhere in Argentina. Duck species you might see includes the usual suspects plus blue-winged teal, South American knob-billed ducks, and black-bellied whistling ducks – species that you'll not see on other Argentina duck hunts. During a typical week, 14-15 duck species will be bagged. The ammo allowance is very generous, daily bag varies among shooting proficiencies.
This is a "real duck hunter's Argentina duck hunt" that many U.S. hunters will easily relate to for several reasons. It's un-baited. Abundant habitat combined with low relative hunting pressure holds ducks all year. This Argentina duck hunts are based on scouting, decoys and skillful calling. Experienced Argentina clients describe guide-staff here as the best and most hard-working they've ever encountered. Blinds are simply natural cover hides on the "X", and are accessed only by Argentine mud motors (horse-drawn boats) or relatively easy walks. Once you're at the lodge, duck hunting is usually within a half-hour drive time. About every 5-6 years, the marsh dries due to drought, requiring greater driving distances.
Because there's no finite number of bait piles to protect from over-hunting, hunters hunt alone with a guide unless specifically requested – a real treat anywhere. Versatile German short-hair retrievers recover impressive waterfowl marks and occasionally point perdiz.  This program is intended as duck hunting only. Perdiz hunting might be available, but the cover is not ideal (tough walking) and it's usually too warm for productive hunts. The program is duck hunting mornings and afternoons, but afternoon dove hunting is sometimes available (located about 2-plus hours away, it's good for 10-20 boxes).
A perfectly authentic, comfortable 5-bedroom estancia sleeps up to 10 hunters double occupancy with ensuite facilities, but this hunt is perfect for 5-8 hunters. Home-cooked meals include delicious regional dishes of beef, chicken, pork and game. Regional wines and beer are readily available.  Our bilingual hosts, Martha Ciaffoni or her staff, personally attend to every detail involving your travel enjoyment from the time you arrive in Buenos Aires until your return to airport. From ground transfers to time spent at the lodge, she will serve as your personal tour guide and interpreter.
Read More: The Boys of Rio Salado Argentina, The Good Old Days of Duck Hunting Still Exist (by Lee Kjos, Wheels Afield, 2020).
This Argentina duck hunt is strictly for hunters that are unbothered by the inconvenience of longer travel (8-10 hours from BA unless chartering a private flight) and want to experience pure, non-baited Argentina duck hunting and simple, authentic Argentina customs. Most that venture this far off the beaten path say it's well worth it and swear off going to all other places. For hunters that prefer similarly-packaged, high-volume duck hunting more convenient to Buenos Aires, the comparably-priced Las Flores Argentina Duck Hunt is perfect. NOTE: for guests that want Argentina duck hunting combo hunts to include doves and perdiz, please refer to our combo hunt offerings La Paz and Los Ceibos.