Argentina Duck Hunting Los Ceibos Combo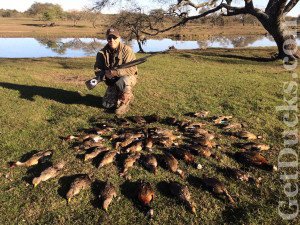 Argentina duck hunting Los Ceibos combo package offers superior shooting for ducks, doves and perdiz, this combo is unrivaled in sheer convenience to Ezeiza International Airport.  Standard 3- or 4-day packages allows you the perfect getaway. Importantly, this combo program is completely customizable based on your group's shooting preferences. You may choose ducks each morning, or season your adventure with the perfect combination of ducks, high-volume dove hunting and  Argentina's very best perdiz hunting. The Los Ceibos Argentina duck hunt combo is super easy, super convenient.
Getting there requires very comfortable 3-hour drive (or less) up the 4-lane International Highway 14, the smoothest highway in Argentina.  Situated in the eastern portion of Entrés Rios, throughout the fertile Uruguay River valley, Los Ceibos utilizes several charming estancias from which a vast amount of farmland is hunted.  Regardless of group size, at no time will hunting parties be mixed with other groups. Lodging includes elegantly rustic old world estancias that have been luxuriously modernized. Meals are an authentic sampling of Argentina to include plenty of grilled beef, a hint of Italian, and excellent wines. Service is first-class.
The Los Ceibos Argentina duck hunt is very easy, perfect for hunters with limited mobility. This is true gentleman's hunting. Whether for ducks, doves or perdiz, hunting fields are rarely more than 20 minutes distant from the estancia.  Ducks are hunted in tight potholes. Waders are completely optional (leave them at home if you prefer). Dry blinds are usually accessible by trucks driven only to within a few feet.  A myriad of duck species are common, but rosy-billed pochard, yellow-billed pintail, Brazilian teal, speckled teal, silver teal, and ringed teal predominate the bag.
The opportunity for hunting perdiz daily is only made possible due to the sheer amount of high-quality habitat available for hunting.  This region has the absolute very best perdiz hunting to be found in Argentina. Hunt them each morning if you prefer, top-notch pointers will keep you busy.  And there's nothing "mini Cordoba" about the afternoon dove hunting, either. Nearby roosts number millions of doves, and shooting stations present them perfectly. Expect to easily put away a flat of ammo per hour if that's what you want – most hunters quit way before the doves do!