Timing
Argentina duck hunting season is April through August. Peak duck hunting at Los Ceibos is mid-May through mid-August.  As part of a full-package, groups may customize the wingshooting program to include ducks, doves, or perdiz. Perdiz hunting is available only through late-July.
Rates
$850 per day Argentina Duck Hunting Los Ceibos Combo
$4,250 for 5-day package.  $3,400 for 4-day package. Ducks-only (morning and afternoon) add $100 per day.
Non-hunters 50%. For dove hunting only $580.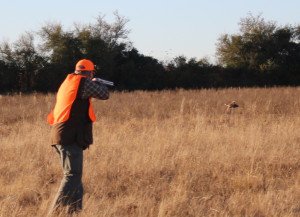 Included
Los Ceibos Argentina Duck Hunt Combos include:
Customs assistance on arrivals and departure
Daily hunting transfers
Exclusive Lodging
Satellite TV (not Pradera) and wifi internet
Chef-prepared Meals
Regional wines and local spirits
Professional guide services and bird boys
Personalized, bilingual hosting from arrival through departure
Not Included
Los Ceibos Argentina Duck Hunt Combos do not include:
Ammo ($14 per box of 25) Prices subject to change.
Gun rental ($80 per day)
Round-trip ground transfer Buenos Aires to lodge (POR).
Licenses ($150)
Santa Candida Lodge ($150/night)
All voluntary gratuities
Phone calls
Airfare and airport fees
Baggage overweight charges
Buenos Aires hotels, apartment, shows, tours, transfers in BA
Any item of strict personal nature
Travel Protection Policy (Trip Insurance)
Argentina recipricocity fee – must be paid online prior to travel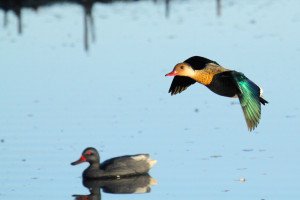 Itinerary
Sample Itinerary for 5-day Argentina Duck Hunting Los Ceibos Combo
Day 1.  Depart the U.S. on an overnight flight to Buenos Aires
Day 2.  Arrive Buenos Aires in the morning and received by host.  Drive about 3 hours to lodge – smoothest highway in Argentina.  Following lunch and a nap, enjoy a hot-barreled shoot as thousands of doves return to roost.
Days 3-6.  The shooting itinerary is yours to choose.  Shoot ducks each morning and doves or perdiz each afternoon, shoot ducks and perdiz on alternating mornings and doves every afternoon?
Day 7.  After final morning of Argentina hunting and lunch, transfer to Buenos Aires in plenty of time for US-bound flights.
Day 8.  Arrive in the U.S. and make connections home, usually arriving about mid-day. 
Your Argentina duck hunt itinerary may be fully customized to allow for touring Buenos Aires before or after your hunt.  We will help make necessary arrangements for tours, dining or shopping.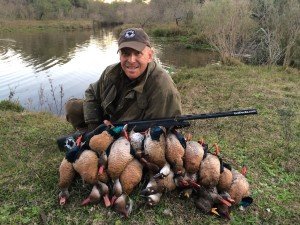 What To Bring
Packing for this Argentina duck hunting Los Ceibos combo is simple.  The weather is comparably mild for waterfowling, and the walk or ride to the blind is relatively easy.  You may rent from a selection of clean, reliable semi-automatic 20- or 12-gauge shotguns, but bringing your favorite firearm is possible.  Lightweight, breathable waders are the perfect choice for the dry or semi-wet blinds used while Argentina duck hunting at Los Ceibos, or you may wear knee boots or hiking boots of you prefer.
General Packing List for Argentina Duck Hunt Checklist provided. 
More Info
Average Daily Temperature Range – Argentina Duck Hunting Los Ceibos Combo 
May 66°-38°F / 19- 4C
June 59°-32°F / 15- 0C
July 59°-37°F / 15- 3C
Aug 64°-34°F / 18- 1C
Gratuities – Argentina Duck Hunting Los Ceibos
Gratuities are not included in Argentina duck hunt package cost since tipping, in general, is discretionary.  Because clients have repeatedly asked that we provide general guidelines the following is suggested:
$50 per day per bird boy per hunter
$30 for household per person for total stay
Do not tip house or field staff daily.  Your host will coordinate your paying to them their gratuities for when settling your ammo account prior to departure, and will help dispense accordingly.  For hunting trips in general, gratuities are 5-10% the package cost as clients deem appropriate.
Payment Method at Los Ceibos
Important Note: Please pay for ammo and gratuities with cash.  Money orders and credit cards are not accepted at Los Ceibos. Personal checks require 5% surcharge. Licenses and ground transfers will be invoiced with hunt package at time of booking.