Argentina Duck Hunting Las Flores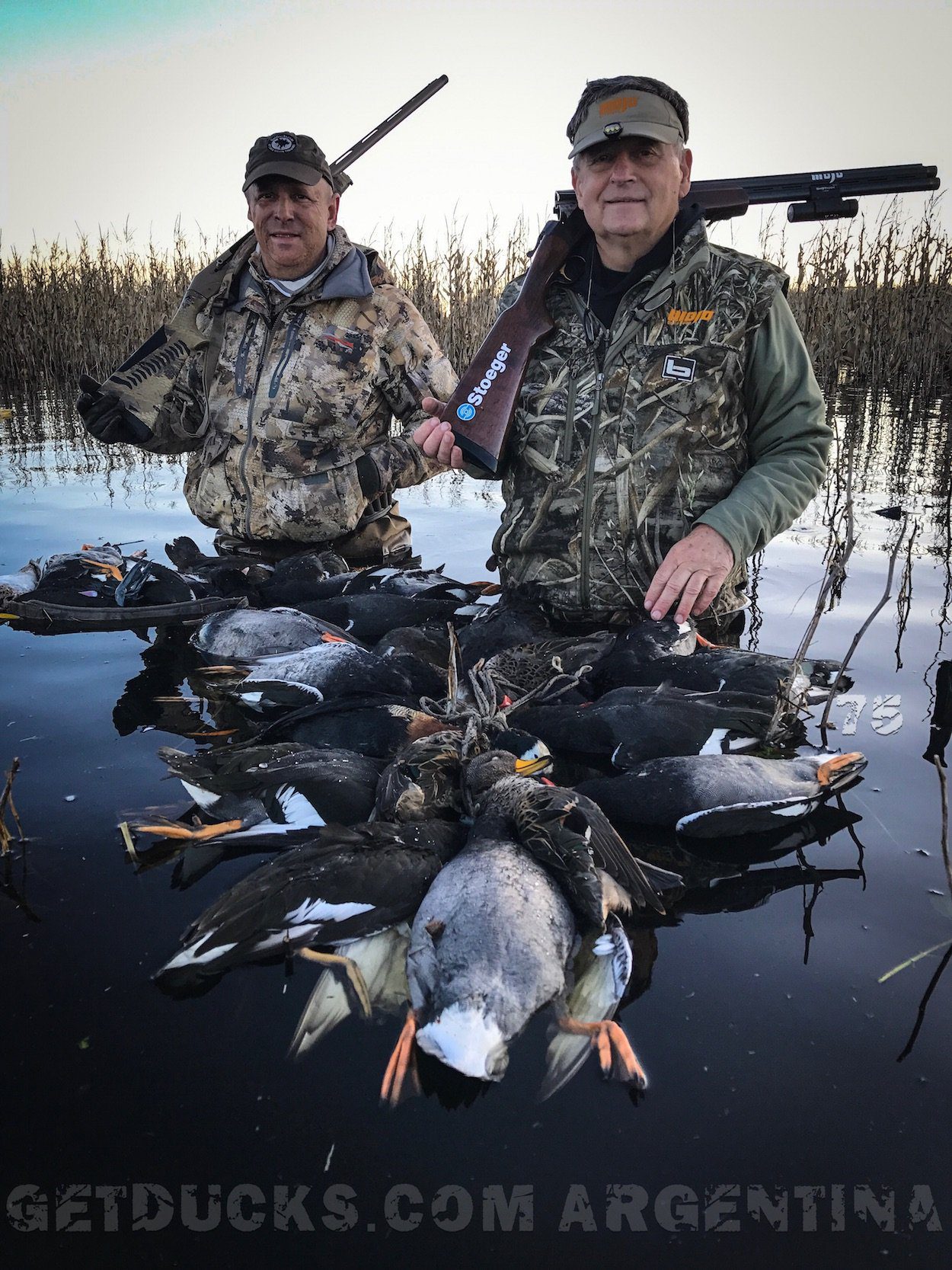 Argentina duck hunting Las Flores is a real duck hunter's duck hunt; a super combination of simple yet comfortable lodging, excellent service, superb organization  and fast-paced duck shooting.   Las Flores offers the greatest value in volume Argentina duck hunting available.  Look no further for superior duck hunting in Argentina. Says Ramsey Russell, "Regards Argentina duck hunting, it's consistently Disneyland-like thrills, but in a duck blind."
The Las Flores Argentina duck hunt features comfortable, well-camouflaged dry and semi-dry blinds, and the quality equipment necessary to get ducks – lots of them – every single time.  Easy, convenient walks to the blind are the norm.  Absolutely no hunting detail is spared.   There's plenty of time for delicious chef prepared meals (plus 16 square-feet of appetizers between meals), enjoy the well-stocked bar, visit or doze by the fireplace, and get ready for the afternoon's hunt.
From Buenos Aires you'll be driven straight to camp and will hunt ducks shortly after lunch.  Mornings consist of fast-paced, Argentina duck hunting for a complete variety of species. No one in Argentina truly owns decoying rosy-billed pochards like this outfitter. Rosy-bills are the specialty here and abundant, but expect the full diversity of Argentina duck species. Shoot ducks twice daily, morning and evening, with plenty of relaxation and a mid-day siesta. Occasional afternoon shoots for doves and pigeons, as well as perdiz hunting over some of the very best Brittanies in Argentina are included at no extra cost – but most clients opt for more ducks!
Duck hunting sites are intensively managed to ensure consistently high-quality shooting.  Drives to the blind are usually within a half-hour.  Expect very short walks over even terrain to the duck blind; guests with limited mobility are very easily accommodated here. Following the final morning duck hunt, you'll be transferred for an overnight in Buenos Aires, to the airport for flight back to the U.S. that evening or on to another destination.
Light waders and field clothing appropriate for temperatures between 30 and 60 degrees are all that's required for clothing.  Laundry service is available. The estancia is well-stocked with a selection of semi-auto and over-under shotguns. During a recent phone call, a long-time guest of Las Flores recently summed the shooting perfectly as, " a high-percentage of rosybills decoying so close I used nothing but cylinder choke."
NOTE: Exact drive times from EZE to camp vary among years depending on water conditions but are usually within about 5-1/2 or fewer hours. This Argentina duck hunting outfitter makes superior duck hunting happen regardless of water conditions. Shoots are consistently superior. There will be zero excuses. Ever. But there will be more decoying ducks than any other outfitter in Buenos Aires – and lots of them – every single time. GetDucks.com has represented this operator for a decade-plus.
Learn more in The Thunder Down Under – Argentina Duck Hunting at Las Flores (Wildfowl Mag, 2016)
The following Life's Short GetDucks short film feature about Las Flores demonstrates perfectly why this hunt is our go-to for duck hunting Argentina.
Fast-paced hunts with decoying rosy-bills are the specialty here. Nobody but nobody does Argentina duck hunts better.
×
Rates & Dates
Timing
Argentina duck hunting season at Las Flores is enjoyed late-April through August.  Peak duck hunting times are May through mid-August. Perdiz hunting is available only through July. Afternoon doves and pigeon hunting sometimes.
Rates
$5,750 Standard 5-day Argentina duck hunt at Las Flores (5 morning and 5 afternoon duck hunts)
$4,600 4-day Argentina duck hunting package at Las Flores (4 morning and 4 afternoon duck hunts).
Daily rate $1,150 per.  Duration may be customized at hunters' discretion. Most hunters choose 4-6 days, some as many as 20.
Rates are based on double room occupancy and 2-3 hunters per blind. Private rooms $150 extra as available (pending availability). Hunting solo (only 1 guest per blind) requires an additional premium.
Reservations require 50% deposit, balance due 60 days prior to travel. GetDucks Travel Protection added to each invoice and due with initial deposit (call to discuss).
Trip Specifics
Included
Argentina Duck Hunting at Las Flores includes:
Airport reception
Daily hunting transfers
Lodging and meals
Regional wines and local spirits
Professional guide services and bird boys
Personalized service for the duration of your stay
License and local taxes
Not Included
Argentina Duck Hunting at Las Flores does not include:
Shotshells ($25 per box of 25) Prices subject to change.
Gun rental ($85 per day)
All voluntary gratuities (minimum $150/day)
Phone calls
Airfare, Baggage overweight charges, Buenos Aires Hotel, Any item of strict personal nature
Airport transfers ($250-300)
GetDucks Travel Protection Plan/ Trip Insurance (added line-item to each invoice)
If you wish to shoot anything other than 12-gauge or 20-gauge ammunition, please advise us well in advance of your hunt dates.  A full array of popular US and European loads can usually be made available with advanced notice.
Itinerary
Sample Itinerary for 4-day Argentina Duck Hunting at Las Flores
Day 1.  Depart the U.S. on an overnight flight to Buenos Aires
Day 2.  Arrive Buenos Aires and transfer to Las Flores lodge.  After lunch an afternoon duck hunt soon follow.  Perfect way to stretch your legs after the long flight.
Day 3-5.  Full days of Argentina duck hunting.  Both morning and afternoon Argentina duck hunts. An afternoon perdiz hunt or doves may be available.  All meals are enjoyed at the nearby lodge.
Day 6.  After final morning of Argentina duck hunting and lunch, transfer will be provided to Buenos Aires for your flight to US.
Day 7.  Arrive in the U.S. at your gateway airport and make connections home, usually arriving about mid-day. 
Your Argentina duck hunt itinerary may be fully customized to allow for touring Buenos Aires before or after your hunt.  We will help make necessary arrangements for tours, dining or shopping. Argentina dove hunting are also popular complements.
More Information
Field Report
"Argentina duck hunting at Las Flores is unrivaled.  More decoying rosybills than I've ever seen, and it was due entirely to properly intensive management.   Our host is the most personable and hands-on Argentine outfitter I've encountered.  Dollar for duck, there's not better Argentina duck hunting."  ~ Ramsey Russell
More Info
Average Daily Temperature Range – Argentina Duck Hunting at Las Flores
Apr 75°-46°F / 24- 8C
May 66°-38°F / 19- 4C
June 59°-32°F / 15- 0C
July 59°-37°F / 15- 3C
Aug 64°-34°F / 18- 1C
What to Bring – Argentina Duck Hunting at Las Flores
Packing for an Argentina duck hunt is not a complicated matter as the weather is comparably mild for waterfowling, and the walk or ride to the blind is relatively simple.  You may choose to bring your own favorite firearm or rent from a selection of clean, reliable semi-automatic or over-under Reminton, Beretta and Browning shotguns.  Lightweight, breathable waders are the perfect choice for the dry or semi-wet marsh blinds used while Argentina duck hunting at Las Flores.
General Packing List for Argentina Duck Hunt (PDF)
Gratuities – Argentina Duck Hunting at Las Flores
Gratuities for lodge and field staff are not included in Argentina duck hunt package cost since tipping, in general, is discretionary.  Because clients have repeatedly asked that we provide general guidelines the following is suggested: minimum $150 paid to outfitter while settling up at end of hunt. He will disperse to staff.
As an example, for a 3-day Argentina duck hunt at Las Flores hunt you will spend  $450 in tips. These are paid to outfitter when settling up at end of stay.
Related Links – Argentina Duck Hunting at Las Flores
View Photo Gallery: High-volume Argentina Duck Hunting Las Flores
Contact us about for more information about Argentina duck hunting.
Galleries
Customer Testimonials