The world's best duck hunting and wingshooting adventures
You didn't arrive to GetDucks.com by accident. You are here because you are a serious duck hunter. You want the hunt of a lifetime. And you know that it's always duck season…somewhere.
You've come to the right place.  We specialize in worldwide waterfowl hunting and wingshooting.  It's not only what we do – it's all we do.   We don't sidetrack ourselves with big game and fishing. We've personally hunted each destination many times.
Here at GetDucks.com, we make waterfowling dreams a reality. With expert guided hunts to the best destinations at the best times for the best hunting experiences.  Every time.
GetDucks.com's guest services are uniquely personal.  From the time you reserve dates until you're safely back home telling friends about bird-filled skies like you've never seen before, we'll be right there with you – first as your duck hunting concierge, and later, as friends. But don't just take our word for it, here are literally hundreds of reasons to entrust GetDucks.com with your next duck hunting adventure.
Visit our About Us and GetDucks.com Press Room for more information about who we are and what we do.  Explore the rest of Ramsey Russell's GetDucks.com to find the perfect waterfowling travel package.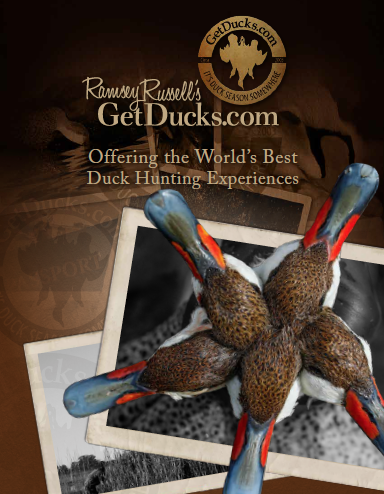 Want to receive a new GetDucks.com Brochure?  The new 36-page, full-color GetDucks.com brochure is loaded with photography from the world's best duck hunting adventures, to include trip summaries, available bird species, testimonial reviews and much more.
View NEW Full-color brochure online: Ramsey Russell's GetDucks.com 2020 Catalog Contact us to receive a hi-res printed copy.
Ready to pull the trigger?  Contact GetDucks.com, the only agency that continues to find the world's newest and best duck hunting adventures – because "it's duck season somewhere."