Alaska King Eider Hunting – The Hunt of a Lifetime
Congratulations to John Eads on making his Alaska King Eider hunting trip of a lifetime and on bagging the full spectrum of available Alaska sea duck hunting trophies! Big thanks for this in-depth trip report.
A DUCK HUNTING EXPERIENCE OF A LIFETIME – ALASKA KING EIDER HUNTING
By John Eads, CPA, Treasurer
Dallas Safari Club
I have been a bird hunter since I was 10, especially waterfowl, but I had not had the opportunity to hunt for the "King", King Eider that is, and what a magnificent sea duck they are! [Golden horned beak with orange, light colored blue on top with a green streak under the eye; a collar of light tan and then black with white accents on the neck, flares and chest. They have two small shark fins of black on their back. The female has a feather pattern like a mallard hen, but with a cinnamon/red/black coloring].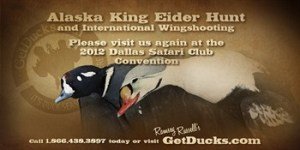 To continue the story…then along came Ramsey Russell's GetDucks.com. I happened to see his donated auction item for a King Eider hunt at St. Paul Island, Alaska at the Dallas Safari Club's Visions Convention banquet in January 2012. An opportunity I just could not pass up. A duck hunter's dream…a hunt of a life-time! I bid on it and to my surprise, got the five day hunt. I was already excited and could hardly wait, but the hunt was for January 2013. Gosh! I had to wait a whole year to until hunting Alaska King Eider. No panic. I had plenty of time to make airline reservations; purchase licenses needed and prepare for the hunt. My preparation was made even easier by the help I received from Anita Russell, and Ramsey was always in the background to help on specific hunting questions such as hunting gear, ammunition, the whole hunting experience. One of the first pieces of advice Ramsey gave me was layer up and Stay DRY, DRY, DRY. Boy was he right-on. After all, he had hunted the "King" in the same place I was going, which was 850 miles west of Anchorage, Alaska in the middle of the Bering Sea. Wow!
I left Dallas on January 11, 2013 after the Journeys Convention and flew to Anchorage. Left Anchorage the next day around noon. You reach your hunting destination at St. Paul Island by Pen Air in about 3 hours, pending the weather. Ramsey and Anita had arranged this Alaska King Eider Hunting Trip for me. The outfitter-guides met us at the airport on St. Paul, Island on arrival. Let me tell you…these outfitters know their business. Their equipment was in great shape. Their long-time experience and knowledge of water fowl hunting was quite evident, especially when it came to hunting king eiders in Alaska. They were extremely safety conscious and Michelle, Moe's wife, was a great cook with her home made three squares a day, including steak, fresh snow crab, chicken, stews and soups, fresh baked goods, desserts and snacks. The accommodations were more than likely the best on the island. Up and down stairs sleeping quarters, bird/gun cleaning room areas (you had to clean your gun completely after every hunt), three freezers, hunting gear area, two full baths; lounge and eating areas were available. We had our own private warm hunting lodge that was quite comfortable and could accommodate the five hunter limit on our trip. There was even internet access and satellite TV.
The weather was better than I expected. It averaged about 26 degrees during the day with some sun and cloudy days with light snow flurries and always a wind. Most of the time, it was colder in Anchorage and definitely colder in North Dakota. One thing about the weather, it could change on a dime. I realized what Ramsey had said when out hunting about staying dry. We would actually hunt in this stuff a mile or two from shore in the Bering Sea. Most of the time we were out, the sea was not bad at all. If it did start to get rough, we headed to the dock. I never really got cold, except for my hands, which were outside my gloves at times. I had layers of waterproof clothing and waders on all the time.
Now, if you have not ever hunted sea ducks or King Eider, Harlequin, Old Squaw or White-winged Scoter, you are in for a treat. Decoys are trolled behind the boat (a 10 ft. Zodiac or 17 ft. duck boat out from the back of the boat about 40 yards in a string. Birds are drawn to the decoys. See 'em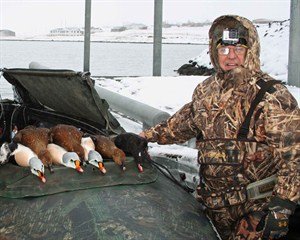 early, if you can to have time for a shot. I never dreamed I would have the chance to hunt king eiders trying to take a shot with a 3″ modified or full choke Hevi Shot No. 2 load with the boat going up and down on the water, the wind blowing erratically at the same time, and the birds flying 2-3 ft. off the top of the sea and making a fast pass over the decoys or on the side of the boat. A challenging tough shot at best! At times it could be anywhere from a 3-8 ft. lead once you sited-in on the bird. By the way, I got my first "King" on the morning of the first day. At thrill at best!
Let me tell you…sea ducks are tough. They have thick feathers and skin. Unless you hit them just right in your frenzy to take one under the described conditions, if they hit the water and their head is still up, you had better take another or even a third shot to take them out. They sea ducks are divers up to 150 ft. and can go under water for 100 yards before re-surfacing. You retrieve them with a net once your kill is made. Now, that is one heck of a way to hunt ducks. The other is when the weather keeps you from getting out on the sea.
We would go to the northeast side of the island. Not much beach there, but plenty of snow on the ground and slippery volcanic rocks to climb over and sit on about 15 ft. from the shore. (I learned the meaning of Stay DRY). The wind would blow hard, sometimes up to 30 knots. The waves coming in were 3-4 feet high and would break on the rocks in front of you. Most of the time the water or any spray would not reach you, but then…sometimes… well, it happened. This type of hunt included mostly Harlequin sea ducks, although you would also see King Eiders. The Harlequins would fly 2-3 ft. over the top of the sea at a very fast speed. I finally figured out that my three to five foot lead was not enough. An eight foot lead was just about right. (It was easy to determine you needed this much when you would see your shot go behind the bird and splash into the sea). You really had to pick up on the bird early to make a successful pass shoot at about 35-40 yds. If the wind was blowing high enough, the birds would be closer. Aah! What a relief. Once they were down and heads not up, you would wait until the surf brought them to shore and the outfitter would retrieve them for you. I waited almost 30 minutes for one to get to shore. You had to keep vigil though; there is a population of about 273,000 sea lions around the area. They swim along the same path of the birds and they would steal your kill in a heartbeat.
Nightlife was virtually non-existent. Most of the time we would have a beer or two after supper and head to the bed early to get some rest for the next morning's hunt. There was one bar on the island. It was open from 7:30 p.m. to 10:30 p.m. and a two limit beer or wine. This seemed to be a local gathering place for the locals. No liquor on the island. In fact the beer store where we got our beverages to drink at the lodge was a warehouse consisting of cases of beer and wine. It was pretty expensive, too. There was a grocery store. I priced a box of shotgun shells for double BB and it was $44. Wow! Other items were somewhat expensive also. It was a well-rounded store with most items you would need. We did visit the museum on the island that contained some very interesting history. The only church is a Russian Orthodox one next to the museum. One thing that impressed me was the approximately 453 Aleut people of Russian decent that populate the island. They call the islands Amig, Aleut for "land of mother's brother." They are a supportive community within themselves and very courteous, cheerful and good people to be around. A real surprise was the courtesies extended between drivers on the road. Everyone waved at everyone. See that in Texas very often on the freeways and intersections?
One of the highlights of the trip on one afternoon when we could not go hunting because of the weather was a visit to a "Deadliest Catch" boat docked in the harbor. The boats would off-load their fresh snow crabs to the Trident Seafood Company processing plant on the island. We actually were invited to go on-board two crab boats and see their entire operation. Capt. Mark of the Island Mist was one of the very accommodating boat captains and showed us all around his boat from the bridge to the engine room, including opening up one of the holds that contained the fresh snow crabs. We took pictures holding some of the crabs. He gave about 200 lbs. to us to eat that evening and boy, did we eat those delicious fresh crabs.
Did I say a lifetime experience? Yes, indeed I did. I got all four of the major species – especially the magnificent King Eider, which is limited to four only. This Alaska King Eider Hunt was one of my most memorable hunts. Call Ramsey at 601-826-8300 or go to GetDucks.com and get your reservations made early before they fill up.
Package Details: Alaska King Eider Hunting