Oklahoma Duck Hunt
Mesquite Hollow Outfitters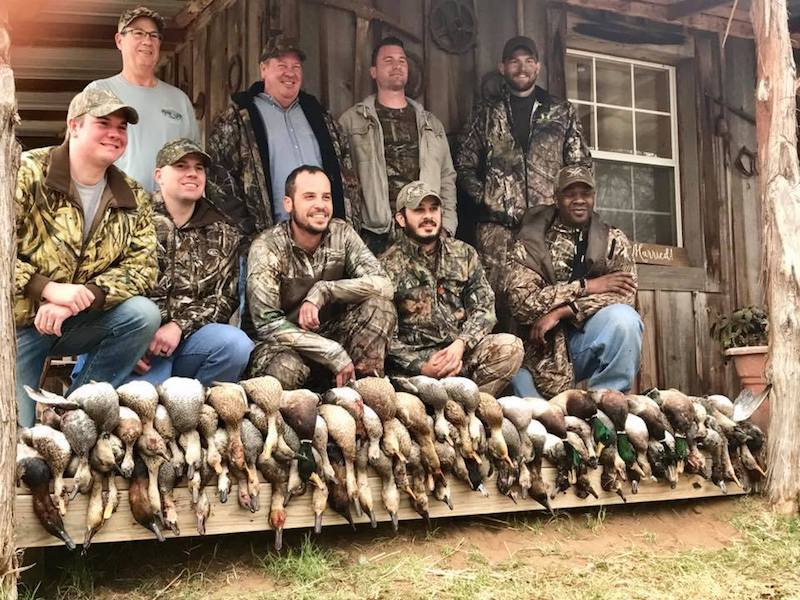 deliver a superior guided Oklahoma duck hunt only a little over an hour from Dallas. Same great long-time USHuntList outfitter but a name change! These extremely professional and seasoned guides deliver. They will attend to all details regarding your hunting enjoyment and success. Relax and enjoy the morning, let them do what they do best – land ducks on the end of your gun barrel! This is one of our original USHuntList outfitters. They've made clients happy since day one.
Mesquite Hollow Outfitters guide-staff are each superb callers who have won several competitions and are affiliated with some of leading industry brands. Dakota Stowers and MHO staff were formerly employed, trained and mentored under the watchful eye of our associate, the late JJ Kent of Kent Outdoors. Decoys and equipment are well-maintained and organized to ensure excellent condition. Perfectly-located blinds ensure guests' comfort between volleys.
Mesquite Hollow Outfitters delivers excellent Oklahoma duck hunts by commandsing exclusive-use of thousands of acres throughout the Red River Valley, one of the region's preeminent flyways. They hunt both sides of the river, depending on waterfowl activity,  but mostly Oklahoma. This rich farmland area is very well known for consistently producing phenomenal mixed-species hunts and plenty of mallards. The 11,000-acre Hagerman National Wildlife Refuge, Lake Texhoma and the Red River harbor many thousand of duck that avail themselves of nearby food sources.
Blinds located among many various waterbodies rendering a combination of natural and established food-sources, such as millet or sorghum, Mesquite Hollow Outfitters consistently delivers memorable hunts for guests. Mallards are abundant, but other species bagged include pintail, widgeon, green-winged teal, blue-winged teal, canvasback, redhead, shoveler, and gadwall. I've not seen more wigeons elsewhere in the Central Flyway than this area. Canadas, cacklers and light geese are also abundantly hunted.
Waterfowl hunts are conducted in the morning and go until limits are met or hunters are ready to retire, usually about 11 AM. Hunting locations are usually within 20-45 minutes from camp. Afternoons are spent scouring the countryside for the next day's big shoot.
Guests are lodged in a beautifully rustic cabin that sleeps 8 (take a virtual reality tour at MHO website). A full kitchen and outdoor grill are available for do-it-yourself feasts, or you can go to nearby restaurants. Oklahoma waterfowl season starts in September with early teal and resident Canada Goose seasons. The main event begins the first Saturday of November and goes until late-January with a 2-week split occurring after Thanksgiving. Look no further than to Mesquite Hollow Outfitters for one of the very best Oklahoma duck hunts available.
Hollow Outfitters offers truly excellent guided Oklahoma duck hunting a little over an hour north of Dallas. Morning duck and goose hunts over a variety of habitats along the Red River, this young energetic staff guides full-time, year-round and are true professionals. Many clients that have booked this trip directly have later called to tell us what a great time was had. They fill up quickly each season. Contact Dakota Stowers at 903-815-9842 or click the "Book a Hunt" above for more details.