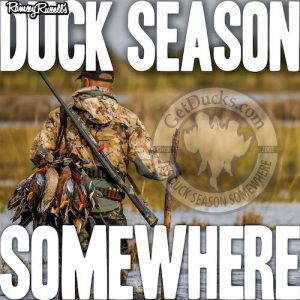 October 7, 2021 | DUCK SEASON SOMEWHERE
Listen to this episode

Waterfowl season is fast approaching the Deep South and preparing for the upcoming season is perfect timing to consider next year's habitat management. Natural Resources Conservation Services Wildlife Biologist, Kevin Nelms, joins Ramsey Russell for another highly informative Wetlands Management for Waterfowl discussion. Fall disturbances, how and when to flood, invertebrates and other seasonal topics are talked about. Scroll back to hear parts 1-3 of this ongoing series of you've not yet heard them. A link to Wetlands Management for Waterfowl Handbook (PDF) is also attached.
Related Links:
Wetland Management for Waterfowl (PDF)
Podcast Sponsors:
GetDucks.com, your proven source for the very best waterfowl hunting adventures. Argentina, Mexico, 6 whole continents worth. For two decades, we've delivered real duck hunts for real duck hunters.
USHuntList.com because the next great hunt is closer than you think. Search our database of proven US and Canadian outfits. Contact them directly with confidence.
Benelli USA Shotguns. Trust is earned. By the numbers, I've bagged 121 waterfowl subspecies bagged on 6 continents, 20 countries, 36 US states and growing. I spend up to 225 days per year chasing ducks, geese and swans worldwide, and I don't use shotgun for the brand name or the cool factor. Y'all know me way better than that. I've shot, Benelli Shotguns for over two decades. I continue shooting Benelli shotguns for their simplicity, utter reliability and superior performance. Whether hunting near home or halfway across the world, that's the stuff that matters.
HuntProof, the premier mobile waterfowl app, is an absolute game changer. Quickly and easily attribute each hunt or scouting report to include automatic weather and pinpoint mapping; summarize waterfowl harvest by season, goose and duck species; share with friends within your network; type a hunt narrative and add photos. Migrational predictor algorithms estimate bird activity and, based on past hunt data will use weather conditions and hunt history to even suggest which blind will likely be most productive!
Tetra Hearing Delivers premium technology that's specifically calibrated for the users own hearing and is comfortable, giving hunters a natural hearing experience, while still protecting their hearing. Using patent-pending Specialized Target Optimization™ (STO), the world's first hearing technology designed optimize hearing for hunters in their specific hunting environments. TETRA gives hunters an edge and gives them their edge back. Can you hear me now?! Dang straight I can. Thanks to Tetra Hearing!
Voormi is an enigma in the day and age of disposable hunting apparel. Beyond the sea of sameness, Voormi's wool-based technology is engineered to perform. Wool is nature's miracle fiber. It's light, wicks moisture, is inherently warm even when wet. It's comfortable over a wide temperature gradient, naturally anti-microbial, remaining odor free. But Voormi is not your ordinary wool. It's new breed of proprietary thermal wool takes it next level–it doesn't itch, is surface-hardened to bead water from shaking duck dogs, and is available in your favorite earth tones and a couple unique concealment patterns. With wool-based solutions at the yarn level, Voormi eliminates the unwordly glow that's common during low light while wearing synthetics. The high-e hoodie and base layers are personal favorites that I wear worldwide. Voormi's growing line of innovative of performance products is authenticity with humility. It's the practical hunting gear that we real duck hunters deserve.
Mojo Outdoors, most recognized name brand decoy number one maker of motion and spinning wing decoys in the world. More than just the best spinning wing decoys on the market, their ever growing product line includes all kinds of cool stuff. Magnetic Pick Stick, Scoot and Shoot Turkey Decoys much, much more. And don't forget my personal favorite, yes sir, they also make the one – the only – world-famous Spoonzilla. When I pranked Terry Denman in Mexico with a "smiling mallard" nobody ever dreamed it would become the most talked about decoy of the century. I've used Mojo decoys worldwide, everywhere I've ever duck hunted from Azerbaijan to Argentina. I absolutely never leave home without one. Mojo Outdoors, forever changing the way you hunt ducks.
BOSS Shotshells copper-plated bismuth-tin alloy is the good ol' days again. Steel shot's come a long way in the past 30 years, but we'll never, ever perform like good old fashioned lead. Say goodbye to all that gimmicky high recoil compensation science hype, and hello to superior performance. Know your pattern, take ethical shots, make clean kills. That is the BOSS Way. The good old days are now.
Tom Beckbe The Tom Beckbe lifestyle is timeless, harkening an American era that hunting gear lasted generations. Classic design and rugged materials withstand the elements. The Tensas Jacket is like the one my grandfather wore. Like the one I still wear. Because high-quality Tom Beckbe gear lasts. Forever. For the hunt.
Flashback Decoy by Duck Creek Decoy Works. It almost pains me to tell y'all about Duck Creek Decoy Work's new Flashback Decoy because in  the words of Flashback Decoy inventor Tyler Baskfield, duck hunting gear really is "an arms race." At my Mississippi camp, his flashback decoy has been a top-secret weapon among my personal bag of tricks. It behaves exactly like a feeding mallard, making slick-as-glass water roil to life. And now that my secret's out I'll tell y'all something else: I've got 3 of them.
Ducks Unlimited takes a continental, landscape approach to wetland conservation. Since 1937, DU has conserved almost 15 million acres of waterfowl habitat across North America. While DU works in all 50 states, the organization focuses its efforts and resources on the habitats most beneficial to waterfowl.
It really is Duck Season Somewhere for 365 days. Ramsey Russell's Duck Season Somewhere podcast is available anywhere you listen to podcasts. Please subscribe, rate and review Duck Season Somewhere podcast. Share your favorite episodes with friends. Business inquiries or comments contact Ramsey Russell at ramsey@getducks.com. And be sure to check out our new GetDucks Shop.  Connect with Ramsey Russell as he chases waterfowl hunting experiences worldwide year-round: Insta @ramseyrussellgetducks, YouTube @DuckSeasonSomewherePodcast,  Facebook @GetDucks.