Timing
Obregon Mexico duck hunting combos are January-February, commencing the week between Christmas and New Year and lasting through early-March.  Ducks are plentiful during this period and prime for taxidermy purposes.  Brant hunting is limited due to withering migrations in recent years. Upland bird species and fishing are also available during this time. December 1-24, duck, dove and fishing combo only (no brant).
Rates
ALL-INCLUSIVE Obregon Mexico Duck Hunting Combo hunting packages:
5-night/4-day Obregon waterfowl combo only $4,380
Non-hunters $400 daily
Mexico Duck Hunting Combo (Duck-Dove Combo): 4 nights/ 3 days hunting program morning ducks, afternoon doves only $3,580 (December 1-24 only)
* Lodge Exclusive – A minimum of 10 paid hunters (or total 40 bed nights) is necessary to ensure exclusive use of lodge.
These Obregon Mexico duck hunting combo packages are customized exclusively for GetDucks.com to include everything but the ammo you actually shoot.  Absolutely no hidden costs or surprises.  Special note: these exclusive packages are waterfowl-only that neither necessitate nor include dove hunting, "canal duck shoots", quail hunts, bass fishing, ground transfer from Hermosillo or the extra services of gun cleaning, boot cleaning and laundry – these options may be added at the hunter's discretion for very minimal fees ($250 total or less) that are described in greater detail under "Trip Specifics" tab.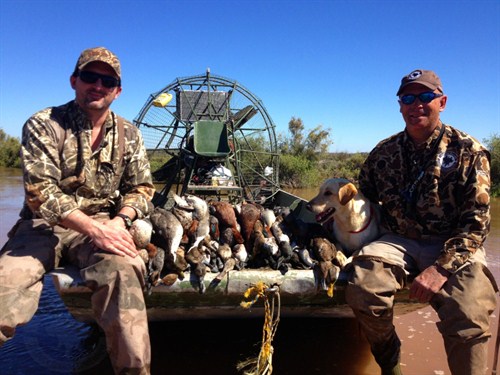 Included
Obregon Mexico duck hunting combos include:
Round-trip airport transfers from Ciudad Obregón International Airport (CEN)
Executive lodging with satellite TV, wifi internet
Chef-prepared meals and appetizers, superior guest services
All beverages throughout the day to include beer, wine, spirits
Outfitter-provided guns 12- or 20-ga (recommended for convenience)
Duck and dove hunting licenses and permits
All daily hunting-related transfers
Professional guide services
Trophy freezer storage
ALL GRATUITIES for all guides, bird boys, house-staff and mariachi band entertainment within the scope of this exclusive program
This Mexico duck hunt is INCLUSIVE. Please note that most gratuities are included. You will not be berated for gratuities or extras at every turn. Additional gratuities should be left purely at your discretion but are not expected.  As you shall see, the entire Obregon Mexico duck hunting staff will do their utmost in gaining your satisfaction and in your acquiring all coveted trophy species.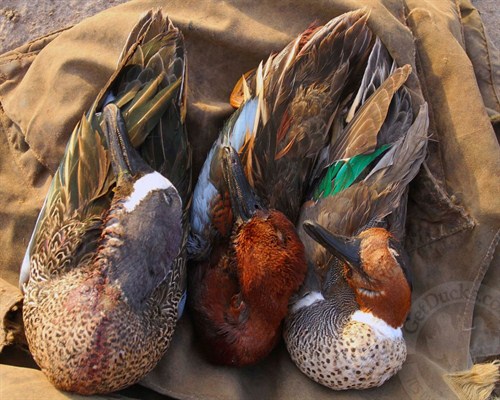 Not Included
Obregon Mexico duck hunting combo packages do not include:
Airfare
Ammo – $16.50 /box waterfowl, $16.00 doves and quail
Personal firearm importation ($140) up to 2 guns and 100 rounds ammo per gun
Airport transfer from Hermosillo ($75 per-person round-trip).  Less than 3 passengers or special transfers POR.
Gratuity – dove hunting guide ($20 per shoot)
Gratuity – quail hunting guide ($30 per shoot)
Gratuity – "afternoon ducks/ canal shoots" guide ($30 per shoot)
Bass fishing ($150 per session)
Gratuity – bass fishing ($30)
 Fishing rod, reel and tackle rental ($40)
Extra hunt day (only if available) $750
Laundry services ($20 per basket)
Gun cleaning ($6 per instance)
Boot cleaning ($3 per instance)
Items of strictly personal nature
Travel Protection Plan (Trip Insurance)
Inclusive Mexico duck hunting package: It's been our experience that over a 4-day hunting period, maximum additional expenses to include, for example, firearm importation, Hermosilla transfer, gun and boot cleaning, optional 2 canal shoot and 2 mourning dove hunts, are within an additional $300-400 and purely at the client's discretion.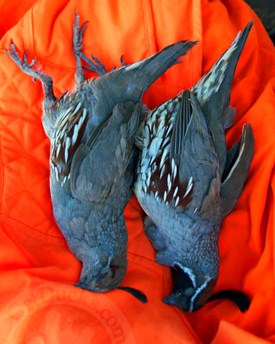 Special notes
1. Quail importation requires Elegant and/or Gambel's licenses that cost $100, respectively.  Quail are not hunted over pointers; it's a walk up hunt.
2. Effective December 1, 2014, a USDA Import Certification (VS-Certificate) is no longer required for import of birds from Mexico.  All imported birds, however, must be consigned to a USDA Approved facility.
3. Guests are provided with Mexico duck hunting and other licenses, permits and tags and may import no more birds than what these documents provide.  For import into US, each bird must be properly tagged by the hunter. All containers in which imported birds are brought should be properly and conspicuously labeled regarding contents per 50CFR.
4. If you intend to bass fish for certain, please bring your own gear.  You may rent rods for $10 if bringing your own reels and lures, or you may rent rods, reels and tackle for $25.  All rods, reels and tackle provided are top-of-the-line.
5. Black-bellied Whistling and Fulvous Whistling ducks are listed as CITES species and require special permits. Permits require 30 days minimum to obtain from Mexico officials. You'll be unable to personally transport them back immediately after the hunt.
What To Bring
Packing for this Mexico duck hunting combo is very simple. The weather is moderate (50s-80s).
Breathable, uninsulated waders are perfect, and most guests wear shorts underneath.
Light-weight clothing in camo or earth tones, ball cap and sunglasses, hearing and eye protection, and sunscreen are musts.
Attire around the lodge is casual, and laundry services are available.
If taking trophies home, bring 2-gallon ziplocks, pen or marker, and tags for properly labeling your trophies.  Contact your USDA-approved taxidermist prior to travel to discuss taxidermy and import.
GetDucks.com will send an Obregon Mexico Duck Hunting Pre-Trip after deposit is received. Please contact us anytime to discuss your upcoming trip.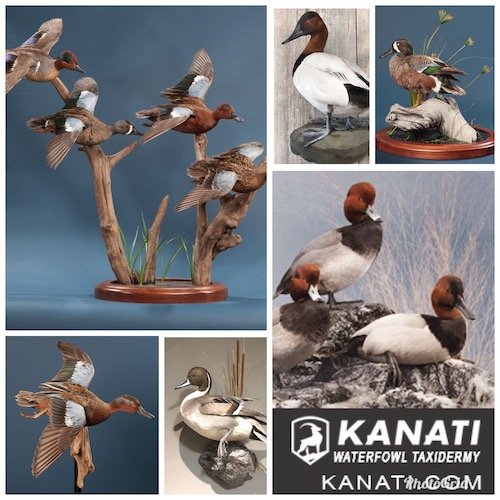 More Info
Mexican Duck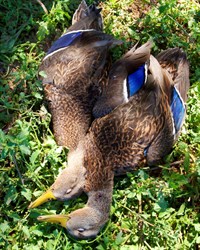 The Mexican Duck (Anas diazi), or Mexican Mallard, is a dabbling duck that breeds in Mexico and in isolated instances in the southwestern USA. Resembling a female Mallard at a glance, but with a slightly darker body, the Mexican Duck is mainly brown, with a mallard-like blue speculum edged with white, obvious in flight or at rest. The male has a brighter yellow bill than the female. They make mallard-like vocalizations.
Once recognized as a sub-species of Mallard, it has ben argued that they most closely share origins with the American Black Duck.  The species is undergoing a slow decline, presumably due to habitat loss. It hybridizes with Mallards which are better-adapted to utilizing habitat altered by human activity.
The Mexican Duck was listed as endangered species at the United States Fish and Wildlife Service in 1967 but was removed in 1978. Arguably, the greatest density of Mexican Ducks in the world exist in Sonora Mexico's Yaqui Valley.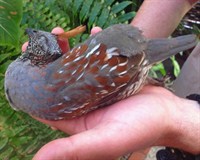 Elegant Quail
Elegant Quail (Callipepla douglasii) are  endemic to the Pacific-slope  thorn forests of north-western  Mexico, primarily the mountainous uplands of Sonora. The golden-buff crest of the male is the most striking feature.
The head is dark, speckled with black and gray that extends to the throat. The sides of the neck are grayish-brown, the back and sides are brown, streaked with white. The breast and belly are gray and brown with large white spots. The legs, feet and bill are dark gray to black.
Pacific Black Brant
Black Brant (Branta bernicla nigricans), or Pacific Brant, are an abundant small goose associated with Pacific seashores that breed in the high Arctic tundra and winter along the Pacific Coast.  About 50% of the world population of Pacific Black Brant overwinter in Mexico, with the much smaller remainder overwintering in interior portions.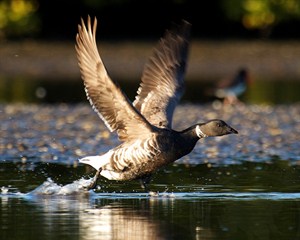 There are an estimated 115,000-150,000 black brant in the world and about 14,000 are taken each year by hunters. The highest numbers of Pacific Black Brant are shot in Mexico, where limits are a relatively generous 5. For the past few years, brant migration to Mexico has withered, but with patience and luck the hunting can still be solid here. Interesting fact: The oldest age record for any duck, goose or swan in North America is held by a Pacific Brant at 28.5 years.
The Pacific Brant is slightly larger than a Mallard.  Males are somewhat bigger than females; otherwise, the sexes are not distinguishable. It is one of the darkest waterfowl with a black head, neck and upper breast and a white necklace on the sides of the neck. The back and upper wing coverts are edged with lighter grays on a darker grayish brown feathers. The Black Brant has a very dark breast and belly with little or no contrast separating them. The flanks are much whiter than the Atlantic Brant. The black bill is short and stubby.  They are a highly vocal and gregarious species that are receptive to calls and decoy like a dream. An attractive addition to game rooms, they are popular among collectors and the passion of devoted Black Brant hunters.

Getting There – Obregon Mexico Duck Hunting Combo

Fly into either Obregon or Hermosillo the day preceding your hunt.  You will be met by the staff and transferred to the lodge.
Please note that if traveling with your personal firearm, it is inadvisable to travel through Mexico City.  If flying with a firearm you need fly directly from the US into Obregon or Hermosillo.

Related Links – Obregon Mexico Duck Hunt Combo
Photo Gallery: Mexico Duck Hunting Obregon
Certification of Registration for Personal Effects Taken Abroad (Form 4457)
Importation of Fish and Wildlife Form 3-177
Guidelines for Importing Birds
What to Bring (Packing List) – Mexico Duck Hunting Combo in Obregon
Obregon Mexico Duck Hunt Checklist © is provided during pre-trip planning.
Weather  – Mexico Duck Hunting Combo in Obregon
The climate in the Sonora region is temperate and rather dry, receiving an average of 9 inches (235 mm) of rain annually. Expect lows in the mid-50s warming to highs in the mid-80s.  Preceding your trip, consult the weather forecast for Ciudad de Obregon, Mexico, and pack accordingly. Mexico duck hunts are enjoyable.
VERY IMPORTANT NOTE – Obregon Mexico Duck Hunting
Do NOT import ammunition without the proper permits.  This is a serious criminal offense in Mexico.  Quality ammunition will be available at the lodge, or you may import ammo pursuant to your firearm importation.
Contact us about this Obregon Mexico duck hunting combo.