LIfe's Short, Get Ducks: " Preferences, Hefinator Stories, Huge Announcement about a Future Potential Guest, and My Foiles Breakthrough Story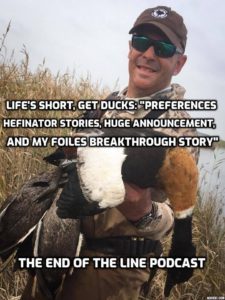 In this edition of The End Of The Line podcast, Ramsey Russell and Rocky Leflore get together for another episode of the Life's Short, Get Ducks series. They talk about our differences in taste. We find out Ramsey may very well be a liberal. Then, Ramsey tells some stories from his days of knowing Rob Heflin. Rocky surprises Ramsey with some huge potential guest news. Find out who it is. If it happens, it will make the podcast legendary. Finally, Rocky tells Ramsey about an epiphany he had while investigating the Foiles case, what he believes led the Feds right to Jeff's door.
To listen, click the link below in the comments or subscribe through the podbean app.