Jeff and Andy are joined by die hard waterfowl hunter, Ramsey Russell from getducks.com. The guys look at Ramsey's travels from the previous waterfowl season and discuss how Covid impacted his time on the road, what is leading to the changes in duck behavior, and where his all time favorite destination is to hunt ducks.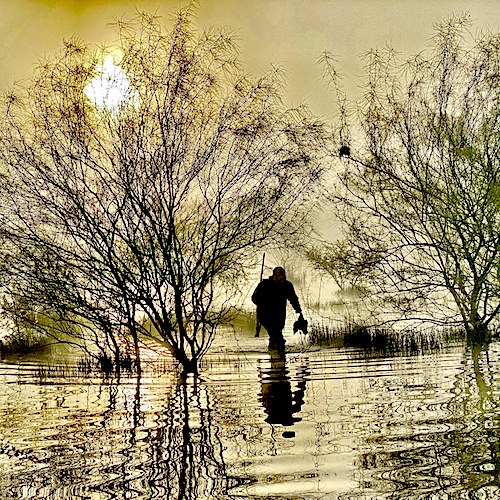 In this episode of Art and Life With Taylor Gallegos, I interview Ramsey Russell.  Ramsey is a worldwide waterfowl hunter, with a background in forestry and wildlife management.  We talk about the art of waterfowl hunting, the closely linked relationship between hunting and conservation, the developed appreciation of the finer elements of the hunt, and more.
Steven Rinella talks with Ramsey Russell, Hanzi Deschermeier, Corinne Schneider, and Janis Putelis.
Topics discussed: How Jani is so not a trapper that he reminds himself to check traps by writing "coon" on his hand; Frito pie with mountain lion; Corinne and strawberries; breaking down what it means to flesh something out; the A.S.S. movement, the tissue issue, and how surface shitters are like meth heads; ocellated turkey stories and how badly Steve wants to hunt one; Ramsey on a life of collecting experiences; GetDuck.com being a sweet URL; booking as a shoddy industry?; incredible duck hunting in Azerbaijan and how the area where Ramsey hunts reminds him of the Mississippi Delta; the clean game and quiet pride; which countries are doing a solid job at conservation of the species?; Ramsey's favorite recipes for cooking duck; Steve's out-of-control horseradish and how Jani's garden got up and moved; Hanzi's rule on what not to do when cooking diver ducks; mouth calling; and more
Ramsey Russell is the owner of Get Ducks, a company that specializes in facilitating duck hunting experiences all over the world. Listen in while Ramsey talks about how he got his start and why he loves being based in Mississippi.
Jeff and Andy are joined by waterfowl legend, Ramsey Russell. Ramsey has traveled the world chasing ducks and geese in every corner of the planet. The guys talk about some of Ramsey's many travels, including a wild adventure with some gypsies in Romania. Ramsey has a new podcast "Duck Season Somewhere" that can be found on Apple Podcast or where ever you listen to your podcasts.
Hunters United – Ramsey Russell from GetDucks.com joins a discussion on waterfowling around the world and the shared frustration of being stuck at home because of a global pandemic. Ever positive, Ramsey is looking forward to his next "duck day" and backing Field & Game Australia's push to unite hunting organisations. Ramsey has also recently launched his own podcast Duck Season Somewhere podcast. The latest fireside chat is with our own Glenn Falla about duck hunting in Australia.
I don't think it could have been have been put any better from either Ira McCauley or Ramsey Russell in our preproduction meeting than March 1 seems like it was 20 years ago. It feels like we are living in the Kenny Rogers song "Twenty Years Ago". I have to admit it has always been one of my favorites by the late legend. This historical and legendary event that is unfolding before our eyes is something one day we will be sitting in our rocking chair telling our grands or great grands about. There hasn't been a podcast for a while and I understand the frustration, but with what is coming you will thank me. I go over what exactly you can expect in the future at the end of the podcast. But first, what does a world traveling waterfowl hunter do when he has been totally shut down? Hear how Ira barely escapes a Mexican vacation when the US shuts down international flights into the US while he is on vacation. Then, I ask questions and they give their thoughts on the current situation and what they expect from the future. Great returning episode!
Eli and Trey have on the worlds foremost duck hunter, Mr. Ramsey Russell founder of GetDucks.com. Ramsey hunts ducks on 6 continents and is known as the Jim Shockey of duck hunting world. Join the guys as they talk with Ramsey about all things duck hunting. Ramsey talk about how he got started and how COVID-19 will impact his business. Also he tells some great duck hunting stories from around the world. https://www.instagram.com/ramseyrussellgetducks/
On today's episode, Elliott and I are joined by Ramsey Russell, GetDucks.com. We discuss everything from his Duck Hunting Travels and much, much more!
Following another fast-paced green-winged teal hunt, Ramsey is joined by Chad Yamane, Fried Feather Outfitters to discuss Utah waterfowling opportunities. Chad is a duck hunting guide in Utah that specializes in swan hunts. They discuss the ins and outs of Utah duck hunting, how different species key in on certain habitats and how they transition as winter progresses. Part 2 of a 5-episode Ramsey Russell Worldwide Utah series, Chad provides another facet of Utah's uniquely diverse duck hunting.