Ramsey Russell Worldwide: Corey Loeffler, Minnesota Molt Migrators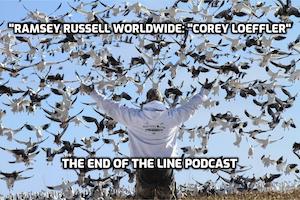 In this edition of The End Of The Line podcast, we introduce Ramsey's new project as a part of The End Of The line podcast. It will be called "Ramsey Russell Worldwide." This series will consist of conversations with an array people involved in waterfowling – duck hunters, biologists, influencers, conservationists, guides near and far. As Ramsey travels around the world, conversations with waterfowling leaders that are apart of his daily life will be recorded. It will be very informal and informative.
The first sit down Ramsey did was with Corey Loeffler of DRC Calls in Minnesota. Corey and Ramsey talk about the Canada Geese "molt migration." It is a very informative and interesting conversation, especially being from the Deep South, where Canada geese are no longer part of the waterfowl hunting culture.