Eider hunt not just a trip but an adventure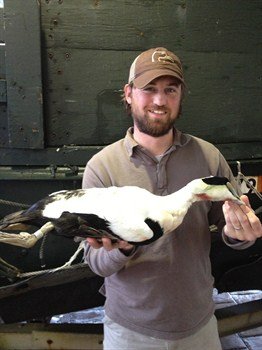 Great eider hunting guide in Massachusetts that goes out of his way to make it not just a trip but an experience. From day one dropping us off on a pile of rocks not much bigger than your average backyard shed to working his butt off in rough conditions to produce good sea duck hunting. This trip was definitely an experience –  banded drake eider, blackduck, and an old squaw all in one trip. Trophies aside, the seaduck hunting adventure was something else.
We were way out of our element. The trophies and experiencing an entirely new way of hunting with the Boston skyline in the background. I could not be more pleased with the trip.  The captain does a lot to make your hunt easy and make sure you enjoy it. Little touches like leaving a gun cleaning kit at the hotel front desk, providing ammo, buying lunch at local restaurants, and packaging your trophies for shipping.
This old captain has some stories to tell, goes out of his way to make sure you get what you want and have a good time. Big thanks to Ramsey Russell at GetDucks.com.
Ronnie Johnson
Referenced hunt: Eider hunting in Massachusetts