Osceola turkey hunting trip was first rate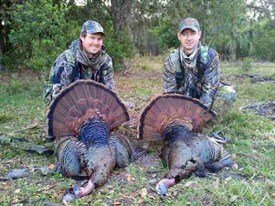 Everything about our Osceola turkey hunting trip was first rate. We wanted to make sure we had the best opportunity to harvest an Osceola and put our trust in Ramsey because of the hard work he does finding reputable outfitters to work with. This Florida osceola turkey hunt exceeded my expectations.
Our guide was very knowledgeable and had pre-scouted these birds for weeks before we arrived.  He had them down. I had actually talked to him on the phone the week prior to the hunt and he asked it would be ok it we just doubled on opening morning. I laughed and told him that would be just fine.
He kept his word.  Five minutes after sitting down we had our 2 osceolas lying on the ground with a third gobbling at them. It was awesome.
I now completely trust Ramsey as wanting nothing more than to make our hunt memorable and successful. I highly recommend GetDucks.com to anyone wanting to go on a good quality hunt.
Scott McDonald
Refrenced hunt: Osceola Turkey Hunt