ARGENTINA DUCK HUNTING A WALK IN THE CLOUDS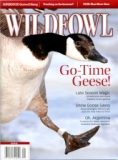 Whistlers and wigeon squeals cut through the dark the next morning as he and I sat a small pond. Colors peeped from the shadows as ducks splashed down. By 8 a.m., I'd broken the extractor on my old gun and Diego and I had to take turns with his Beretta, chiding each other's shooting from our layouts. We quit shy of our limit after I swung on a flock of five teal, aimed for the lead bird, killed the three behind it in one shot, and then shot the fifth. Enough, already.
Read story: Argentina Duck Hunting A Walk In The Clouds
Want to know more about GetDucks.com Argentina Duck Hunt Trips?