DALLAS SAFARI CLUB DSC DUCK HUNT WITH KENT OUTDOORS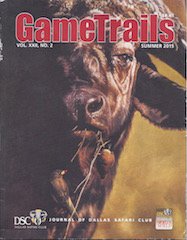 It's the sound only made by a flock of teal cutting the cold air at breakneck speed. And so it was that the First Dallas Safari Club (DSC) Duck Hunt took place in January 2015.  Hard work and scouting by J.J. Kent of Kent Outdoors put 17 Dallas Safari Club members in the right spot for 2 days of barrel-melting action for mallards, pintails, teal, teal and more.
READ FULL STORY: First Dallas Safari Club DSC Duck Hunt with Kent Outdoors
Kent Outdoors in the exclusive North Texas duck hunting affiliate for GetDucks.com's USHuntList.  Visit USHuntList.com to find the contact information of reputable duck guides and confidently book your hunt directly with them.