FIND YOUR NEXT BIRD HUNTING ADVENTURE AT THE 2018 SCI HUNTERS' CONVENTION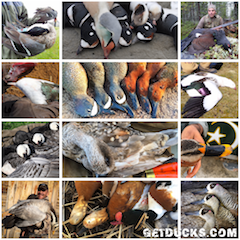 One of the outfitters who will again be exhibiting at the 2018 SCI Hunters' Convention is Ramsey Russell with GetDucks.com. When you talk with Ramsey you can't help but get excited about booking one of his dozens of game bird and waterfowl hunts available all over the world.
"The response to our hunts at our first SCI Convention was a total surprise," says Russell "Because we offer such a variety of hunts for virtually every game bird, duck and goose in the world, our booth was swamped."
Many avid bird hunters are looking for the next place to hunt for a bird they have never taken. Much like big game hunters who add to their list of game taken, bird hunters are looking for exotic hunts in places where they can take birds they may never have even seen before.
"We specialize in hunts not only for birds, but for the accommodations and amenities that make for an enjoyable and lasting experience." says Ramsey. "One of my biggest joys in this business is seeing client/friends at the SCI Convention and hearing about how much they enjoyed a hunt they booked with us. Many come back to look for their next adventure."
Read full press release: FIND YOUR NEXT BIRD HUNTING ADVENTURE AT THE 2018 SCI HUNTERS' CONVENTION