GetDucks 2022 Catalog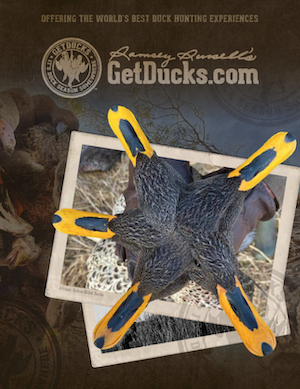 View latest 40-page, full-color catalog online: Ramsey Russell's GetDucks.com 2022 Brochure – Offering the World's Best Duck Hunting Experiences (hi res PDF).  Or view the online flip-page 2022 GetDucks Brochure here.
Contact us to receive your complimentary hi-res, high-quality print copy mailed directly to you. Copies also available at Safari Club International, Dallas Safari Club, and other select sporting events.
In this issue: GetDucks Company Profile • About GetDucks • It's Always Duck Season Somewhere Highlights • The Best Argentina Duck Hunts • The Best Mexico Wingshooting • GetDucks Worldwide • Azerbaijan Hunting • Alaska King Eider Hunting • Peru Duck Hunting • New Zealand Waterfowl Hunting • South Africa Duck and Bird Hunting • Russia Bird Hunting • Netherlands Goose Hunting • Sweden Goose Hunting • Australia Duck Hunting • Cordoba Argentina Dove Hunting • Mongolia Bird Hunting • Pakistan Duck Hunting • Client Testimonials • USHuntList Outfitters and Contacts • The Boys of Rio Salado, The Good Old Days of Waterfowling Still Exist (Lee Kjos, Wheels Afield reprint) • Affiliate Sponsors Pages • The Experience Collector (Sitka Catalog reprint) • Ultimate South Africa Wingshooting • Collectors Corner • North America Waterfowl Species List • World Gamebird List (available at GetDucks destinations) • Duck Season Somewhere Podcast