MISSISSIPPI DUCK HUNT NEW BLUE-WINGED TEAL SEASON LIMITS PROPOSED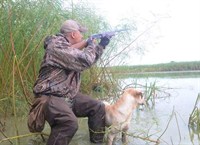 For the first time since the season was opened in 1965, early-season teal hunters could see a six-bird limit this year. "The three flyways that have teal seasons put forth a recommendation for a 16-day, six-bird bag limit season," said Jim Kelley, Mississippi Flyway representative for the U.S. Fish and Wildlife Service.
Ramsey Russell, GetDucks.com, hunts waterfowl around the globe, but said his favorite duck hunting is the early teal season in Mississippi. "I'm excited about it because it's putting adaptive science management into play to the benefit of sportsmen," he said.
Read more: New regulations might boost blue-winged teal bag limits to 6