Argentina dove hunting at La Paz means full mixed-bag wingshooting at an affordable price.  Following breakfast, a full array of Argentina wingshooting opportunities are available as the hunters decide: the shooting program is unstructured and hunting parties may choose to hunt doves under a busy flyway, ducks over a nearby wetland, perdiz over exceptional German short-hair pointers, or wild pigeons decoying near watering areas.  Guests may swap their shotguns for spinning reels and cast for golden dorado, especially during extended stays.
The La Paz Argentina dove hunting program is ideal for groups of 5-6 shooters that seek to experience fully the wingshooting diversity of Argentina without the inconvenience and expense of mid-trip transfers.  The relaxed itinerary accommodates a brief day touring Buenos Aires and the rest ensures one's power of enjoyment following international travel.
Located in western Entre Rios, a northeastern province of Argentina that literally means "between rivers", geography and land-use create the bird hunter's paradise. The Paraná River and the Uruguay River collectively form the watershed (ie., migratory bird funnel) encompassing northern Argentina, all of Paraguay, much of southern Brazil, into Bolivia and most of Uruguay.  Terrain is mostly-flat Paraná River delta and associated wetlands. Habitat is characterized by very compact vegetation, wildlife-beneficial agriculture, primarily rice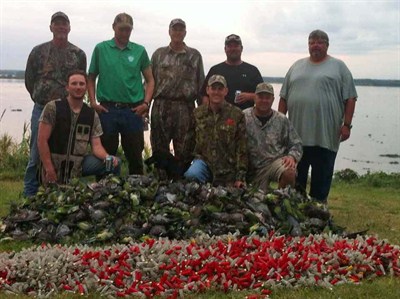 (Entre Rio accounts for 60% of Argentina's rice production), and pastureland. Soybeans, wheat and maize are other principle row crops.  Waterfowl and upland game birds thrive.
In the absence of substantial hunting pressure, and with an abundance of cover, cereal crops and feed lots, dove hunting is excellent; expect to experience excellent dove shooting combined with quality Argentina duck hunting at the same lodge.  The benchmark 1000-bird dove hunt is just one fun-filled afternoon away.
The landscape of agricultural crops and forest cover is interpersed with pastureland that offers superior perdiz hunting over some of the finest German short-haired pointers in the country.  Limits of 10 per person are usually completed within a few short hours of easy walking, even while taking in the beautiful sites or taking time to visit with present company.  Wild pigeons are best decoyed during the afternoons as they come to watering holes shrouded in brush, but are commonly taken during doves hunts also.
Hunters are lodged in private executive suites in the Alto de parana located in the quaint river town of La Paz, situated on the beautiful Paraná River.  Guests are lodged 2 per suite. In addition to great beef for which Argentina is famous, superb dishes of locally fresh-caught fish are a client hit.
An artisanal chocolate confectionary is located nearby, and non-hunting activities located conveniently within walking distance include golf, shopping, horseback riding. The La Paz Hot Springs Spa is the perfect place reinvigorate tired muscles with a hot soak, sauna or massage; La Paz's Museum is an excellent option for becoming better acquainted with local culture.
From the time you arrive in Buenos Aires until time to return to the States, your bilingual hostess will personally attend to every detail involving your travel enjoyment.  From tours and dinner in Buenos Aires, to ground transfers and times spent at the lodge and afield, she will serve as your personal tour guide and interpreter.  This is an excellent Argentina dove hunt for shooting guests that wish to experience full-package wingshooting – and angling – opportunities.
Timing
Excellent Argentina dove hunting at La Paz may be enjoyed as part of an Argentina wingshooting combo April through August.  Argentina dove hunts are part of a full-package, mixed-bag hunting program to include guests' choice of volume ducks, doves, perdiz and wild pigeons; perdiz hunting, however, is available only through late-July.
Rates
EXCLUSIVE GETDUCKS.COM INCLUSIVE COMBO WINGSHOOTING RATES (Includes everything except international transfer, ammo you actually use, gun feese, Buenos Aires extras and optional gratuities)
$3,250 Basic  4-night/ 3-day Argentina dove hunting combo package at La Paz (doves, pigeons, and fishing).
$3,900 Standard 5-night/ 4-day Argentina dove hunting combo package at La Paz (doves, pigeons, and fishing).
$4,600 Perfect SIX-NIGHT/ FIVE-DAY La Paz Argentina dove hunting combo package (doves, pigeons, and fishing).  This is an unbeatable GetDucks.com-exclusive package, a definitive Argentina hunting trip of a life-time.
Non-inclusive Daily rate $780 per shooting guest.  Non-hunter rates $375 per.
Hunt duration may be customized. Many guests prefer 4- to 5-day Argentina dove hunting packages at La Paz so that available sporting opportunities may be experienced fully, especially if fishing for golden dorado is a priority (and it definitely should be!).  An overnight in BA, or more, can also be fun.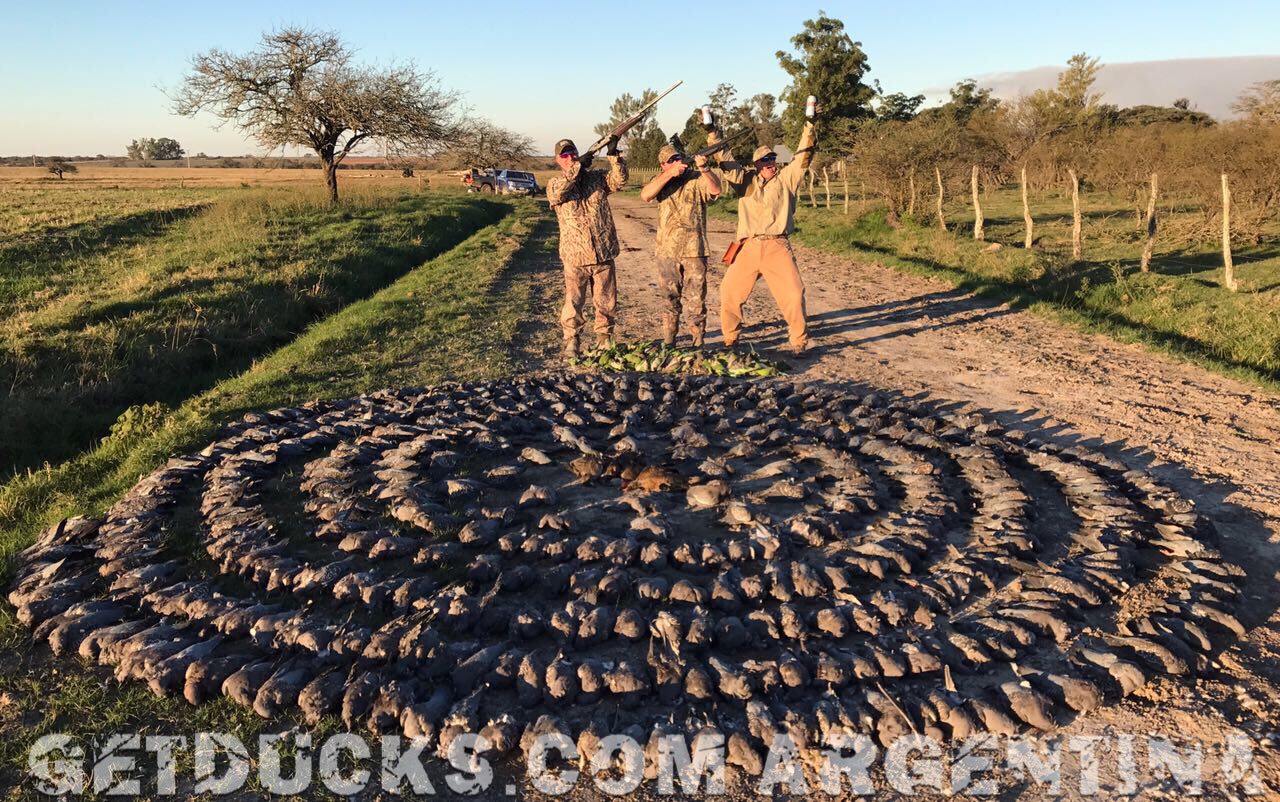 Included
La Paz Argentina Dove Hunting Mixed-bag packages include:
Customs assistance on arrivals and departure
Daily hunting transfers
Executive-class Lodging
Satellite TV and internet
Chef-prepared Meals
Regional wines and local spirits
Professional guide services and bird boys
Personal, bilingual hosting from arrival through departure
Not Included
Note – All-inclusive packages include standard ground transfer and licenses.
La Paz Argentina Dove Hunting Mixed-bag packages do not include:
Ammo ($15 per box of 25) Prices subject to change.
Gun permit ($140 per person) or gun rental ($80 per day)
Round-trip ground transfer Buenos Aires to lodge (est. $300 per for 3 hunters)
Licenses ($170)
All voluntary gratuities
Phone calls
Airfare and airport fees
Baggage overweight charges
Buenos Aires hotels, shows, tours
Any item of strict personal nature
Travel Protection Policy (Trip Insurance)
Argentina recipricocity fee – must be paid online prior to travel
If you wish to shoot anything other than 12-gauge or 20-gauge ammunition, please advise us well in advance of your hunt dates.  A full array of popular US and European loads will be made available with advanced notice.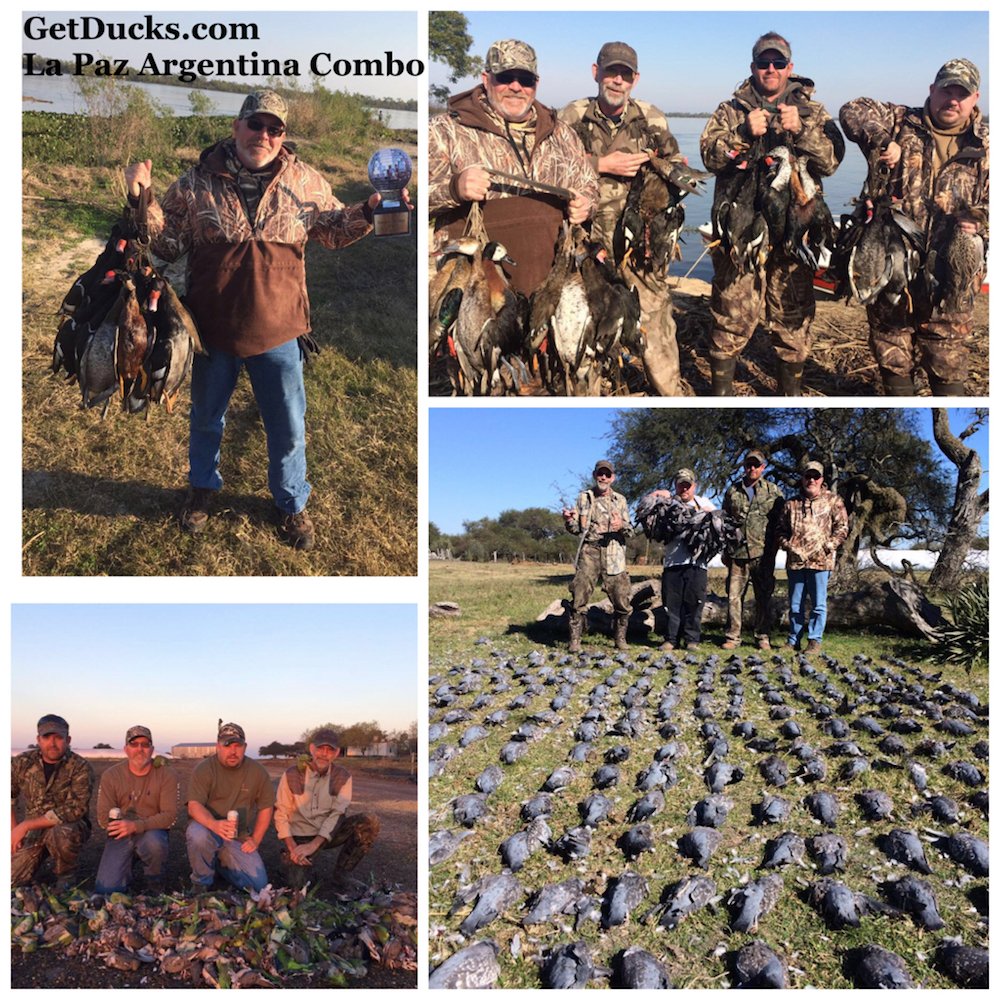 Itinerary
Sample Itinerary for 4-day Argentina Dove Hunt at La Paz
The relaxed pace of this particular itinerary enables guests to begin their hunts fully rested and refreshed following international flights.
Day 1.  Depart the U.S. on an overnight flight to Buenos Aires
Day 2.  Arrive Buenos Aires in the morning and transfer directly to lodge.
Day 3.  Awake at La Paz well rested.  After a hearty breakfast, change into your hunting clothes and enjoy an action-packed morning hunt.  With plenty of time to enjoy lunch and a rest, spend the afternoon shooting your choice of doves, pigeons or perdiz.
4-6.  Full days of Argentina hunting.  The itinerary is flexible.  Most meals are enjoyed at the lodge, which is never more than about 30 minutes away. Soaks in the natural hot springs and therapeutic massages may be scheduled to relax tired arms and shoulders.
Day 6.  After final afternoon of Argentina dove or perdiz hunting and dinner, enjoy a final night and transfer to BA the following morning.  Depending on US-bound flight times, rest or tour Buenos Aires.
Day 7.  Arrive in the U.S. and make connections home, usually arriving about mid-day. 
Your La Paz Argentina dove hunt itinerary may be fully customized to allow for touring Buenos Aires before or after your hunt.  We will help make neccesary arrangements for tours, dining or shopping.
Field Report
More Info
Argentina Dove Hunting Mixed-bag Limits at La Paz
The bag limit, or transportation limit for this Argentina dove hunting experience is quite generous, but we hope that you will let your conscience be your guide as well, and compare this shooting opportunity to virtually any other decoying experiences in the world.  Our outfitter abides a generous limit of 30 ducks per morning to ensure the consistently productive shooting.  Perdiz limits are 10 daily.  Doves are unlimited and pigeons are 75 daily.
Average Daily Temperature Range – Dove Hunting Mixed-bag at La Paz
Apr 75°-46°F / 24- 8C
May 66°-38°F / 19- 4C
June 59°-32°F / 15- 0C
July 59°-37°F / 15- 3C
Aug 64°-34°F / 18- 1C
What to Bring – Argentina Dove Hunting Mixed-bag at La Paz
Packing for an Argentina dove and duck combo hunt is relatively simple.  The weather is comparably mild for wildfowling, and the walk or ride to the blind is relatively easy.  You may rent from a selection of clean, reliable semi-automatic 12-gauge shotguns, but bringing your favorite firearm is highly recommended and very easily done.  Lightweight, breathable waders are the perfect choice for the dry or semi-wet blinds used while Argentina duck hunting at La Paz, and rubber or leather upland boots for upland hunting.
General Packing List for Argentina Dove Hunt © (PDF)
General Packing List for Argentina Duck Hunt © (PDF)
Gratuities – Argentina Dove Hunting Mixed-bag at La Paz
Gratuities are not included in Argentina dove hunt package cost since tipping, in general, is discretionary.  about $75-100 per hunter/day paid to staff is pretty standard. Because clients have repeatedly asked that we provide general guidelines the following is suggested:
$200-300 per bird boy per hunter per week
$100 for household and field staff, per person for total stay
$30 per group per stay for waitress
Do not tip house or field staff daily.  Your hostess will coordinate your paying their gratuities for when settling your ammo account prior to departure, and will help dispense accordingly.  Optionally tip your hostess after returning to Buenos Aires.  For hunting trips in general, gratutities are 5-10% the package cost as clients deem appropriate.
Payment Method during La Paz Argentina Dove Hunting Mixed-bag
Important Note: Please pay for ammo and gratuities with cash.  Checks, money orders and credit cards are not accepted at La Paz.  Licenses and ground transfers will be invoiced with hunt package at time of booking.
Related Links – Argentina Dove Hunting Mixed-bag
View Photo Gallery: La Paz Argentina Dove Hunting Combo
Certification of Registration for Personal Effects Taken Abroad (Form 4457)
About the Area – Argentina Dove Hunting Combo at La Paz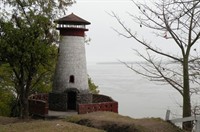 Entre Ríos is a northeastern province of Argentina, located in the Mesopotamia region. It borders the provinces of Buenos Aires, Corrientes and Santa Fe, and Uruguay in the east.  The first inhabitants of the area that is now Entre Ríos were the Guaraní, Charrúa and Chaná, who each occupied separate parts of the region. Spaniards entered in 1520, when they ventured up the Uruguay River searching for the Pacific Ocean.
The name of the province means "between rivers". Entre Ríos is rife with many rivers and streams: the Paraná River and its delta to the west and south; the Uruguay River and the Mocoretá River to the east; and the Guayquiraró River to the north.  As part of the Mesopotamic region, the land is almost completely flat, with hills some 100 meters in height.
The Paraná River is second in length only to the Amazon River among South American rivers.  The name Paraná is an abbreviation of the phrase "para rehe onáva", which means "as big as the sea"). It merges downstream with the Uruguay River to form the Río de la Plata and empties into the Atlantic Ocean.
The City of La Paz is located on the Paraná River and began as a natural harbor.  It is reached by National Route 12, at the 800th kilometer marker from the Buenos Aires.  A quaint city of about 25,000, tourism during the South American summer months is integral to the local economy.  Consequently, amenities such as the La Paz Fine Arts Museum, the recently-developed La Paz Hot Springs Spa, a local hospital, golf course, restaurants and churches are conveniences not readily available in many other Argentina wingshooting venues.
Contact us about for more information about Argentina dove hunting at La Paz.
Customer Testimonials