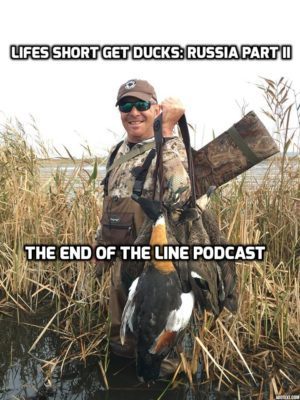 Ramsey Russell and Rocky Leflore discuss a recent Alaska duck hunting adventure. They end up talking about some of his good friends from Malta coming to Mississippi, where they try and kill the elusive wood duck. Remember, Ramsey met the Maltans while capercaillie hunting in Russia, described as one of the most epic hunting adventures in his life. It is one part of the story you don't want to miss.
---
Duck Hunting in the Alaskan Wild
I've never felt so small relative to the universe as the times I've been to Alaska…
Rocky Leflore: Welcome to The End of the Line podcast, I'm Rocky Leflore in the Duck South Studios, this Thursday afternoon joining me out on the road. Today he got home, he's turned back around, and he's going back out. Double R himself, Ramsey Russell. Ramsey, 12 hours in your old bed or not 12 hours in your own bed but 12 hours at your house and you're back out.
Ramsey Russell: Back out, I got home. I actually rolled into my house at midnight last night and washed a few clothes, took a nap, a long nap, got up, drank a cup of coffee, repacked, and Forrest and I are on the road. We got the truck loaded and we're heading to Nebraska, Wyoming, and Kansas to chase out some US hunt list outfitters and hopefully shoot some mallards and Canada geese. Little father-son road trip with our US hunt list outfitters but – yeah, that was a quick turnaround. Even by my standards that was a pretty quick turnaround. But Alaska was wonderful. It was worth – absolutely worth – the effort to get there. Everybody knows, everybody thinks Ramsey Russell of Get Ducks hunts with commercial outfits all over the world, and we do, but this was a do it yourself hunt. The thing I love about Alaska, Rocky, it's a very humbling experience. I don't care if you're a billionaire or a hardcore dangerous catch fisherman, Deadliest Catch fisherman, or who you are, Alaska doesn't care. Bitter cold, dangerous winds, high tides, remote beaches, it doesn't care who you are. It will humble you and make you human. I've never felt so small relative to the universe as the times I've been to Alaska, whether you're counting the 41 or 42 North American or the 50, like I do. I was out chasing Barrow's goldeneye and that completed the 42 for me. I'm 3 away from the 50 to get into the subspecies and stuff but I really wanted that Barrow's goldeneye. And we got him. I got him 5 minutes into the hunt, had my first one and we got to go out two full days and then we got weathered out. Well, I'll tell you what, 12ft seas and 40 mile an hour winds is nothing to play with. Look, getting out the first day, we were in 5 or 6ft seas and it was like those carnival rides that I don't ride. It was a ride out but they drop you off and you hit the shore with whatever you got in your bag. 
Rocky Leflore: Hold on, I'm imagining 12ft seas because in 12ft seas, you've got to visually, once you fall off in the trunk, you lose the vision of the horizon in front of you.
Ramsey Russell: Oh yeah, that's why they don't go out in that stuff with the kind of boats we're in and I don't mean a little Zodiac. We were in a – I guess a 20-25 foot were pretty big Taxi boat, I guess I'd call it. Really nice setup, it's got a nice heated cab in it and it's a big boat. It rides good. I think he told me that boat weighed 9000 or 10,000 pounds and when you get to shore, the front end lays down like those little Higgins boats, the storm D-Day. It dropped down mechanically and you hit the beach. He's back and gone. He said, "I'll see you at 4:30." And at 4:30, you're on the shore. I always wondered what the little strobe lights were about, well, it's so he can see you from a long ways off and know where on the beach you are. Even in easy winds and good winds, he can't just sit there forever. The minute that top drops, you got to jump in and go. You got to back up and get out of there before you get washed up onshore and beach. You know what they say out there in Alaska is worse than getting weathered out where you can't go? It's getting weathered in where you get there, and they can't come get you, because if they can't come get you, guess what? Ain't nobody's coming to get you. And that isn't the kind of place you want to be stuck overnight. Rocky, get this man, it's getting daylight, shooting time was at 9:15 and legal shooting time ended where we were hunting at 4:00 or 4:03 or something like that. Short days and you've just got to get in, get out. So, having a local resource like Tyler Welker, he's a client that had become a very good friend and he's been on me for years to come up and shoot my Barrow's and I finally bit the bullet. I'll tell you this, you start going on some big hunts and doing some stuff, a lot of money but really and truly a do it yourself hunt in Alaska, if you organize it right, it's really not a terribly expensive hunt. I would say that I was up there for 5 days, 4 days to include a day of charter fishing. We went and caught king salmon one morning. I would say the whole ball of wax was about 1000 bucks to include airfare, $1100 to include airfare. We stayed with friends. We ate what we caught and killed and I ate at a restaurant a couple of times. Airfare was pretty cheap. I would tell a lot of people man, look, if you ain't got $1000 or $1100 to go out and to go once, or to go sometimes and go do a trip of a lifetime like this, maybe you aren't doing it right. You know what I'm saying? I mean we all work and we make money and man can save some beans. He'd save something to go on a little hunt like this if that's what you want to do but I'd also caution you two things. One, nowhere more than Alaska exemplifies the need or the benefit of a commercial outfitter that has the decoys and has the equipment and knows how to get around, has the boat, has all that good stuff. Whether you hire an outfitter or you go and do it yourself and you pay for the water taxi and you pack your own decoys and you do everything, there's going to be a lot of logistical expense in putting something out there together. And secondly, Alaska to me is such a wonderful place to go. It's beautiful country and we could do an entire episode, we should one day Rocky just on this particular hunt. I loved it. It was so awesome. But if you're the guy that has to go and you see these guys on the chat rooms is the only reason I'm bringing this up. But if you're that guy that has to shoot his limit every day and it has to be easy and it has to be that, Alaska ain't for you. In fact a lot of this trophy type hunting is not for you. Because like I say, we hit the beach – one of the oddest things about it is like you go hunt 160 acre rice field pit blind with 400 or 500 decoys surrounding you, that's a pretty typical setup. We hunt down here, how we hunt like at Willow Break and locally, where we're walking in with decoys we're still hunting with 3 or 4 dozen most mornings. Up there we were hunting with six decoys, just one little short line of 6 decoys on just a million acre wetland, I guess. I mean just millions of acres of Alaska with 6 decoys because we had to carry it for miles. I looked at my phone out one day and I would say for the days we duck hunted, I walk between 4 and 6 miles daily because you're getting pushed around, the tide's coming in it was a 20ft tide as the tide comes in, you have to move and as the tide keep coming in, you have to keep on moving upslope. Sometimes we'd walk a mile away because we see some duck activity we need to get in on. So it's not an adventure – Rocky, it just reminded me and we'll end this Alaska part on this note. The thing about duck hunting, especially when you're traveling to put your hands on species and remember guys, I'm not a species collector, it's just that what those species represent as little gateways to another adventure, another unique adventure unto itself is what I'm about. I collect experiences and that's where the species comes in it for me. But when you get into that, when you start following that path, it's really not about what you get as who you become. It's this kind of hunt, it humbles you, you're powerless in a lot of ways but you rally up a game plan, A B C D E F G H I J. I mean you go on down the alphabet of game plans and you make it work and when you do get your hands on that treasure, it's a special satisfaction in it that I really can't explain if you don't get what I'm saying. And that was Alaska. It was a very amazing trip. I've applied for the Emperor Goose, hope to go back and get it, and I'd really like to go back down to the coast of Alaska. I had hoped to shoot some harlequins. I would have liked to have a couple of harlequins, I did not. I missed one and right off the bat we set foot on that beach and over in a little tidal pool, little small flock of Barrow's. So, I got the little inlet, somebody hopped over the hill, flushed, and boom, here they come, just like clockwork, 30 yard chip shot, boom. Had my Barrow's, sent Cooper, she went to get it. Well, out of nowhere it comes a harley and they're usually on the outside, along the ocean shore, not along the inner shore, little tidal pools. They're usually on the outside. Here he comes, little drake harley and there was no way to shoot it without shooting down and hitting Cooper. So, I had to let it get past me a little bit and with a tailwind by time it passed that zone where I can pull the trigger, I was shooting at a going away bird and I missed it about a – I don't know far enough, I missed it but that was the only chance I had on a harley. I've shot him before, it wasn't important but I just want to get – I wanted Cooper to pick one up. I want her to pick one up. Bless her heart, Rocky she's 8 years old, she hasn't been the best dog of every home, but she's been a very, very good one. I guess like people, dogs age differently, and I've been noticing a decline in Cooper over the last year especially. I know she's had some health issues but man, Alaska really made her look like an old dog. She got the birds willingly back in the tidal part, she was good. One day we hunted kind of on the outside, as birds were coming in and her having a trying to bust through some 3ft little waves and breakers coming in, I never will forget she went out on a bird and finally she got through. She hit it about 3 times, and it pushed her back ashore, and she finally hit it, went out there and got the bird. Well then the current caught her. So, to go make a 100 yard retrieve, she probably swam a half mile, ended up on another shore that she had to then swim back across, so it was a lot on that little dog to go to Alaska. I realized this is her last season for good reason. I've got this other little dog coming up that ought to be a capable replacement next year.
Rocky Leflore: Well, it sounds like you had an unbelievable time. Especially I was watching the video of the boat race across the bay. I guess you'll have been salmon, king salmon fishing salmon like a Southern person does. But anyway, hey listen, last week when we left last week's podcast where we left it was the Maltese were coming to America to shoot some wood ducks. Well, I guess that's wood ducks and coming to shoot some King Eider in Alaska.
Shooting King Eiders in Alaska with the Maltans
Patrick said after he got his pair of King Eider, he just curled up in the bottom of the boat in the fetal position and wanted to go back to the ramp.
Ramsey Russell: Yeah, we were talking about Russia and that's the nicest side because they were integral to the story. I was talking about my friends, the Maltans that I met up in Russia. I really hit it off with Steven and Patrick and after we got back they contacted me and they wanted to go shoot King Eider. Remember, in this tiny little island nation of Malta, bird collecting is a national pastime. I mean, never mind the fact it's illegal with the European Union, these guys collect birds. They collect a lot of game birds, a lot of non-game birds, but they collect birds, very knowledgeable people and they explained to me that no collection in Malta had a King Eider that the owner had killed himself. So we booked them a trip to go out to Alaska and shoot King Eiders. It's practically a guaranteed hunt where getting there is half the adventure. We got to talk and Steve explained he really wanted a wood duck. Since he was a child looking at world bird books, he had always wanted a wood duck. I said, well that ought to be as easy as pie, come to Mississippi. They needed to come to Mississippi anyway because the average January temperature in Malta is 90°. Well, they're fixed to go King Eider hunting, they needed clothes. How the time and all worked out – they were going to come to Mississippi. Spend a few days, go King Eider hunting for a week, come home and join me for the last 5 or 6 days of the Mississippi duck hunting season and then go home, and I was going to be gone. I was gone to Dallas Safari Club, one of the big conventions we do on their initial visit to Mississippi. Well, Forrest had just gotten his driver's license, he was 16 years old, and Duncan was 14 and I had arranged that when they landed in Mississippi the boys would pick them up, take them to Bass Pro shops and get them into the hotel, take them out to eat dinner. Well, they take them to Bass Pro shops and those guys had never seen anything like the Bass Pro shop in Pearl Mississippi with the game heads, and all the gear. Well that's a massive complex of hunting gear that we all take for granted because we just run to Bass Pro for something if we need it. Anyway, Forrest sends me a text and he says, we've got three buggies full and one of them so full, I can barely push it. They go and just fill up the buggies with stuff, warm clothes, and whether they need it or not man, they're on vacation, they're in America. They start buying stuff and one of the funniest things was that night, they took them to eat dinner at Sonny's BBQ. I said, oh they'll love that. I mean what's more Southern than barbecue, and baked beans, and potato salad, and chicken and ribs, and I mean that'd be great and I like Sonny's. It's a game type restaurant but I like it okay, it'll be a great place to take these guys. They took them – it's still a family joke when the Maltans come up about how they sat down and ordered – the lady came by to order the drinks and everybody, the kids order sweet tea, Anita ordered half and half tea, Parker ordered unsweet tea. The Maltan orders, "Wine, wine please." She goes, "Wine?" He goes, "Yes, red wine please." "We have got no wine, you want tea or water or coke? So where are you from anyway?" Because obviously they weren't from Rankin County, Mississippi ordering red wine in a restaurant, at a barbecue joint. It's funny because they ordered a feast for four which is a lot of meat and veggies. We carry our whole family there and eat the feast for four, and then they had to order more because the two Maltans dove into the feast for four, and it turned into a feast for two. They went King Eider hunting and they got their King Eider. They came back, and man, they had talked about this King Eider in emails, in telephone calls, and the times we had visited, they had talked about this bird, so I couldn't wait to see their pictures. When they came back they had one photo of King Eider, it was just King Eider sitting on the bow of the boat and that was it. You all were there for like 6 days, because just their luck, they got weathered in. A big wind blows up towards the end of their hunt and they can't leave the island for 2 days and that's never a good situation but if you're Maltese, it's a bad situation because despite all the clothes they had bought, and brought, and everything else, they about froze to death. I said, Steven where's the photo, let me see some more pictures man. He goes, it was too fucking cold to take pictures. Patrick said after he got his pair of King Eider, he just curled up in the bottom of the boat in the fetal position and wanted to go back to the ramp. So they got their bird. They finally came to Mississippi and it was a good year for Mississippi for us that year. It was a pretty good year, there were a lot of wood ducks on us, we had shot a lot of wood ducks that season. We were having a pretty darn good duck season there at camp and they showed up. The first day, now remember, contingent on them coming to Mississippi, they could not bring electronic calls. I told them do not bring electronic calls, it's illegal in my country and you cannot shoot any bird that you want to shoot. We got bald eagles at Willow Break. The last thing I needed was a Maltese shooting the bald eagle for his collection. Okay? We're only going to shoot game birds, we're only going to shoot ducks and that's it, take it or leave it, well they wanted to come. They left my bald eagles alone.
Rocky Leflore: Hey hold on – you know what makes this story even better? These are the kind of stories that I would love to be sitting across the table or bar from you, watching you tell this story. Well, go ahead.
The Maltans Try Their Hand at Duck Hunting in Mississippi
Ramsey Russell: Well, you can't make this kind of story up. But anyway, they come down. The first day we get into this tight little pothole, it was nothing but gadwalls and ring necks – at that hole, well, you might shoot a few mallards and teal at times, but if the ducks are down, we're going to shoot our gadwalls and ring necks. They were having a blast, it was myself and the two Maltans and a friend of mine from Ohio Ranch Gambling. And I think Ian joined us that day. So, we shot 5 limits and in the blind, we had a yellow lab, a black lab and a Char lab, all of them very good. Just a wonderful day. I was out in waist deep water picking up the decoys, and they pulled out an electronic call. Hunt was over, guns were unloaded, and they pulled out electronic call just to mess with me. Patrick put that call – this is why these things are illegal for people in America. He turned that call on pintail and turned it up high, and as I was picking up decoys, the first pair of pintails I had seen the entire season on Willow Break was 15 yards over my head, fixing to land on top of me where I was making the motion in that pothole. That's why those kinds of things are illegal. They work, and they work real well, and that's why we use them in places where they are illegal. These Maltans are some of the best shots and most serious hunters I've ever met. I never forget one time when I was in Russia, it's kind of slow, I was getting kind of bored with the hunt, I shot a Eurasian wigeon that day, I think I shot an Eider that day. Anyway, I had walked down the shore to Patrick – there was Patrick sitting there and they sit there halfcocked, they got their gun, all they have to do is slide it up on the shoulder when the bird comes in, and they sit there all day long with that gun barrel up looking in the skies. He had one decoy out in front of him, and an electronic call, and we're sitting there at halfcock, and I'm sitting there trying to get a conversation going. He didn't want to talk, he was hunting. He said, "I'm hunting." I'm thinking, man, what a waste of time, I can't see a duck, there's not a duck, I haven't seen a duck in an hour. All of a sudden, I was doing something on my phone, I hear BOOM and a green-wing teal had come in right to that green-wing teal decoy that he had in the water, and to that green-wing teal call that he was blowing. That's the power of an electronic call. Those birds hear it and they're coming in. So we're in Mississippi, we had a great first day and the next day – they were there for like 4 days, I think it's 4 days they hunted in Mississippi- and the next day we went out to a little pothole that I had never hunted. 14 years in Willow Break history, I had never hunted this particular little pothole. Some guys have been going out trying to get some ducks, they've seen a lot of ducks in there, so they were trying to go out and afternoon hunt them because we hunted them last week on afternoons there at camps and I just had the idea. I said, they're going in and they're running all these birds out in the afternoon. The birds aren't coming back. I think I'm going to go wait on them to get there in the morning. We showed up that morning, Rocky, and the 4 of us just blistered them. I mean, I was still getting the dog – the decoy pitched out, the dog on the stand, and at shooting time the birds were just coming in. They were fogging left and right, like every duck in the universe wanted to be there, and we limited real quick. Well, we've still have not shot a wood duck. The next day we had been invited by Jim Crews to go up to Bobo and hunt. This is kind of fun to talk about scale, talk about your part of the world versus somebody else's. Willow Break is located about 9 miles of Highway 3 from Highway 61, right there around.
Rocky Leflore: About 10 miles north of Vicksburg, 15 miles north of Vicksburg.
Ramsey Russell: 15 miles north of Vicksburg. So, we're going up to hunt with Jim up near Clarksdale. We left Willow Break – we got packed up, we left Willow break. We get on Highway 61, we were at about Valley Park which is just 10 miles north on Highway 61. We were in about Valley Park when Steve says, "Are we there yet?" And that's kind of a joke when I say, hey, are we there yet? I'm kidding. I know we aren't there. He wasn't kidding. I said no, we got a little way to go. We have gotten by about Rolling Fork, which 30 minutes up the road, he goes, "Ramsey, are we still in Mississippi?" I said, "Yeah, we're still in Mississippi." What kind of question is that? Of course we're still in Mississippi. A few minutes later we're in Anguilla and he goes, is this still Mississippi? I go we're Mississippi for a long – we're going to be in Mississippi the entire time. We've got a long ways to go. And that opened up the discussion. He lives on an island that is 7 miles wide and 24 miles long. Mississippi is not the biggest state in the country, but just to drive 15, 20 miles up the road to him, the scale has changed, we should be in another state or another part of the country or another country. I mean, he just couldn't fathom that. It's like when we took him to my home on the last night. I live in a small, little middle class, no frills, cul-de-sac neighborhood. He hase never seen a yard that was that big, never seen a yard. I got a little, lied about not quite an acre. They'd never seen anything like that, Rocky. We got a little 3 acre lake out in the middle of the neighborhood, first thing they did was to say, could we go walk around it and look? I'm like yeah, go ahead, it's fine. I get a call from somebody across the lake who want know who those dark-complexed people are.. I don't know if these are Arab, they said they know you. Yeah, they're friends of mine from Malta, I mean, they've never seen nothing like that. Well, we go up – and we get to Bobo, Jim, man, you know what a duck hole he's got and he had this little spot picked out, he'd been shooting ducks and we're getting this tight little cypress break hole and it's on like Donkey Kong. They missed the best shots I've ever seen in my life, they missed some early wood ducks. I think they got excited, got buck fever, they missed their wood ducks. Jim said don't worry I've got somewhere else we can go. I guaranteed wood duck, don't worry. We're going to get our wood duck if we don't get them here. That was a particular morning, every time I hunt with Jim, we shoot Canada geese every time. You know there will be like some of those local birds kind of hanging out on the break somewhere and you hear when they get up. I'll pull my call out and talk to them, just give them a note or two to line them out, and every time it seems like I can recall the line out, come to us and we'll shoot a goose or two. This particular morning we heard them kicking up somewhere and I started talking to them and they started talking back. 
Rocky Leflore: I lost you for a second. We'll get him back on here in just a second.
Ramsey Russell: Rocky, can you hear me?
Rocky Leflore: I hear you now, you're back.
Ramsey Russell: I'm seeing them on the horizon but anyway, we made them pay rent. When I saw those Canada geese approaching the hole, they were inside cypress timber, and they come into the hole, and we made them pay rent. I'll never will forget, I would stop calling to let the geese talk to me. You've got to be quiet sometimes, you can't, you got to be quiet to get something sorted out. I never forget Patrick saying, "Whistle, keep whistling, that's what they call the call: whistle." But we did not get a wood duck. So Jim says, all right, we're a few ducks sharp at 11, let's go get you all's wood ducks. I've been watching these birds and we drove down this little trails and parks. We got out and it's a big long slough. So, we walk out, we look, and we can't see a bird for I guess a quarter mile down that slough.
Rocky Leflore: Hey, back a couple of sentences. You back up a couple of sentences you broke up. I want to make sure everybody gets it. So, Jim and you were somewhere so you all try sneaking up on them.
Ramsey Russell: Yeah. So, Jim knew where some were on his slough and so we decided what we would do is go out and just jump shoot him. Jim had been watching them for a week on this slough, just like Elmer Fudd, creeping. They went and creeped up to where these birds had been sitting right there in this little pocket and the birds weren't there. So, we all walked out and we looked down the slough and there weren't birds. Jim took his gun off his shoulder, fired up in the air 'boom' and the volley, just the echo just rolls down the slough. No birds. None. We said, well, God, that's weird. We turned to start walking back to the truck and here they come, about 20 or 30 wood ducks and Rocky, they were high, they were nosebleed high. These birds were 80 yards a foot off the water, they were 80 yards. Jim and I didn't even take our guns off our shoulders and the two Maltans each took a shot. Steven knocked one down and when it fell, it hit the tallest Oak in the woods and it bounced. Kaboom! Started bouncing down and I didn't see a big explosion of feathers, so everything might be okay. Steve hands me his gun, and he runs out to this bird, and he picks two things up in his hands and he says "Fudge," just like on the Christmas Story. He didn't say fudge. And I'm like, what did he get? Jim goes, I don't know, and he comes back and that duck had apparently hit a fork in a limb, and it just slid the head right off of the neck. He's like a big old long chicken neck sticking out in his head. He had two hands, he's about to cry. His bird of a lifetime and I was like, of course, look man, just leave it here in Mississippi. A taxidermist can fix that, we all know what they do. They stitch them, put another one on. No, he skinned out the head and the body. We came back down to Willow Break on that particular day, a massive front had hit and you know what I mean by one of the big fronts, when that wind gets hard and the temperatures plummet and all the ducks you've been waiting on all season long show up. You know those days? When we were hunting with Jim that day, that front hit and the temperature dropped. I remember, 20° hit and we shot our birds. We shot some mallards, we shot some gadwalls. He got the one decapitated ring wood duck. We go back to Willow Break and it's right. Man, it is right Jim would expect me to say, because the running joke between him and I, that morning hunting with him as birds were coming in, they shot a lot of gadwalls in that Cypress. That particular morning there were some new flocks of mallard showing up and we were working in earnest, Jim and I calling and just working those birds in. One of the Maltans looked at us and says, what are you doing? I said, we're trying to get these mallards in here, be careful, don't look at them, they go but it's only a mallard and it didn't really register with me it's only a mallard but Rocky man, it was only a mallard to them. They would not shoot a mallard duck. They refused to shoot them. They wanted all the other non-species because it was only a mallard. The most common and abundant and plain duck in the universe to them is a mallard duck. The following morning at Willow Break, it was me and the Maltans, and my sons. We got a good draw, the hole was turning to ice but it's not, and one of the best mallard shoots I can remember. We all limited on mallards. They were totally impressed. It was the best day of the season for me because of the green heads galorem and they could care less. We got to the ranger and I was taking a whiz and a gun went off and it scared me. I jumped, I looked around, and Steven already started running, and I'm looking around. I don't see that bird finally fell into the weeds. He shot a wood duck that come out of nowhere, flying up in the stratosphere and smoked him. You've never seen a prouder man in your life standing by the four-wheeler. That thing had been 100 yard high. You've never seen a man so proud of his life as that. When he finally got the wood duck, and as it turns out we get down towards the end of season, they both get their wood ducks and they finally get a hooded merganser. I've got to tell the story, we won't get back on Russia because your time is limited today, we'll finish with the Maltans. It's the last day of season finally, and that day that they shot their wood ducks. They came up to me and they said Ramsey, where can we get a deer head? I said, deer head? Yeah, deer head. So, they wanted a mounted deer. I explain to them that you hunt them and take them to a taxidermist, they mount them and stuff like that. You don't just get a deer head but anyway they wanted one. So I said, you can't buy them, you can't do stuff like that, you can't do it. But I called a taxidermist and he's like do they care about size? I said, well you can't sell them. He said, I'm not going to sell them. Heck, Ramsey, he said, you ask any taxidermist in the country. People bring deer heads in all the time, we mount them and they never show up and get them. I've got something right here, been collecting dust for 5, 6 years. Tell them to come pick one up, they can have it. It just gives me wall space I could care less. So, they went and we drove over there and they got them a deer head and even a pretty little basket rack. I tried to talk Steven to it had a nice little dark horn, just symmetrical, small but symmetrical. No, he wanted a wide one and I said, okay, well fine. The last day we were hunting, we didn't do too well that morning and I told the boys, I said, why don't you take these guys out? Let them finish their limits this afternoon. I'm going to sweep, kind of clean up the apartment little camp house, and you all can hunt with them. We'll be ready to go when you all get back. I got to get them to the airport pretty early in the morning and I told Forrest and Duncan as they were leaving, I said, shooting time ends at whatever time it was. I set my alarm for it and off they go and about 10 minutes before shooting time ends, I hear volleys go off back there in the back. I sent them a text, hey, you all about done? I've been hearing some volleys just getting close to 10 minutes, 10-minute warning. I keep on sweeping, doing whatever I'm doing and right about a minute before shooting time I hear volley go off. Like, hey guys, you all people better be picking it up now, it's just getting about that time. About 3 minutes after shooting time I hear a volley and boy, I'm hitting a text now, wait a minute, come on. Then I get a text and it's from my buddy Ian saying the Game Warden's here at Skinning Rack. Man, I got this guest back there shooting and it's getting a little bit past shooting time. I ought to know Ian is messing with me. About that time I hear a rip go off back in the back. I go up there to the wash rack, and sure enough, there's a Game Warden, he just happens to be driving by. I'm doing the calculations in my head. I got a 16 and 14 year old, I'm doing the calculations in my head. I'm thinking, well they're not going to get a ticket anyway, it'll be the adults that are with them, the licensed adults. I've sent five texts, tell them to stop shooting. It turns out it really wasn't my boys. I've been talking to the Game Warden and a volley goes off, and he looks in that direction and looks at me. Ian then drives off and here come the boys about 2 or 3 minutes later. They finished up their limits for today, the Maltans finally got – and that's what it turns out some of the late shots were about – they had seen a hooded merganser and they really wanted to go home with a hooded merganser. So, I tell you what, it was a clash of cultures when it starts coming into stuff like that. Made me nervous. But the funniest thing I've ever seen, Rocky, we go the next day, wake them up, we eat breakfast, we're going to run to the airport. They said, well, we've got a problem. What kind of problem you got? He goes, we've got too much stuff to pack, so we'd like to ship some stuff home. I said, okay, we'll stop at the UPS store, ship some stuff home, we got time. We got a pickup truck load of stuff that's got to go to Malta. We're sitting there at the UPS store and everything's going fine, they're doing triage right in the middle of the store with the line. You know the line coming in, business day, it's kind of backed up while they're dealing with the Maltans at the counter. They've got a pile of stuff they're going to leave, a pile of stuff they're going to ship, a pile of stuff they're going to pack, a pile of stuff, whatever. We're just about get done with all that time we had – I thought we had – it's about ticked away. We're pushing it now, getting to the airport, and in comes the deer heads. The guy says I don't have a box that big because of that wide deer. It's getting urgent now. he's like, I could get a bigger box but it's going to cost you $1,000 and this is going to be so much… yada-yada. He says have you got a saw? The guy was like, well you don't want to saw them horns, and he goes, give me a saw, I need a saw. I'm like guys, you don't want to saw those deer horns off. They're like snapping your fingers. We need a saw. One guy says, I'm in construction, I'll fix it. So, there they are on the sidewalk in downtown Brandon, Mississippi, sawing like a banshee Indian getting those horns off sticking in the box, throwing their clothes on the top, box them up, took them to the airport right in the nick of time. Right in the nick of time, we got to the airport. So, that was probably about 7 years ago and that's still a long time. Russell family story is the time the Maltans came to Mississippi. And we're still in good contact with them. I'll tell you this, with the nature of my business, exploring and going to different parts of the world, especially over in that part of the world, Europe and Asia, they're a very, very good resource for me because they've been there. I can ask them about anywhere. In fact they've been to places I'll never go because there are ducks. Patrick had been to Syria shooting raptors. They've all been to a lot of different countries, some that we go to some that we don't. I've just learned over the years that if I'm in contact with an outfitter and I'm researching particular hunt or a particular destination I can send people, chances are one or both of them have been and can give me some critical insight on what I need to know as I'm organizing this trip for the first time.
Rocky Leflore: Well that is a – I don't know if it's going to be as good as next week's story as you go back to Russia.
Ramsey Russell: Well, it will be because now you all know who the Maltans are. The Maltans were very critical to the Russian story. That's how we all became friends and it's kind of a fox hole story. We spent nearly 2 weeks together in Russia hunting and getting to know each other and that's how we became such friends, how they ended up as a guest in my home and camp in the first place. They're good guys.
Rocky Leflore: I would say this, this next part of the story with Russia though. Ramsey told it to me 2 weeks ago, 3 weeks ago now? And I'm like, what the heck are we doing, telling this off the air. Oh, it's great.
Ramsey Russell: Okay. Anyway Rocky, I enjoyed it son. We're going to drive. We got a long drive ahead of us.
Rocky Leflore: You all have a great time and be careful. I'm sure you've got Forrest probably in the pilot seat, don't you?
Ramsey Russell: He's in the pilot seat for now, but he's not going to be in the pilot seat, he's in the side.
Rocky Leflore: Ramsey, I've enjoyed it. Thank you again for being here and we want to thank all of you that listened to this edition of The End of The Line podcast powered by Ducksouth.com. We apologize for the phone issues that we had today, see you again next week.