Mexico Black Brant Hunting Report
Thanks to Adam Steven for this excellent report of Mexico Pacific Black Brant hunting in Baja's San Quintin Bay. Adam joined a GetDucks.com Hosted Hunt event in February 2012.
This Baja Mexico Pacific Black Brant Hunt was my hunting first trip anywhere and what a trip.
We are serious, die-hard black brant hunting fanatics. We've hunted all over our great province here (British Columbia) but we've never gone away on a trip. Last year about this time, Pat posted up some pictures of his trip to Baja. Our own brant season was quickly approaching March 1-10th so we talked it over and all agreed we wanted to go. Our brant season was a good one, but we hunted in snow 1 day and it was around freezing most days.
Thoughts – brant hunting in 60 degree weather and sun, no rain. Generous limits of brant compared to our 2 daily bird limit. And hunting from shore, something we can't do here. We signed up for Baja Mexico brant hunt!
Glad we did.
I had been to California before, but never Mexico.
Entering Tijuana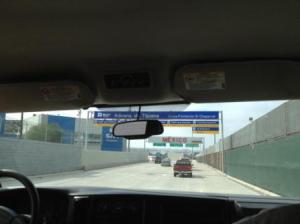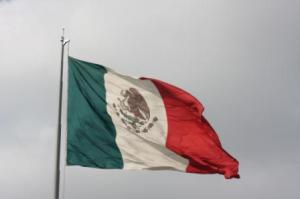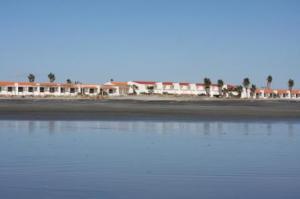 Our real nice hotel, we had it all to ourselves pretty much the whole trip till the last day.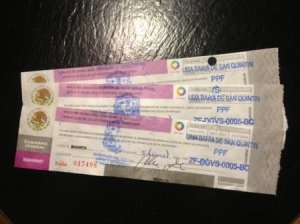 Got some of the coolest brant hunting tags ever, too.
The first day, we 3 hunted in one blind. Dad had neverhunted brant with us at home because he gets motion sickness and sitting in a small boat for hours doesn't go over well. He never got sick on any of the flights or boat rides. It was superb.
Our bird boys setting up just after first light. We had the bay to ourselves it seemed. The bay was similar to ours at home but everywhere you looked there were Pacific black brant. The population on teh wintering grounds in Baja Mexico dwarfs ours in BC!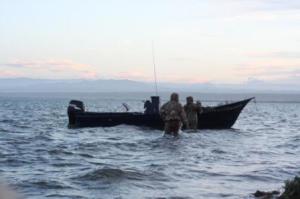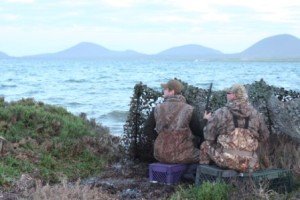 A quick move after only seeing a couple flocks and the wrong wind at our faces was made. We finished up in a matter of 10-15 minutes!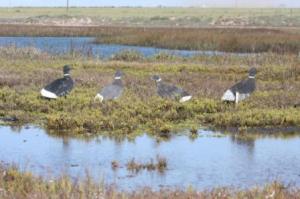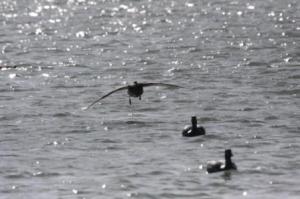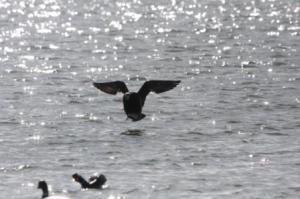 Here's what our daily limit of Pacific Black Brant looks like in BC…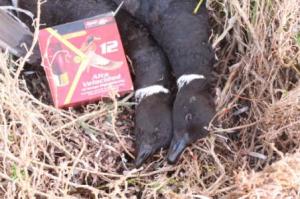 …but not while hunting black brant in Baja Mexico!
Here's our 3-man limit – and we scored a single band.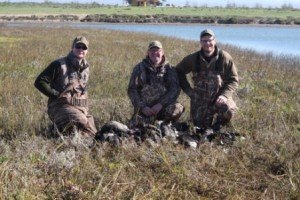 One night, the guide staff hosted dinner at the captain's home. Best brant I've ever eaten, hands down. It was better then ours at home. Black brant eat so much eelgrass that they taste like beef. Ours in BC are good, but nothing like this, plus they use different spices, marinades and rubs. It was finger licking good.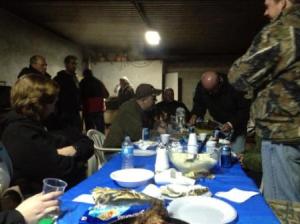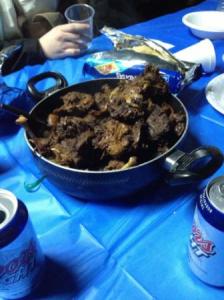 View from the hotel room balcony. Nothing better.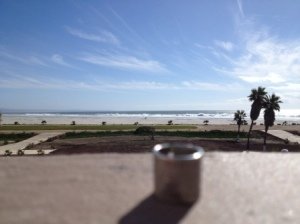 Now the second day, we setup in a new part of the bay. We had seen the brant pile in behind
us the first day and our bird boys picked the absolute perfect spot. The right wind,
hide and setup made for a morning of brant hunting I will never forgot.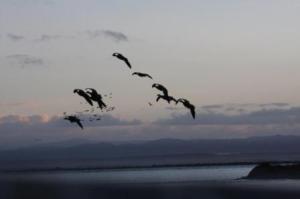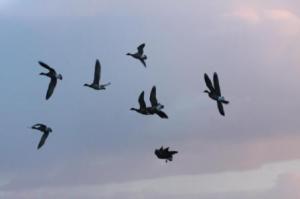 And then it happened – we sat for maybe 10-15 minutes and nothing flew. It was the calm before the storm. An eagle flew over about half mile away and I could hear the brant start talking. We looked over and about 2000 birds got up and started heading our direction in waves.
I knew it was gonna be special when the first wave of 200-300 brant decoy rolled into the blocks at 10 yards.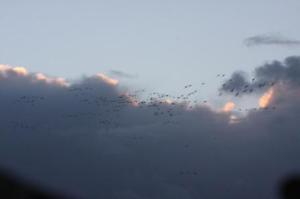 I called take em and the sky started falling. When the smoke cleared, we were awestruck.
When we packed up after the second hunt, we had 2 double bands and a single in the bag. We knew we had sailed a bird out into the water so our bird boy poured us a coffee and we idled out of our little inlet. He says, "birda birda." We saw one floating where it went down.
He says in very broken English,"Maybe bando?" We just laughed. He picked it up and yells "BANDO!!!!", Yep, another double band – a black tarsus this time.
I don't know how but we got 4 different colored tarsus bands during our hunt. My brother got an even teal colored one that same day. It was hatched in 1994 or eariler. Thats an OLD bird!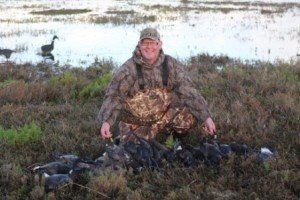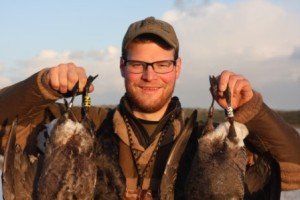 The bands and shells used on the trip. This is after the 2nd hunt. Matt also got a double band and single band on Day 2.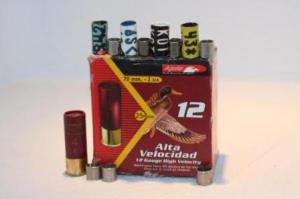 Here is where one of Matt's banded birds started and finished.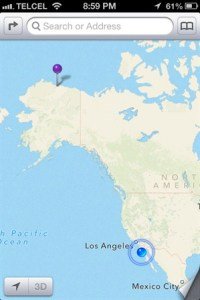 On the 3rd day out, I tried in my limited 3 years of high school spanish to tell our bird boys, "same spot." He understood and said if he could. We had the fastest boat it seemed, we passed 2-3 other boats and were full speed racing another out. I thought we'd lose the spot but at the last second our guide veered right and pulled the old going left but turning right tricks hahaha
Always neat to see a volcano in the background of the hunting grounds, another sure indication that we were not in BC anymore.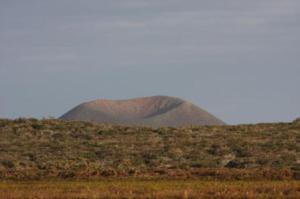 The last morning's sunrise over our brant hunting rig.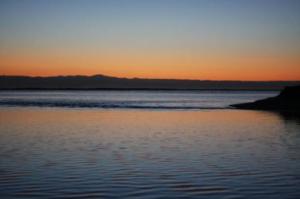 Getting decoys out of a bag is a universal problem in waterfowl hunting hahaha!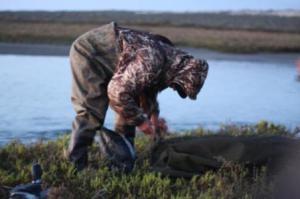 The numbers were impressive. We wanted to make the morning's brant hunt last longer than the 2nd, but big groups of black brant made it hard. So we started cutting 3-4 brant from each flock. I wanted to shoot pairs and singles, but we just didn't see any. It was all big flocks and they wouldn't quit decoying so how can you say no? The first two days we shot more mature brant, but on this last day with the sun in our faces I aimed for size and we still took a higher number of juvies.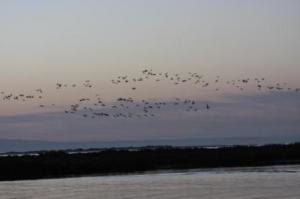 Here's our bird boys Ramon and Rene. Rene was the man!! He cooked us homemade tamales, taquitos and coffee the last day. Those tamales were something else I say. And it was pretty funny, when I left high school I could pretty much read a spanish newspaper but haven't used it since so it was nice to have words come flying back into my mind. The first morning, I asked him how many birds he picked up the boat, he said dos, he pointed to the blind, I said 12-13 in good spanish, I guess he figured I knew espanol haha so he rattled off like 3 sentences and I just replied, yo hablo espanol un poquito hahahahhaha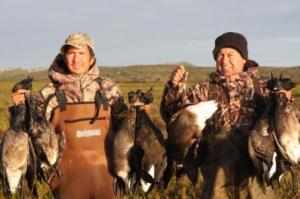 Back at the launch the US biologists surveyed them and did their thing.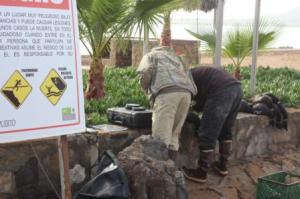 Our final tally for banded birds from us BC boys. There's now a Mexican bird boy that is currently rocking a Bill Saunders brant call hahaha!

And the whole group's band take over 3 days (short a few that were packed away in luggage already or on brant that were headed to Pat Pitt's taxidermy shop).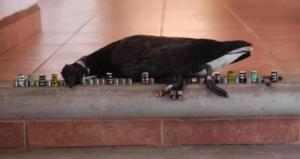 Let's just say I had some major brant karma going during this hunt. This is my 6th or 7th season hunting brant and I'd never shot a banded one. I had two bands to my name, a pintail and snow goose. Added 4 double bands and a single to it during this one Mexico brant hunt!
We went with the mindset of a ducks a bonus. We went as brant hunters wanting something different than back home and we got it. Honestly, it was nice to just relax after the morning hunt. Up at 4:30 and hunting by 5:30-6 takes a little strain on the body and it was just nice to relax afterwards.
Big thanks to Ramsey and Anita Russell at Getducks.com for arranging this trip. Everyone flew into San Diego where they picked us up and drove us to camp. Pat Pitt did a great job hosting this hunt and helping everyone import their trophy brant into the US. Black Brant hunting in Baja Mexico was truely a trip of a lifetime. I've been walking around with a grin on my face since returning home.
LEARN MORE TRIP DETAILS ABOUT THIS MEXICO PACIFIC BLACK BRANT HUNTING TRIP