Timing
Mexico Black brant hunting season runs early-November through the last Sunday of February, with peak brant concentrations usually occurring in late-January through February.
Rates
$2,750 3-day Pacific Black Brant Hunting in Mexico to include 3 morning brant hunts.  Relax during the afternoons.
$3,950 "Baja Blast" Brant Hunting Combo to include customized selections of among 2-3 locations for Pacific black brant as well as a combination of quail hunting (valley and/or Gambel's quail),  high-volume pheasants and dove hunting!  Limited to select December and January dates only. Email or call for more information. 
More Info
Pacific Black Brant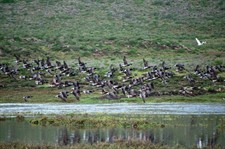 Pacific Brant (Branta bernicla nigricans), or Black Brant, are an abundant small goose of the ocean shores that breed in the high Arctic tundra and winter along the Pacific Coast.  Over 70% of the world population of Pacific Black Brant winter in Baja, Mexico, with the much smaller remainder overwintering in interior portions.
There are an estimated 115,000-150,000 black brant in the world and about 14,000 are taken each year by hunters. The highest numbers of Pacific Black Brant are shot in Baja, Mexico. Interesting fact: The oldest age record for any duck, goose or swan in North America is held by a Pacific Brant at 28.5 years!
The Pacific Brant is slightly larger than a Mallard.  Males are somewhat bigger than females; otherwise, the sexes are not distinguishable. It is one of the darkest waterfowl with a black head, neck and upper breast and a white necklace on the sides of the neck. The back and upper wing coverts are edged with lighter grays on a darker grayish brown feathers. The Pacific Brant has a very dark breast and belly with little or no contrast separating them. The flanks are much whiter than the Atlantic Brant. The black bill is short and stubby.  They are an attractive addition to game rooms and are popular among collectors.
Getting There – Pacific Black Brant Hunts
Fly to San Diego International Airport (SAN).  You will be met by our English-speaking representatives and ground transfered to hotel, about 6 hours south.  Transfers occur on Thursdays, hunts are Friday-Saturday-Sunday mornings.  SPECIAL NOTE – WE STRONGLY ADVISE ARRIVING ON THE WEDNESDAY PRECEDING YOUR HUNT AND OVERNIGHTING.  PLEASE DO NOT PLAN ON DEPARTING SAN DIEGO ON SUNDAY NIGHT, WE SUGGEST OVERNIGHTING AND DEPARTING EARLY MONDAY MORNING.
Related Links – Pacific Black Brant Hunting Mexico
View More: Pacific Black Brant Hunting Videos
Read: Baja Brant Hunting (Wildfowl Dec '10/Jan '11)
Certification of Registration for Personal Effects Taken Abroad (Form 4457)
Importation of Fish and Wildlife Form 3-177
What to Bring (Packing List) – Hunting Pacific Black Brant in Baja Mexico
General Provisions:
Passport

Chest waders (ducks) chaps (quail)

Small "field bag"

Pocket knife

Sunscreen

Shooting glasses

Aloe Vera gel for sunburn

Shooting gloves

Camera equipment

Light-weight shooting vest or shell belt

Small flashlight

Hearing protection

Ice chest for game

Insect repellant

Small Bills for Tips
Duck Hunting/ Quail Hunting Apparel:
Clothing -Expect temperatures will average in the 60's. However, frequent cold fronts can drop temperatures close to freezing. Outfit for mild temperatures with one set of clothes for cold weather (30 degrees +) in the event of a cold front passes. Orange cap recommended for Quail hunting.

Bathing Suit – Bring one.

Footwear – Light-weight boots are ideal for quail hunting. They should lace and have rigid soles. Chest waders are suggested for duck hunters.

12- and 20-gauge Semi-automatics are available FREE for guests choosing to eliminate paperwork. Personal shotguns permits are also included at no charge.
Weather  – Brant Hunting in Mexico
The climate in Baja California is temperate and rather dry, receiving an average of 9 inches (235 mm) of rain annually. Expect lows in the mid-40s warming to highs in the mid-60s.
VERY IMPORTANT NOTE – Mexico Brant Hunting
Hunters that try to import ammunition without the proper permits discover the ugly consequences.  This is a serious criminal offense in Mexico, so don't dream of trying it.  Quality ammunition will be available per the Black Brant Hunting package.
Contact us about Mexico brant hunting in Baja.