Mexico Pacific Black Brant Hunting – Baja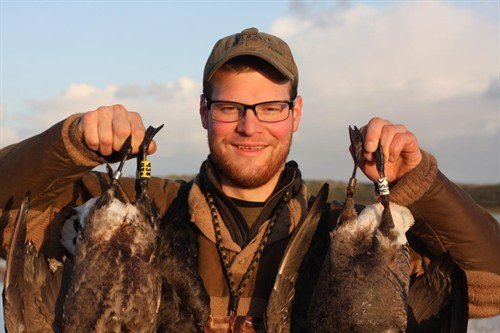 Pacific Black Brant hunting is a wonderful experience that's perfect for avid waterfowl collectors or hunters looking to expand their wingshooting horizons.  Pacific Black Brant migrate from the Gulf of Alaska and western Russia to Baja Mexico's San Quintin Bay each year to feed on their principle food, eel grass, which is abundant in Baja's rich wetlands.  Pacific Black Brant accomplish an interested feat of flying non-stop 40 to 48 hours to their Baja wintering grounds. Mexico brant hunting at its best.
San Quintin Bay is about 13 miles long and 4 miles wide. Eel grass is abundant and winter weather is mild. About 40% of the reported world population of Black Brant, which is estimated at about 125,000, winter each year in this beautiful bay. The US Fish & Wildlife Service bands at least 20% of these birds.  As an added bonus it is common for hunters to collect leg bands, and on rare occasions a Russian-banded brant is taken.
Pacific Black Brant hunting seasons typically runs early-November through the last Sunday in February.  This Mexico brant hunting program is limited only to Fridays, Saturdays, and Sundays until noon to ensure quality hunting for the entire season.  Black Brant work best on a falling tides so productive hunting times vary in the mornings. The sights and sounds of whales, porpoises and a diversity of wintering shorebirds are common. Complete success in collecting the current Mexico brant limit is assured.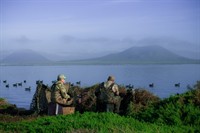 Each morning, your personal guide will provide boat transfers to your eel blind along the shore, usually arriving at daybreak. Blinds are constructed of eel grass, camo netting, palmetto fronds or volcanic rock to blend in perfectly. A nice brant spread is set and the boat is retired to a safe distance. The staff maintains a kennel of apt retrievers and your retriever is welcomed, so bring one if you wish. Ducks are uncommon and should be considered a rare treat while hunting Pacific Black Brant in San Quintin Bay.
After limits are achieved, hunters return to camp for lunch and likely siesta.  Hunters are lodged at the charming area hotels, and all meals are served at local restaurants and cantinas.  Please Note: Afternoon options are limited to nonexistent.  Duck hunting, quail hunting or light-tackle fishing are practically not available in Baja, but there is plenty of time for just simply relaxing.  
Read More about this Pacific Black Brant Hunting trip: Baja Brant Hunting, Wildfowl magazine Dec 10/Jan 11 Issue