GetDucks.com is the only way I'll ever book another duck hunt in Uruguay or anywhere else.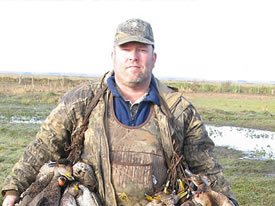 "I have hunted waterfowl across the US and have previously dealt directly with the outfitters. I thought I was getting the best deal, free of middle man premiums. Boy was I wrong! I asked Ramsey at GetDucks.com about a Uruguay duck hunt. I have never seen anyone get so excited! After our initial conversation I received travel information in an email. Because it was my first trip out of the country I had plenty of questions. He promptly answered them and the ones I'd not even thought to ask. He kept me aware of important travel developments. Ramsey promised a free case of shells which I happily accepted. As the trip date approached I received a phone call from Ramsey informing me of a "change in plans". I thought here we go. He said no free shells, but how about a free morning's duck hunt instead!
From the minute we met at the airport until we returned home, he took prompt care of the details quickly, efficiently. I booked a Uruguay waterfowl hunt through GetDucks.com, and received not only a FANTASTIC hunt, but the hunt of a lifetime I'd always dreamed. And it cost me less.
My 65-year-old father has always wanted to experience a high-volume Cordoba dove hunting in Argentina. If I can persuade him to join me, we'll accompany GetDucks.com to Cordoba. GetDucks.com is the only way I'll ever book another duck hunt in Uruguay or anywhere else."
– David Spiars
Referenced Hunt: Uruguay Duck Hunting