Argentina Duck Hunting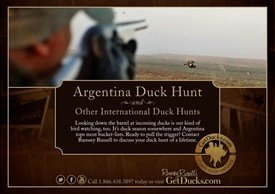 Argentina duck hunting should top every duck hunter's bucket list for very good reasons: consistent shooting, generous duck limits, and authentic amenities provide the perfect combination for Argentina duck hunting. Argentina is justifiably the foremost duck hunting destination in the world.
Best of all, the peak duck hunting in Argentina takes place when US hunters are in summer's grip. We've waded through countless Argentina duck hunting operations for 16 years to find these real keepers.  Our specialty is real ducks for real duck hunters; authentic amenities and superior shooting is our hallmark. With a complete portfolio of programs from which to choose, we invite you to experience the duck hunt of a lifetime.  Only the best Argentina duck hunting is represented at GetDucks.com. Settle for nothing less.