Timing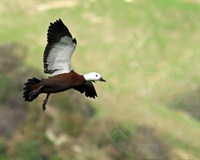 Duck Hunting is available early-May through June (North Island) and into July (South Island). Upland game bird hunting season runs concurrently. Turkey and trout available throughought the entire year. During the New Zealand Waterfowl Hunting season, a hunt for trophy Red Stag, Tahr and Chamois may be enjoyed. Please consult the GetDucks.com New Zealand Hunting Calendar to best decide the perfect New Zealand hunting trip.
Rates
NORTH ISLAND
$700 Daily New Zealand Duck Hunting, includes turkey and upland bird hunting. Non-hunters $350.
Big Game Hunting Trophy fees:
Free Range Hunts – Red stag $3000, Fallow buck $2500, Sika $5000, Bull Tahr $3500, Chamois $2500
Game Ranch Hunts – Red Stag up to 320 $3000, Fallow buck $2500, Sika $5000, Rusa $5000, Bull Tahr $3500, Chamois $2500
North Island New Zealand Waterfowl Hunting Packages include: round-trip airport and all local ground transfers (from Palmerston North Regional Airport), accommodations during the hunt, all meals and beverages, fully-guided hunting, firearm supplies (Benellis semi-auto and Remington 870 and ammo), trophy care in field, hunting licenses, export permits.
SOUTH ISLAND
5 Night/4 Day New Zealand Duck Hunting Package $3,650 per hunter with a minimum/maximum of 4 Hunters.
Accompanied Non-hunting/Ladies Package 6 nights/5 days relaxing, exploring and sightseeing $2,000
South Island New Zealand Hunting Package includes: airport transfers, all accommodations, meals, beer and house wine, and hunting license for hunters, export permits, along with train trips, whale watch charters and spa treatments for non-hunters.
If unable to organize party of 4 let us know, we may have others in the same position that you can join.
Included
Immersed in beautiful New Zealand settings, lodging on North and South islands provides the perfect back-drop for New Zealand hunting trips. Excellent regional foods and wines, personalized service, complement the experience for perfection. Choose one, the other, or a longer stay to include both.
NORTH ISLAND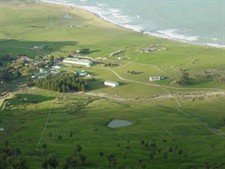 For groups, especially with non hunters along, accommodation will be in the homestead lodge on the Tasman Sea or various other cabins and B&Bs nearer to hunting areas.   Most guests enjoy visiting the various locales pursuant to the New Zealand hunting adventure. Non-hunters can relax at the homestead or explore the property by 4WD.  Forays to town just hour away includes wine trails, visiting abalone and jade jewelry stores, antique shops, local art galleries and a rare native-bird sanctuary that exhibits the Kiwi and Takahe. During a daytrip by train to the capital city of New Zealand, Te Papa, the New Zealand National Museum can be visited, followed by shopping while wandering along picturesque streets near the harbour.
All meals and beverages are included and prepared on the premises. New Zealand food is noted for its freshness and tasty nature. The menu features wild game along with New Zealand beef and lamb, plus fresh coastal seafood. The Wairarapa Coast has abundant seafood, and is right out of the front door. Paua (abalone) and crayfish (lobster) are local delicacies readily obtainable simply by diving with a snorkel. Moki, blue cod and butterfish are excellent local table fare. An excellent variety of local wine is also provided.
SOUTH ISLAND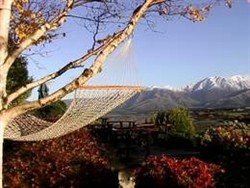 Luxury lodge accommodations in Hanmer Springs, New Zealand. With large gardens and spectacular panoramic views over the Hanmer Basin, this is the place to be to relax in tranquility and privacy.Nestled on a plateau overlooking the beautiful mountains, rivers and farmland, the unique lodge offers 5 bedrooms, with either King or Queen beds, private bathroom, large lounge and stone log fire, pool room, computer with Wifi for your use, large outdoor decks, lovely gardens and spectacular views. Private-chef offerings include scrumpous cuisine and local delicacies after a fun day. A truly relaxing and tranquil atmosphere ensures that your next New Zealand vacation is enjoyed in style, privacy, and comfort.

Hanmer Springs is one of New Zealand's top tourist destinations. It is situated around famous thermal spa pools where one can sit and soak, or be pampered with a private sauna, massage, facial, manicure or pedicure. For those looking for something more physical there is a beautiful 18-hole golf course, forest trails, horse treks, jet boating, rafting, ATV trails. For the more adventurous New Zealand-originated thrill of bungy jumping. The local
Marble Point Winery is open for wine tasting and sales. 

Your lodge hostess will arrange an activities program for non-hunter participants. While the others in the party are enjoying the great outdoors, you too can also have an enjoyable day doing whatever appeals. Day options include: a Spa & Beauty package in Hanmer Springs, Lunch & Wine Tour of local vineyards, exploring the beautiful city of Christchurch, whale watching at lovely seaside town of Kaikoura, or TranzAlpine Scenic Train rides through the magnificent Southern Alps.
More Info
Getting There – New Zealand Hunting
US Visitors fly from LA across the Pacific, a 12-hour direct flight to Auckland. From Australia, it's a 3-hour flight across the Tasman Sea.
North Island: Arrive into Auckland International Airport in the North Island, go through Customs. Transfer by domestic air to Palmerston North Regional Airport, about 1 hour flight, where hunters will be met by staff and transfered 2 hours to the coastal ranch.
South Island: Arrive into Auckland International Airport in the North Island, go through Customs and go to Domestic Terminal to catch a flight to Christchurch airport. Hosts await at Christchurch Airport to meet and greet, and provide 1.5 hour transfer to lodge.
What to Bring – New Zealand Bird Hunting Combo
Useful equipment for duck hunting includes chest waders and camouflaged, brown or green colored clothing. Guides have decoys and dogs. For upland hunting stout walking boots and a shooting vest for shells and birds are helpful. A warm hat, thick woolen socks, rain clothes, thermal underwear, binoculars, daypack, camera. Rifle and prefered ammunition, or may be purchased locally. Shotguns may be rented at South Island Lodge. Shotshell ammo is available locally.
Gratuities – New Zealand Hunting Trips
Gratuities for lodge and field staff are not included in Argentina duck hunt package cost since tipping, in general, is discretionary. Because clients have repeatedly asked that we provide general guidelines the following is suggested. Generally 10-20% land package cost is appropriate. Your host will accept gratuities when settling your account prior to departure, and will dispense among the staff accordingly.
New Zealand Fly Fishing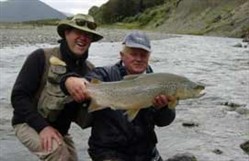 New Zealand trout fishing is the stuff from which dream are made. Our South Island outfitter-affiliate delivers extraordinary guided fly fishing for large, wild Brown Trout in crystal clear mountain streams in various locations, all of them great. Trout average 5 pounds but each season some double-digit trout are caught. Abiding strictly to catch-and-release principles, experienced guides intimately familiar with the local rivers, share their knowledge of all aspects of fly fishing with all anglers, from complete beginners to seasoned veterans. Traveling by vehicle, or helicopter, ensures an exciting day in beautiful remote scenery, and every opportunity to outwit the smart New Zealand Brown Trout. Present a selected nymph or dry fly…wait…there he is!
Species – New Zealand Duck Hunting
New Zealand waterfowl hunting offers some unique species. These include the native Paradise Shelduck, commonly called a parrie, Pacific Black Duck, or Grey duck, New Zealand Shoveler, and the Black Swan which has introduced itself from Australia 1500 miles to the west.
The grey duck favours secluded areas in contrast to the introduced mallard which is happy to live around humans. Originally the primary target of duck hunters, the grey duck now comprises only 20% of the New Zealand duck population of 6 million birds.
New Zealand Shovelers are the least abundant of hunted ducks, but possibly the most attractive. They are certainly the most difficult to locate. They frequent coastal lakes but move a lot making them rather unpredictable.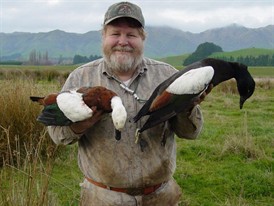 Paradise Shelducks only occur in New Zealand. They have a 4-foot wingspan which compares with the 3 foot wingspan of a mallard. They can be found in large flocks on pasture to which they have adapted well after the conversion from forest to grassland of much of New Zealand by European settlers from 1840. Paradise Shelducks can provide exceptional shooting over decoys on grass fields or barley stubble. Unusually, the female with white head and bronze breast is more colourful than the black male, but they are both strikingly attractive birds.
The Black Swan may not be hunted in Australia but is a popular gamebird in New Zealand. Large bodies of water where they feed on aquatic vegetation are favoured habitat. Flying swans are spectacular. They are often seen in large groups.
Mallard ducks were introduced from North America in the late 1800's and are widespread. They interbreed with the native grey ducks. They move within New Zealand but do not migrate. They are now our most common duck and a very popular gamebird.
Greater Canada Geese are widepread especially in the South Island with increasing population and distribution in the north.
Bag Limits – New Zealand Duck Hunting
New Zealand should not be regarded as high-volume shooting like South American destinations. It is best viewed as a place to collect some unique and beautiful waterfowl; to experience quality not quantity. Normally hunters will take home a variety of excellent specimens for mounting. New Zealand waterfowl can be very abundant and limits are generous so normally good to excellent hunting will be enjoyed. Duck limits vary between Fish and Game regions but are typically 10 to 20 birds per day. Limits for Canada Geese and Mallards are considerably more liberal. Pheasant hunting is best in the North Island with daily limits on roosters about 5.
Species – Big Game Hunting in New Zealand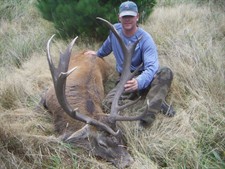 There are 12 species of big game available for hunting in New Zealand: Wapiti (Elk), Red Deer, Sika deer, Rusa Deer, Sambar Deer, Whitetail Deer, Fallow Deer, Himalayan Thar, European Chamois, South Pacific Goat, Wild Pig, and Asiatic Buffalo. All provide good trophies and many species have exceeded the trophy potential of their county of origin.  Red Deer Stags provide the quintessential experience for trophy big game hunting in New Zealand. Red Deer are most popular among guest hunters. Trophy potential is very good. Challenging hunting is available in both free-range and intensively-managed, game ranch settings. Fallow deer, the second most widely-distributed big game animal in New Zealand, are often taken while red stag hunting. In the Southern Alps, Tahr and Chamois challenge hunters in higher elevations, but the effort pays handsomely with trophies that can be hunted at the same time nowhere but in New Zealand. No license fees to hunt big game in New Zealand. More Information: Big Game Hunting in New Zealand
Related Links – New Zealand Hunting and Fishing
Certification of Registration for Personal Effects Taken Abroad (Form 4457)
Importation of Fish and Wildlife Form 3-177
Field Care of Trophy Waterfowl & Birds ©
About the Area – New Zealand Hunting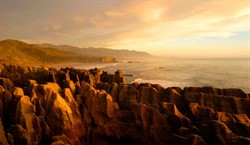 Zealand is an island country in the south-western Pacific Ocean comprising two main landmasses (the North Island and the South Island), and numerous smaller islands. New Zealand is notable for its geographic isolation: it is situated about 2,000 kilometres (1,200 mi) southeast of Australia across the Tasman Sea, and its closest neighbours to the north are New Caledonia, Fiji and Tonga. During its long isolation New Zealand developed a distinctive fauna dominated by birds, a number of which became extinct after the arrival of humans and the mammals they introduced. The South Island is the largest land mass of New Zealand, and is divided along its length by the Southern Alps. There are 18 peaks over 3,000 metres (9,800 ft) the highest of which is Aoraki/Mount Cook at 3,754 metres (12,316 ft). The top of South Island contains areas of forest in the Kahurangi and other national parks. The south-western corner of South Island is Fiordland, an area of high mountains cut through with steep fjords.
The North Island is less mountainous but is marked by volcanism. The highly active Taupo volcanic zone has formed a large volcanic plateau, the North Island's highest mountain, Mount Ruapehu 2,797 metres (9,177 ft), and a deep caldera filled by Lake Taupo, the country's largest lake. The island's north is a flatter area, once covered by huge kauri trees.
The latitude of New Zealand, from approximately 34 to 47° S, corresponds closely to that of Italy in the Northern Hemisphere. However, its isolation from continental influences and exposure to cold southerly winds and ocean currents give the climate a much milder character. The climate throughout the country is mild and temperate, mainly maritime, with temperatures rarely falling below 0 °C (32 °F) or rising above 30 °C (86 °F) in populated areas.
Of the main cities, Christchurch is the driest, receiving only 640 millimetres (25 in) of rain per year; Auckland, the wettest, receives almost twice that amount. Auckland, Wellington and Christchurch all receive a yearly average in excess of 2000 hours of sunshine.
The first Europeans known to have reached New Zealand were Dutch explorer Abel Janszoon Tasman and his crew in 1642. Indigenous Maori killed four of the crew and no Europeans returned to New Zealand until British explorer James Cook's voyage of 1768-71. Cook reached New Zealand in 1769 and mapped almost the entire coastline. Following Cook, New Zealand was visited by numerous European and North American whaling, sealing and trading ships. They traded European food and goods, especially metal tools and weapons, for Maori timber, food, artefacts and water. On occasion, Europeans traded goods.
Because of its long isolation from the rest of the world and its island biogeography, New Zealand has extraordinary flora and fauna, descended from Gondwanan wildlife or since arriving by flying, swimming or being carried across the sea. About 80% of New Zealand's flora is endemic, including 65 endemic genera. Until the arrival of humans, 80% of the land was forested.
New Zealand's only native mammal is a bat, so European settlers introduced several hunting species specifically for sport. In the absence of natural predators, and as forests were converted to grasslands, these animals flourished. Today, population control is achieved with safe and controlled hunting. Game animals include deer (including red, fallow and sika), chamois, tahr, pigs. First-rate waterfowl and upland game-bird hunting in New Zealand is also available.